Houston Texans preview (No. 13): Hoyer, Mallett winner must bolster offense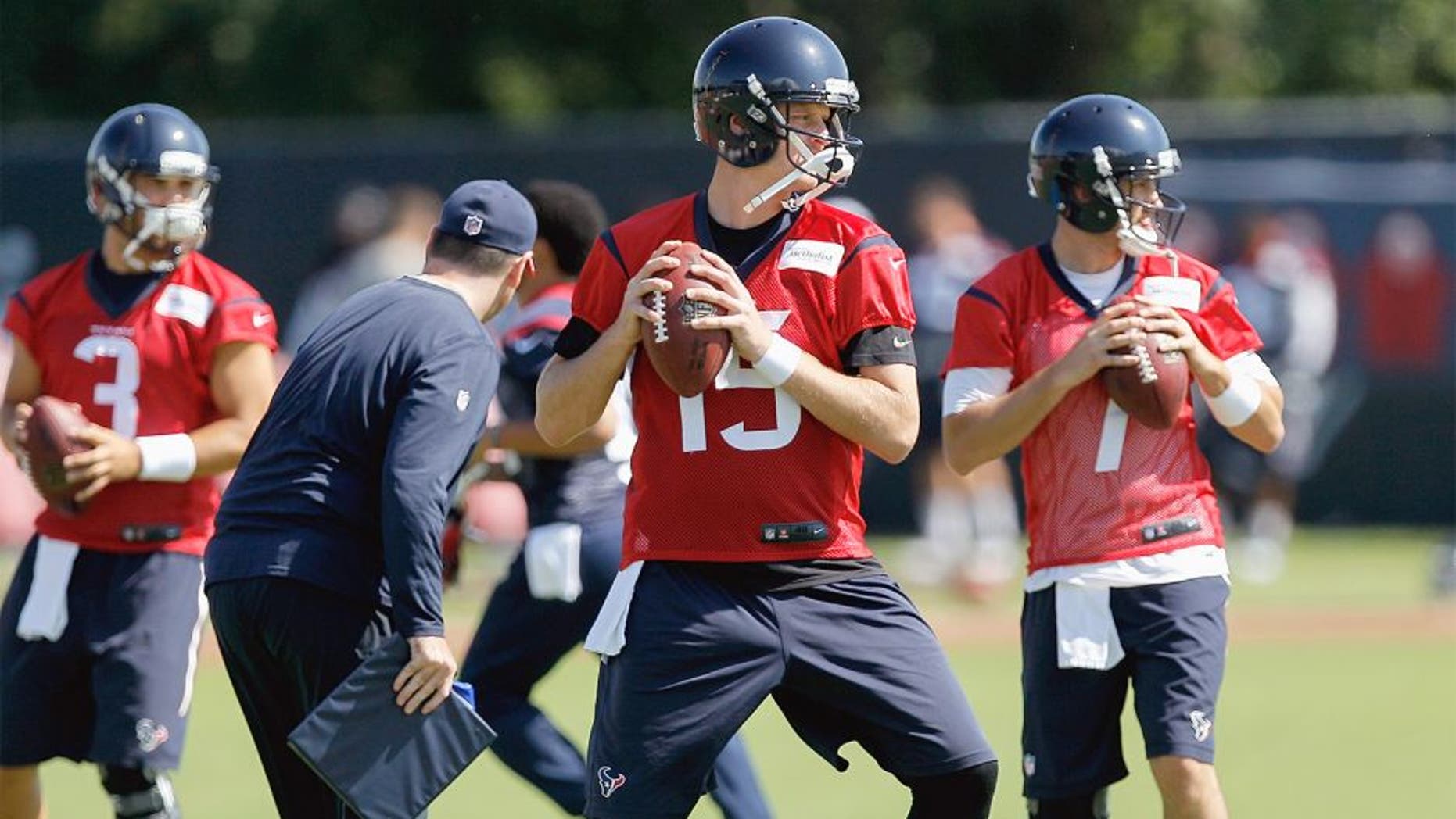 Our 2015 NFL preview series ranks every team, from worst to first. Today: the No. 13 Texans.
2014 Record: 9-7
Head coach: Bill O'Brien (second season, 9-7 record)
Key arrivals: Vince Wilfork (nose tackle), Brian Hoyer (quarterback), Cecil Shorts (wide receiver), Nate Washington (wide receiver), Rahim Moore (free safety), Brandon Deaderick (defensive tackle), Stevie Brown (strong safety), *Kevin Johnson (cornerback)
(Note: *- denotes rookie)
Key departures: Ryan Fitzpatrick (quarterback), Andre Johnson (wide receiver), Case Keenum (quarterback), Kendrick Lewis (free safety), Jerrell Powe (nose tackle), Brooks Reed (outside linebacker)
2015 Schedule (ET):
Sept. 13: Kansas City 1:00 pm
Sept. 20: at Carolina 1:00 pm
Sept. 27: Tampa Bay 1:00 pm
Oct. 4: at Atlanta 1:00 pm
Oct. 8: Indianapolis 8:25 pm
Oct. 18: at Jacksonville 1:00 pm
Oct. 25: at Miami 1:00 pm
Nov. 1: Tennessee 1:00 pm
Nov. 8: BYE
Nov. 16: at Cincinnati 8:30 pm
Nov. 22: New York Jets 1:00 pm
Nov. 29: New Orleans 1:00 pm
Dec. 6: at Buffalo 1:00 pm
Dec. 13: New England 1:00 pm
Dec. 20: at Indianapolis 1:00 pm
Dec. 27: at Tennessee 1:00 pm
Jan. 3: Jacksonville 1:00 pm
TRAINING CAMP QUESTION: Who emerges at wide receiver following Andre Johnson's release?
Since his arrival in 2003, no other wideout had led the Texans in receiving until last season when DeAndre Hopkins surpassed Johnson. While that torch was passed, Houston needs some complementary targets to emerge and take some of the heat off Hopkins. Cecil Shorts is the frontrunner to start opposite Hopkins provided he can stay healthy, which is an issue that marred his time in Jacksonville. Another free-agent newcomer -- 11-year veteran Nate Washington -- and the returning Keshawn Martin will try to hold off Arizona State rookie Jaelen Strong as Houston's No. 3 receiver. More support from a tight end group that produced only 32 catches all of last season also would help the winner of the Brian Hoyer-Ryan Mallett quarterback duel.
IF EVERYTHING GOES RIGHT:
The Texans could have the best defense in the NFL. Jadeveon Clowney and Brian Cushing rebound from their injury-shortened 2014 seasons and join the newly signed Wilfork and the already fearsome JJ Watt to form a suffocating core up front. Hoyer, considered a front-runner for the starting quarterback job, keeps the mistakes to a minimum as Houston leans on its running game to snare a playoff spot.
IF EVERYTHING GOES WRONG:
Clowney doesn't live up to his expectations, the Texans get shoddy quarterback play and the offensive line continues to struggle. Houston could also run into problems if it can't find a reliable receiver to replace the departed Johnson opposite Hopkins. The Texans are hoping to find a winner among rookie Strong, veteran Washington and Shorts. If none of those options work out, Houston could be staring at another middling season with its final record ending up between 7-9 and 9-7.
BREAKOUT PLAYER: Defensive end Jared Crick
Crick was a non-factor his first two NFL seasons before he started to make a splash in 2014. Should his rapid improvement playing opposite Watt continue this season, Crick is set to become one of the hottest free-agent defensive linemen on the 2016 free-agent market.
CIRCLE THIS DATE ON THE CALENDAR GAME: vs. Indianapolis in Week Five (8:25 pm ET/October 8)
Tripping up the Colts at home on a Thursday would make the Texans a legitimate contender in the AFC South. Houston has dropped five straight to the Colts, who have won the division the past two seasons
ALEX MARVEZ'S PREDICTION: 9-7, second place
Indianapolis is universally projected as the AFC South favorite. Not so fast. The Texans could be ready to give the Colts a strong challenge if Hoyer is at least efficient as the new starting quarterback. Mind you, that's a big "if" for a career journeyman. Hoyer's performance in Cleveland gradually slid until he was benched last December for Johnny Manziel.
But there is reason for optimism about Hoyer rebounding. He's surrounded by better talent and now reunited with Texans head coach Bill O'Brien, who was his former offensive coordinator in New England. Hoyer's familiarity with O'Brien's system has accelerated his adjustment to a new team and allowed him to surge past Mallett as the clear frontrunner to start.
A strong argument can be made that not only is end Watt the NFL's top defensive player but is the best player in the league -- period. Houston's pass rush will be even stronger if Clowney can recover from the knee injury that ruined his rookie season. The signing of Wilfork boosts the defensive line and adds a strong locker-room presence. Expect more people to jump on Houston's bandwagon after watching the franchise featured this preseason on Hard Knocks.