Home Run Derby Bilingual Controversy Brings To Light Baseball's Evolving Culture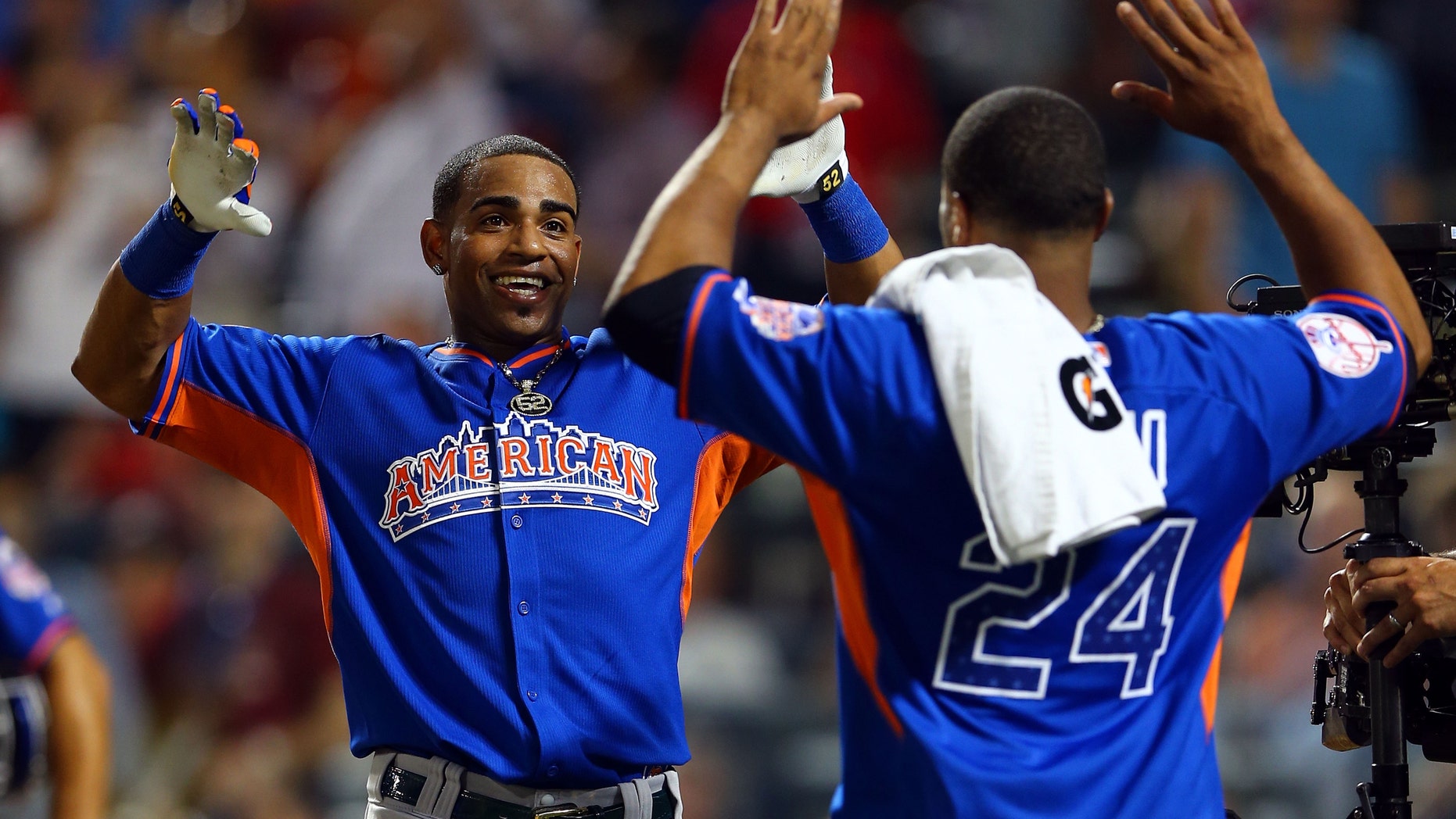 Baseball is slowly having to come to terms with the fact that "America's favorite pastime" is evolving into an international sport.
With a mounting influx of foreign-born players growing in prominence in the majors, one of the issues being raised by fans and members of the league alike is how to accommodate players who do not speak English.
On opening day of the 2013 MLB season, over 24 percent players were born in Latin America and 4 percent were born in Canada, Europe or Asia. This marked the fourth highest percentage of foreign-born players in the league's history.
Some foreign players always seem to have a translator, while others do not. That's because of a number of factors, including team and league policies.
For Latinos, sports experts said, there are both benefits and disadvantages to being the "majority" minority in this sport.
While players can easily find other members on their team who speak Spanish, they are rarely guaranteed translators the way Asian players are.
Major League Baseball officials told Fox News Latino that it's because Japanese players make sure translators are worked into their contract.
"It has been more common for Japanese players, some of whom have long played professional baseball before playing in MLB, to negotiate interpreters into their contracts," Michael Teevan, senior director of public relations for Major League Baseball, said in an email.
That leaves many Spanish-speaking players to rely on teammates and coaches to interpret things for them when they don't fully grasp the English language.
And while this seems to be working for players on the field, it can be a whole other story when it comes to press and high-profile events.
The issue came to light during the 2013 All-Star Game Home Run Derby, when ESPN reporter Pedro Gomez, a Cuban-American, interviewed a variety of players in their native tongue.
Though it was not the first time that ESPN had interviewed players in Spanish, some viewers blasted the bilingual broadcast.
Even though the majority of the criticism seemed to have a racist undertone, there were also many Latino fans asking why ESPN decided to not make a translator available to these players rather than have the reporter interpreting the responses himself.
"I'm still surprised because I try to see what is really the harm in doing that type of interview," Gomez told Fox News Latino recently.
Having built a relationship with many of the players he interviews, Gomez said that with millions of viewers watching events like this, he thinks "[the players are not] comfortable trying to put together English phrases that they're not sure exactly what they're saying."
While many players, he said, are attempting to learn English, they become uncomfortable speaking a foreign language when the world is watching them.
"If I was dropped into Germany tomorrow, I don't think two years from now I'd be comfortable giving a national interview in German," he said.
With this being the second consecutive year ESPN has received flack for having Gomez conduct the interviews this way, ESPN is aware this issue is a "hot topic."
ESPN said they strongly stand by Gomez's bilingual reports.
"Pedro's report in Spanish during the Home Run Derby was an effective way to serve all sports fans – both English and Spanish-speaking fans – and we're proud that we're able to do this," said Gabby Nunez, the manager of communications for ESPN Deportes and ESPN International.
Nunez said the network tries to deliver the news the best way it can.
"The Hispanic market continues to grow with the bilingual fans and we want to be able to deliver news and report in the best way possible," he said.
Ultimately, the decision regarding translators has nothing to do with the broadcaster or the league. It has to do with the players themselves.
"In the case of the All-Star Game and its events, we work with players individually to gauge their comfort level and to meet their preferences," Teevan said. "We also talk to teams about the needs of individual players. Many players bring their own interpreters, in either a formal or an informal capacity."