Hinch not satisfied with ALDS exit but 'very, very proud' of Astros' 2015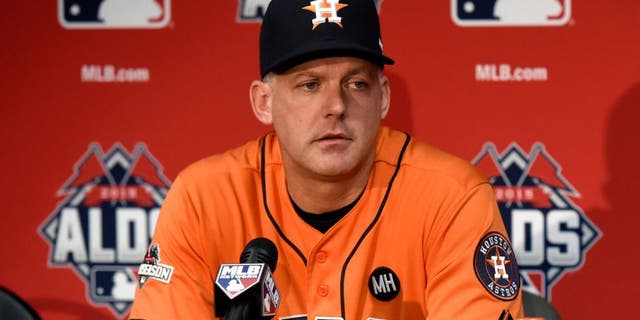 On Thursday, Houston Astros manager A.J. Hinch and general manager Jeff Luhnow gathered for a media conference to discuss their club's 2015 season and ALDS loss to the Kansas City Royals.
Understandably, Hinch was vocally frustrated by the club's Game 5 defeat in K.C., especially after watching an eighth-inning lead in Game 4 evaporate.
MLB.com's Chandler Rome provided quotes from both Hinch and Luhnow, and one thing is certain: They plan to come back and do even better in 2016.
"Am I satisfied?" Hinch said, expressing some of that frustration. "No. We got beat out in Game 5 of the Division Series and that's not what we set out to do when we got to Spring Training. That'll be what drives us into the future."
Hinch, in his first year as Houston manager, noted that after the club's Game 5 defeat several different players walked into his office to tell him 2015 was the most fun year they'd had yet in their respective careers.
"As a manager, that's a big moment, to have provided that kind of environment, that kind of culture," Rome quotes Hinch as saying. "What that's going to create for our players is a high standard of what's expected for seasons ahead, and what kind of environment we expect to have when we put on our uniform. I walk away from this season very, very proud of how we went about it, what our personality became and the expectations and the standards we set."
Luhnow, of course, will be the one ultimately deciding which potentially departing players to bring back. Among that list is outfielder Colby Rasmus, starting pitcher Scott Kazmir and reliever Tony Sipp, all of whom played key roles in the club's march to the postseason.
Said Luhnow: "This is a fun team, and I think they have to do again next year like they did this year. That's always a desire when [we] have a good team that's working well together. We'll bring back the whole staff and a large part of the team, and we'll see about the others."
Because of how the Astros went 'all-in' with their trades in an effort to qualify for October this year, Luhnow also set the ceiling a bit higher for 2016: "Right now, my feeling is that's made us all hungrier to advance even further next year. Expectations will be higher, clearly, based on what we accomplished. We're pleased with the progress of the team, we're pleased with the progress of the organization. A.J. and his staff did a tremendous job of allowing the players to be themselves and be the best players they could be this year, and the result is what we saw on the field."
All of the Astros' coaches will return for next season, it was also announced during this chat (as will Tal's Hill, in somewhat surprising news).
2015 was a banner year for the upstart Astros, and they should only get better from here - how they go about crafting a 2016 roster will be an intriguing storyline to watch.