Hield scores 30, eighth-ranked Oklahoma prevails at Memphis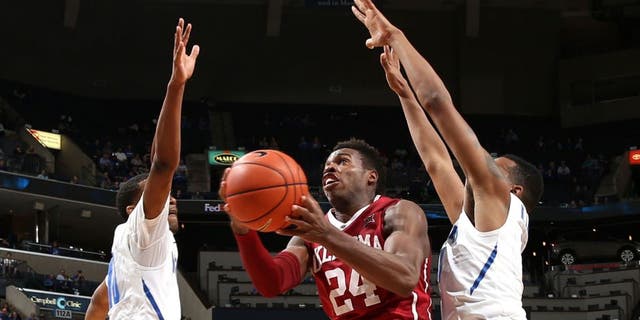 MEMPHIS, Tenn. -- Buddy Hield finished off his great game sealing Oklahoma's victory at the foul line.
The preseason All-American scored 30 points, including hitting four free throws in the final 14 seconds, to help No. 8 Oklahoma beat Memphis 84-78 on Tuesday night.
"It's fun being on the line," Hield said.
Oklahoma returned four starters off last season's NCAA Tournament Sweet 16 team that went 24-11 and the Sooners needed every bit of that experience to hold off a pesky Memphis team.
The Tigers led 76-75 with 1:38 to go following a layup by freshman Dedric Lawson, who would finish with 22 points and 15 rebounds.
"We don't expect him to be intimidated just because it's the No. 8 team in the nation," said Memphis guard Avery Woodson of Lawson.
This was the Sooners' first victory over Memphis in seven tries. A dunk from forward Ryan Spangler, who finished with 11 points and 12 rebounds, gave the Sooners a 77-76 lead. A 3-pointer by guard Jordan Woodard made it 80-76 with 38 seconds left. He had 15 points, nine rebounds and seven assists.
"Jordan was really good making a lot of plays late," said Oklahoma coach Lon Kruger.
Memphis (1-1) also received 12 points from guard Markel Crawford. Guard Isaiah Cousins had 13 points for the Sooners.
The last time the Sooners and Tigers met, in the 2K Sports Challenge in New York in November of 2007, Memphis was coached by John Calipari and ranked third in the nation; Memphis won that game 63-53. Tuesday's game was part of ESPN's annual College Hoops Tip-Off Marathon.
Hield was 9 of 19 from the floor and 4 of 8 from 3-point range as the Sooners hit on 11 of 26 3's (42.3 percent) overall. Hield also had eight rebounds, three assists, three steals and two blocks.
"He's a first-round draft pick," Memphis coach Josh Pastner said.
Each team had 48 rebounds and Memphis stayed close by continually getting to the free-throw line. But the Tigers converted on just 18 of 31 attempts (58.1 percent) and senior Shaq Goodwin was just 3 of 7 from the foul line and 2 of 9 from the floor; he finished with seven points, seven rebounds, and five blocks.
OU also survived giving up 22 points on 19 turnovers and Kruger credited the Tigers' "length and athleticism" for some of that, but not all of it.
"I thought we got careless throwing the ball into a crowd a few times," Kruger said.
TIP-INS
Kruger is the only coach to take five different teams to the NCAA Tournament: Kansas State, Florida, Illinois, UNLV and OU. ... In his seven season at Memphis, coach Josh Pastner's 149 victories rank fifth in program history. ... Memphis was 18-14 last season and did not make the NCAAs after four straight trips. ... The Tigers never trailed in their opener against Southern Miss on Saturday, Nov. 14, winning 67-49.
LIVING UP TO THEIR REPUTATION
The Sooners held opponents to 38.6 percent shooting last season, good for 11th in the nation. They held Memphis to 34.6 percent (27 for 78) and to 23.1 percent from 3-point range (6 for 26).
QUOTE OF THE NIGHT
"It couldn't have been a better scenario, especially since we won." Kruger on the value of being tested with a close game in the season opener.
UP NEXT
Memphis: Hosts Grambling State on Thursday.
Oklahoma: Hosts McNeese State on Friday.