Here's my number – call me, maybe?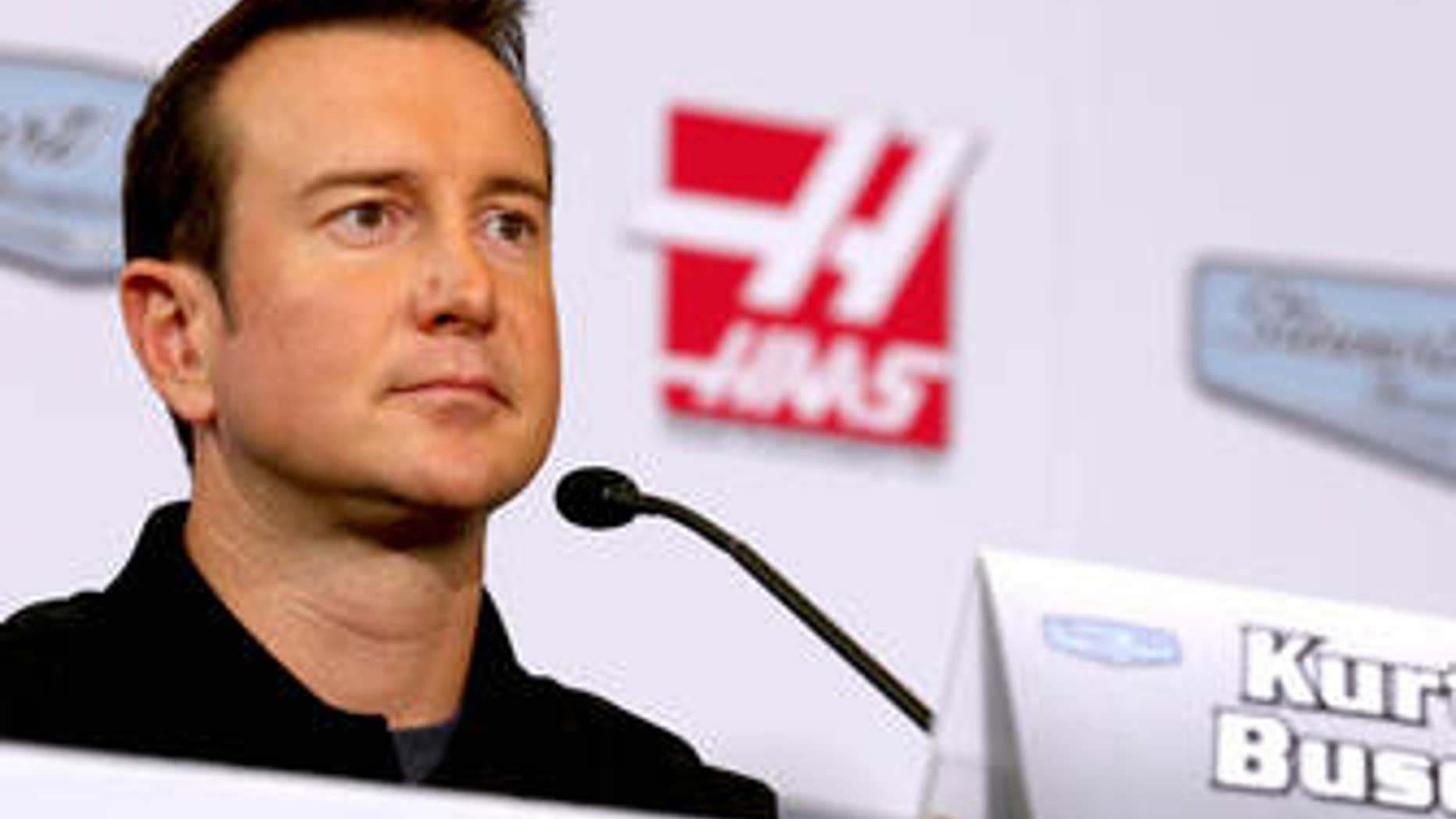 Well, it's been a whirlwind few days here for Kurt Busch and his future. He got the call from Gene Haas and Tuesday the announcement was made that Kurt will be leaving the Furniture Row team and joining Stewart-Haas Racing at the end of the year.
If you listened to the press conference, it's interesting because it had a different spin than most people realize. Gene Haas, co-owner of Stewart-Haas Racing, very candidly admitted he was ram-rodding this whole thing and that at first, his partner Tony Stewart wasn't very happy about it.
Gene said it all started with a conversation with Kurt at a Chevrolet dinner during the Brickyard 400 weekend. Then only eight days later, Tony was in the wreck and was done for the season. Gene moved forward with his discussions with Kurt, and now the deal is complete.
Greg Zipadelli, who is the competition director at Stewart-Haas Racing, agreed with what Gene said at the press conference about Tony. However, Tony's reservation wasn't about Kurt. Tony's reservation was starting a fourth car next year. Tony wanted to add a fourth car when the time was right but thought next year was going to stretch the organization too thin, especially when you consider they just added a third car this year and have Kevin Harvick coming over to replace Ryan Newman next year.
Gene said he knew that Tony was probably going to be upset but that he moved forward, anyway. Gene's tool company, Haas Automation, will be the primary sponsor for Kurt next year, and Gene said the only goal is winning.
With a driver the caliber of Kurt Busch coupled with the resources of Stewart-Haas Racing, winning shouldn't be an issue. You only have to look at Kurt's season this year to see the possibilities. I mean, look what he's done over there at Furniture Row.
This is a single-car operation that never really had a chance to win races or even make the Chase. They plugged Kurt into their program and everything changed. Now sure, Kurt hasn't won a race yet. Things always seem to happen to the No. 78 when they get close. What you have seen, however, is they are bad fast no matter what track we go to. They have an alliance with Richard Childress Racing and have been taking full benefit of it.
Don't you find it ironic that Kurt still has a chance to make the Chase while two of the three RCR primary cars don't? Don't you also find it ironic that in 2014 Kurt will be a teammate instead of just an alliance partner from RCR with Kevin Harvick?
So let's go to the scorecard because in 2014 you will have Tony Stewart, Kevin Harvick, Kurt Busch and Danica Patrick all under one roof. That's A LOT of personality right there. All four don't back down. All four aren't afraid to speak their minds. I think you are seeing the marriage of volcanic and dynamic.
I think the counter-balance to that will be the crew chief lineup over there. You have Steve Addington with Tony, now Rodney Childers for Kevin, and Tony Gibson with Danica. The wild card obviously will be if Matt Borland decides to stay and be the crew chief for Kurt or if he will go with Ryan wherever he lands. The personalities of the four crew chiefs will be the calming effect of the storm, should things brew up.
Now, I am not saying you are seeing a new Kurt Busch. Sure, if you listen to him on the radio at times this year he can still be pretty vocal and heated. What we haven't seen, though, is the total meltdowns of the past. So while I am not saying you are seeing a new Kurt Busch, what I am saying is we are seeing a better Kurt Busch. He's still one of the most talented drivers in the sport, hands-down, and now seems to have a better handle on his emotions.
While Kurt has been a big benefit to Furniture Row, the same can be said about them to him. They gave Kurt an opportunity when most doors were closed to him. I think Kurt's been humbled and matured to the point where he "gets it" - that it's "we" as a team, collectively, and not all about "me" as the driver. That's a big positive step forward. He's put Furniture Row on the NASCAR map and they've given him a second lease on his driving career.
What he and crew chief Todd Berrier have done so far this season and are still trying to do is historic. They took a hit Saturday night at Bristol with problems with a right rear hub. They still have two races to go in the regular season, so they still have a chance to make history and be the first-ever single car team to make the Chase.
It's not going to be easy. The incline to reach the top of this mountain is pretty darn steep. With that said, Kurt can win at Atlanta this weekend and Richmond next weekend and be right in the thick of the Chase. Don't bet against him. Kurt now knows he has a secure future. He's also already said that he is going to give everything he's got to the No. 78 to make the Chase or failing that, get them a win or two before he departs.
I know it's hard to believe, but there was even more news coming out of Stewart-Haas Racing. They have hired Rodney Childers away from Michael Waltrip Racing to be Kevin Harvick's crew chief. That's a pretty big coup if you ask me, because Rodney is one of the brightest and sharpest crew chiefs in the garage.
So the dominos are beginning to fall faster. Michael Waltrip Racing announced that Scott Miller, their vice president of competition, would take over as Brian Vickers' crew chief for the remainder of the season while Rodney remains under contract with MWR.
Ryan Newman is still waiting for his phone to ring. Is he a candidate for the No. 29 or No. 78 cars? Juan Pablo Montoya maintains he is only willing to drive for a winning team. The problem with that scenario is that all those seats are taken. I still maintain we'll probably see Juan go back to IndyCar. Who knows, he might even drive for Chip Ganassi in IndyCar. I wouldn't count that out.
Everyone knows what Tony is facing with his rehabilitation to be ready to go for Daytona come February. Like I have mentioned before, it's one of those "been there - done that" kind of things for me. I don't think Tony's ever been a big fan of the gym; I know I wasn't. However, it took basically living in the gym for me to come back from my shattered femur and, when I did, I was in the best shape of my career. Don't be surprised to see the same for Tony.
Also a lot of people may not realize that Martin Truex Jr. broke his right wrist Saturday night at Bristol in that multi-car crash on Lap 448. He's been fitted with a special cast and has been cleared by NASCAR to race. That's really good news for he and his NAPA team because with these two races to go, Martin is 14th in points and holds one of the two wild-card spots. Hopefully, he can hang on and make the Chase for the second time of his career.
So there is a lot happening right now across the board. It seems like every day something new is being announced. Come Friday, I won't be a bit surprised to hear Earnhardt Ganassi announce that Kyle Larson is taking Juan's seat in the No. 42 for 2014. Rumors are flying that possibly TNT and ABC/ESPN might exit the sport at the end of the year instead of 2014 as contracted. If that comes to pass, that will be history-making in itself as no broadcaster has ever done that in any professional sports.
Silly Season is in full swing. The drama of only two more races before the Chase field is set is upon us. We had a great crowd in the grandstands at Bristol last Saturday night, plus more folks at home were watching. We're heading into September and the Labor Day Weekend with a lot of excitement in our sport. To me, it really doesn't get any better than that.