Hedberg has Devils thinking playoffs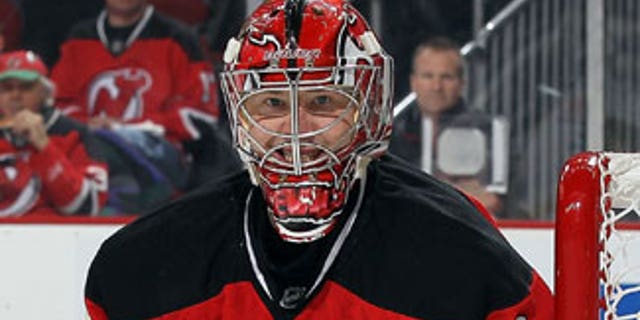 It's hard to believe the hottest goaltender in New Jersey is not Martin Brodeur.
The Devils' post-All-Star break surge appeared to be in trouble when Brodeur injured his knee at Montreal two weeks ago. Instead, veteran Johan Hedberg, aka "Moose," stepped in, led the Devils to a 4-1 win on Super Bowl Sunday, and has kept the good times rolling.
New Jersey made it seven wins in a row on Saturday by winning 4-1 at Carolina, and Hedberg has been in goal for all seven – though he didn't get the win in Montreal despite playing the last two periods. Hedberg was super this past week, winning all three decisions while allowing just three goals.
The wins included a shutout of the New York Rangers sandwiched around a pair of victories against eighth-place Carolina, the team the Devils are trying to catch in what would be one of the great comebacks in sports history – they are now 10 points out of the playoffs after trailing by 27 at the halfway point of their season.
Five up — Five players who've been hot:
Taylor Hall – It's been an up-and-down season for Hall, the No. 1 pick in the Entry Draft last June, but Saturday was definitely one of the high points. Hall had his first NHL hat trick in Edmonton's 5-3 win against Atlanta. Despite some early-seasons struggles, Hall has 20 goals with six weeks left in the season.
Antti Niemi – Niemi also had his ups and downs for San Jose before the All-Star break, but since then, he's played like the goaltender who won the Stanley Cup with Chicago last spring. He won all three of his starts last week, including a 4-0 win against Colorado on Saturday, and has won seven of his last nine decisions, three by shutout.
Ilya Bryzgalov – Phoenix enters the week with a seven-game winning streak, and Bryzgalov has been in goal for all seven. He went 3-0-0 last week while allowing just seven goals on 99 shots.
Henrik Zetterberg – Detroit is on a roll, and Zetterberg is a big reason why. He had back-to-back two-assist games during the Wings' sweep of Tampa Bay and Florida, and has 1 goal and 8 assists in his last five games.
T.J. Oshie – Oshie finally appears to be recovering his scoring touch after missing two months with a broken ankle and struggling for another couple of weeks. He had 3 goals and 2 assists as St. Louis swept back-to-back games against Buffalo and Anaheim.
Five down — Five players who are struggling:
Curtis McElhinney – It was a nightmare week for Anaheim's backup goalie, who inherited the starting role when Jonas Hiller went back on IR. He surrendered 12 goals in losses to Washington and Minnesota, then was lifted after allowing four goals on 11 shots in the first period of Saturday's 9-3 loss at St. Louis.
Chuck Kobasew – February has been kind to the Minnesota Wild, but not to Kobasew. The veteran forward has gone without a point in all nine of his team's games this month.
Alex Ponikarovsky – Not much has gone right for the five-time 20-goal scorer during his first season with Los Angeles. He has just 4 goals in 39 games and hasn't had a point in his last nine despite playing with one of the NHL's hottest teams.
Kari Lehtonen – Lehtonen was one of the biggest reasons the Dallas Stars led the Pacific Division for much of the season. But he and his team are both struggling. Lehtonen has lost his last three starts, is 1-6-1 in his last eight while allowing 26 goals.
Jason Chimera – Chimera continues to struggle to translate his speed and size into offense. He's gone without a point in his last six games and is minus-6 in that span.
Injuries, news and notes – Chicago's injury list extends to the coaching staff. Joel Quenneville is out with internal bleeding from an ulcer. Assistant Mike Haviland is running the team in his absence.
Out – Minnesota captain Mikko Koivu left Friday's game after blocking a shot with his hand. He'll be re-evaluated Monday. … Anaheim put goalie Jonas Hiller back on IR. He's still suffering from fatigue and light-headedness. … Vancouver lost another defenseman when Kevin Bieksa went down with a broken foot after blocking a shot. … Pittsburgh rookie Nick Johnson left Friday's practice with an undisclosed injury and won't play Sunday. He's day-to-day. … Columbus lost center Derick Brassard with a hand injury and forward Derek Dorsett with a concussion. Both went on IR. … Colorado lost second-year center Matt Duchene indefinitely with a hand injury. … Dallas took a big hit when star center Brad Richards sustained an upper-body injury on Feb. 13. He didn't make the Stars' trip to Western Canada, and they lost all three games. … Ottawa lost defenseman Sergei Gonchar on Tuesday with an upper-body injury. … Phoenix put defenseman Ed Jovanovski on IR after he suffered an orbital bone fracture on Thursday. …
Returning – Montreal expects to have defenseman Hal Gill and forward Mike Cammalleri back for Sunday's Heritage Classic against Florida. Gill has missed four games with an upper-body injury, while Cammalleri has missed 12 with a shoulder injury. … Minnesota defenseman Marek Zidlicky returned from a shoulder injury on Friday. … Florida captain Bryan McCabe was back in the lineup Friday after missing more than a month with a broken jaw. … Ottawa defenseman Matt Carkner returned Friday after missing three games with a lower-body injury. … New Jersey activated goaltender Martin Brodeur (knee) off IR on Friday; he dressed but didn't play in his first two games back.
Still out – Rangers forward Ruslan Fedotenko (shoulder) is still a week to 10 days away from returning. … Toronto forward Colby Armstrong is still out with blurred vision; he's missed four games.
The week ahead – There's a lot of hockey on the schedule during the final week before the Feb. 28 trade deadline. All 30 teams play at least three times – and thanks to a makeup from an earlier postponement, St. Louis plays five.
Games to watch (Feb. 21-27):
Washington at Pittsburgh (Feb. 21) – The Sid vs. Ovi matchup that usually highlights Caps-Pens games won't happen this time – Crosby is out with a concussion. But don't expect the NHL's biggest rivalry to be any less intense when the Caps make their first trip to Pittsburgh since the Bridgestone NHL Winter Classic on Jan. 1.
Colorado at St. Louis (Feb. 22) – The makeup of a game postponed by bad weather three weeks earlier takes on a whole new light after Saturday's blockbuster trade between the teams.
Minnesota at Los Angeles (Feb. 24) – The Kings return home after their marathon 10-game road trip for a rematch with Minnesota, the team they faced in the opener of their trip – 23 days earlier.
New Jersey at Tampa Bay (Feb. 25) – The red-hot Devils, who began their second-half surge at Tampa Bay six weeks earlier, are the visitors as the Lightning conclude the 12-game homestand that's kept them at the St. Pete Times Form since before the All-Star break.
Boston at Edmonton (Feb. 27) – The Bruins pay their first visit to Rexall Place since October 2008. Boston has won the last eight meetings since October 2000 – and the Oilers have been shut out in each of the last three.
Tough week ahead:
Colorado Avalanche – The Avs were spending the week on the road even before having their Feb. 1 makeup in St. Louis rescheduled for Feb. 22. That gives Colorado four games in six nights away from home, including a Saturday-Sunday swing through Southern California.
Phoenix Coyotes – The 'Yotes began a five-game trip with a win in Nashville on Saturday. This week sees them hopscotch their way from Philadelphia to Tampa Bay to Columbus before ending with a Sunday evening game in Chicago.
St. Louis Blues – Thanks to the postponement from three weeks earlier, the Blues are the only team to play five games in a week this season. They host Chicago and Colorado on consecutive days before heading to Western Canada for three games.
Easy week ahead:
Anaheim Ducks – Not only are the Ducks home for all three games this week, but two of their opponents (Minnesota and Colorado) play at Los Angeles the day before.
Buffalo Sabres – The Sabres play the second half of a six-game homestand, with two of the three games against opponents currently out of the top eight in the East.
Vancouver Canucks – The Canucks stay home all week, with visits from Montreal (in the game after the Heritage Classic) St. Louis (third game in four days) and Boston.