Heat's Erik Spoelstra shares NBCA coaching award with Rockets' Mike D'Antoni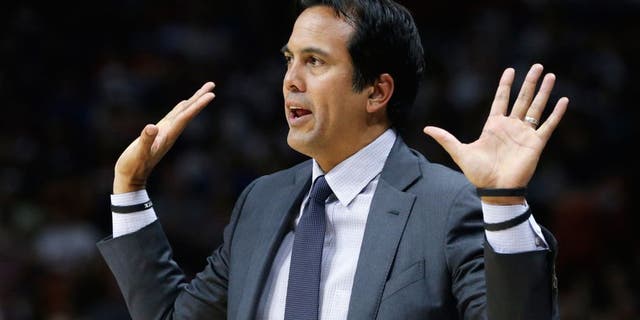 The NBA's coaches have spoken: No one did a better job this season than Miami's Erik Spoelstra and Houston's Mike D'Antoni.
Spoelstra and D'Antoni were announced Sunday as co-recipients of the inaugural Michael H. Goldberg NBCA Coach of the Year Award. It is named for the longtime executive director of the National Basketball Coaches Association, who died earlier this year.
The league's 30 head coaches are the only voters for the NBCA award. A media panel voted separately for the NBA's Coach of the Year award, which will be announced June 26.
"Congratulations to Mike and Erik on their outstanding work this year," said Dallas Mavericks coach and NBCA President Rick Carlisle. "And somewhere up above our good friend Michael Goldberg is very proud."
D'Antoni guided the Rockets to the No. 3 seed in the Western Conference and third-best record in the NBA at 55-27, and his team broke the league's regular-season record with 1,181 3-pointers. In his first season on the sidelines in Houston, D'Antoni helped the Rockets win 14 more games than they did a year ago.
Spoelstra led the Heat on a huge turnaround -- after going 11-30 in its first 41 games, Miami went 30-11 in its last 41 games and wound up losing a tiebreaker for the final Eastern Conference playoff spot. It was the biggest first half-to-second half turnaround in NBA history, in a season in which Miami led the league with 328 player games lost to injury or illness.
"No question, Spo should be coach of the year," Heat point guard Goran Dragic said.
Other coaches who received votes from their peers were Washington's Scott Brooks, Memphis' David Fizdale, Golden State's Steve Kerr, Milwaukee's Jason Kidd, San Antonio's Gregg Popovich, the Los Angeles Clippers' Doc Rivers and Utah's Quin Snyder.
Spoelstra and D'Antoni will receive their awards at the NBCA's annual meeting in September. The NBCA says the award will be "presented annually to a head coach who helps guide his players to a higher level of performance on the court and shows outstanding service and dedication to the community off the court."