Hasselbeck knows preseason finale may be last snaps of career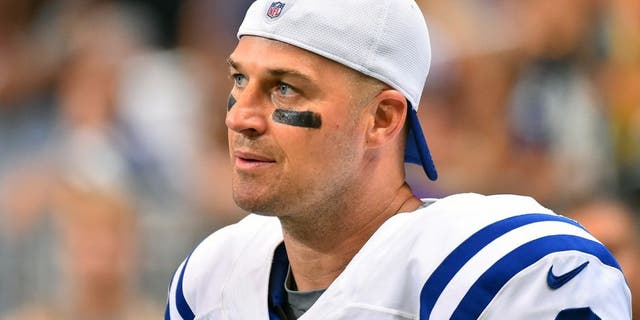 INDIANAPOLIS -- Matt Hasselbeck understands the significance of Thursday's preseason finale.
The 39-year-old quarterback has a one-year contract and is backing up Andrew Luck, who has never missed a pro game.
If all goes well in Indianapolis this season, this traditionally meaningless contest could turn out to be the last meaningful snaps of Hasselbeck's 17-year NFL career -- and he's lobbying to start.
''Coach (Chuck Pagano) tried to pull me from a two-minute drill and I gave him a dirty look like, 'I just heard you say this morning how important practice is,''' Hasselbeck said half-jokingly after Monday's workout. ''For me, I was thinking, 'How do you think I got here?' Yes, It's a preseason game, but we need all the reps we can get.''
It's not that a veteran such as Hasselbeck needs extra work. He craves it after a long, winding journey around the league.
Hasselbeck started as a backup to Brett Favre and is likely to finish his career backing up Andrew Luck. The three-time Pro Bowler has reached the playoffs with three different teams and led Seattle to its first NFC title.
He remains the Seahawks' career leader in attempts, completions and yards passing, and with 34,948 yards passing, he is No. 2 among quarterbacks drafted in 1998 -- behind only Peyton Manning.
Like Manning, Hasselbeck grew up in a football family. His father, Don, and Manning's father, Archie, actually were teammates in Minnesota in 1984 and the younger Hasselbeck still recalls vivid details from the games he and his brothers had against the Manning boys.
But Hasselbeck, who turns 40 later this month, also understands what this game means to the younger guys.
As a sixth-round draft pick in 1998, Hasselbeck fought his way onto Green Bay's active roster -- until the Packers decided former Notre Dame star Rick Mirer was a better choice as the No. 3 quarterback. Hasselbeck was cut, quickly re-signed to the practice squad and eventually traded to Seattle after the 2000 season.
Now, in the twilight of his career, Hasselbeck is fighting to prove something else: He still can excel in a young man's game.
Luck has no doubts.
''He makes me feel young,'' the Colts' starting quarterback joked Tuesday. ''He is an incredibly valuable asset. He's a great friend, a role model, he's got experience in every situation. He knows how to help you through situations and he knows when a quarterback has too much information and when a quarterback doesn't have enough information.''
Yet this has not been an ideal preseason.
After going 8 of 17 for 72 yards in Week 1 and 6 of 9 for 59 yards with an interception and a lost fumble in Week 2, Hasselbeck rebounded at St. Louis by finishing 10 of 14 for 62 yards as the Colts snapped a seven-game losing streak in the preseason. He wants to be even better this week.
And the oldest guy in the Colts' locker room, 42-year-old kicker Adam Vinatieri, knows Hasselbeck still has a lot to offer.
''He can help out with the real stuff, too, like I do - how to figure out finances, family obligations, what happens when a baby is on the way or whatever,'' Vinatieri said. ''He's been in a lot of playoff games, a lot of preseason games and there's a comfort level that comes with that when you're in the huddle with him.''
If this is Hasselbeck's final start, he's treating it no differently than his first.
While some players are prepping for the Sept. 13 opener at Buffalo, the old pro is focused on the two things that have kept him around this long: his next opponent and improving on last week's performance.
''The possibility that's it is there every year, but it becomes more and more likely every year,'' Hasselbeck said. ''But you still have to prepare well and play well.''
NOTES: Pro Bowl receiver T.Y. Hilton (concussion protocol) worked out in a red jersey Tuesday. He is not expected to play against Cincinnati. ... Pagano said the team was still waiting for more information about defensive lineman Art Jones (left ankle), who was using crutches in the locker room. ... Vick Ballard (hamstring) missed another practice Tuesday.