HAMMOND: Hamlin Tries To Rally Into Chase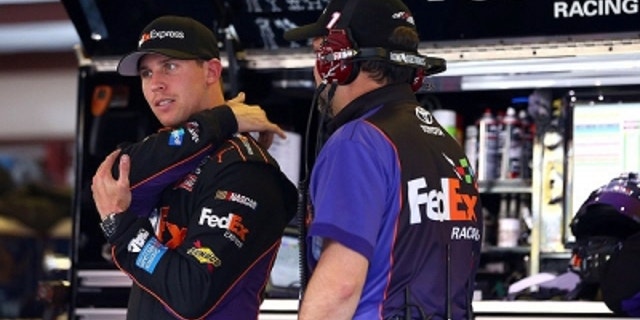 I realize the 2013 NASCAR Sprint Cup season is still relatively young.
Let's face it: We've run only 11 out of 36 points events. While the teams pretty much have a baseline now, they all know there is still a lot to learn about this new Generation-6 car.
The team and manufacturer that definitely have reaped the benefit of the car at this point have to be Joe Gibbs Racing and Toyota. In the past, we've known JGR to be able to get one or two of its cars competitive and even win a championship.
Right now, though, the organization is a three-headed monster that none of the other teams want to face.
Now granted, Denny Hamlin took a step back with his injury. I maintain the strength that's in that team and car, plus the passion of that driver, will still propel him and his team into the Chase for the Sprint Cup.
Just look at Denny's performance on Saturday night at Darlington Raceway. He had missed a number of races, and then climbed back behind the wheel and brought his FedEx Toyota home in second place.
That was amazing and a tribute to Denny's determination.
If there is someone who wants to put money down on the table today and bet which organization with three teams or more will have all its cars in the Chase and be a legitimate contender for the title, then right now the safe money is on Joe Gibbs Racing.
Again, I say use Darlington as your example. Kyle Busch dominated that race. He led an absolutely amazing 265 laps of a 367-lap event. Unfortunately, a tire going down late in the race kept him from closing the deal. Guess who took over? It was Kyle's teammate, Matt Kenseth, who won the event.
Even if Matt would have stumbled at the end, Denny was sitting there in second. Short of a tire going down on Busch's No. 18, there's no doubt in my mind we were looking at a 1-2-3 finish from Joe Gibbs Racing.
So my point is that the team has depth, strength and consistency as an organization.
I think it shows the work that the other teams and drivers have to do. It also shows that Ford and Chevrolet have to get caught up to Toyota.
It just seems like Toyota has really got its act together when it comes to this new car. When it comes to tracks that are a mile or longer, Toyota looks to be the dominant manufacturer.