Guillermo Ochoa Saves Ajaccio, Chicharito Wants to Repay ManU, and Ruiz Lifts Twente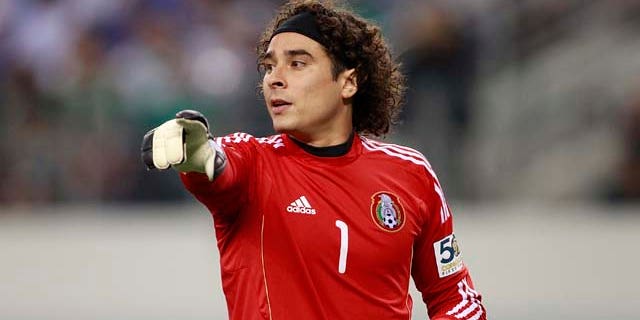 Guillermo Ochoa
It took only two matches, but Mexican international goalkeeper Guillermo Ochoa already has made an impact with his new Ajaccio teammates in French League 1.
Ochoa and the newly promoted team walked out of Stade Gerland stadium with a valuable point after surprising favored Olympique Lyon in a 1-1 tie in French Ligue 1 action on Saturday.
Ochoa was outstanding in the match, making several acrobatic saves to keep Ajaccio in the match. He was credited with two saves and seven blocked shots against Lyon, which has a 16-match unbeaten streak at home.
"I'm really proud that we came and took a point here in Lyon," Olivier Pantaloni said. "It must have been tough for them to concede two points against us given the shape of the match.
"Given the number of chances and the shots against the posts, we should have been crushed, no question," he added. "But we fought with the weapons we have. We hunkered down, we ran and we defended as best we could – especially Ochoa, who had a huge match."
After Argentine international midfielder Lisandro López twice hit the woodwork in the opening minutes, Ochoa denied the Lyon captain with a reflex save. Ochoa stopped Jimmy Briand in the first half before he stopped a Maxime Gonalons header in the second half.
As superb as he was, Ochoa could not stop Lyon, under new coach Remi Garde, from equalizing in the 82nd minute on López's goal from an acute angle. It was López's 11th goal in 13 Ligue 1 matches. Frederic Sammaritano had given the visitors the lead in the 59th minute.
"We knew we would have very few chances, but we took our chance when it came," Pantaloni said. "The players made a huge effort and this result will give us a lot of confidence going forward, which augurs well for our season."
After the referee called fulltime, López congratulated Ochoa for his outstanding performance.
Ochoa did not have much time to practice with his team as he played for Mexico in its 1-1 draw with the United States in an international friendly in Philadelphia, Pa. on Wednesday.
Ochoa flew back to France on Thursday, practiced with his team on Friday and played the next day.
Tico confrontation: Ruiz beats Alvarado
It turned out to be the ultimate Tico confrontation – national teammate vs. national teammate.
And forward Bryan Ruiz prevailed over goalkeeper Esteban Alvarado in Twente Enschede's 2-0 win over AZ Alkmaar in the Dutch First Division on Saturday.
Ruiz, who replaced midfielder Steven Berghuis at halftime, beat Alvarado with a spectacular lob in the 66th minute to give Twente some breathing room.
Marc Janko had given Twente a 1-0 lead in the third minute.
The win left Twente with a perfect 2-0-0 record and six points. But the club was in third place, trailing Ajax (2-0-0, six, plus seven goal differential) and Feyenoord (2-0-0, six, plus six).
Twente hosts Benfica (Portugal) in a UEFA Champions League qualifying match on Tuesday before visiting Heerenveen in a domestic encounter on Saturday.
Chicharito wants to repay United
Mexican star striker Javier Hernández, who did not play in Manchester United's 2-1 season-opening win over West Bromwich Albion on Saturday, said he wants to replay the English Premier League side for the faith it has given him.
"I've been treated wonderfully in Manchester, and I simply need to repay that faith," Chicharito told FIFA.com. "I had a very good first season and I hope to be able to contribute much more. I think there are good times ahead with this team and I'm very excited about the opportunities ahead in the coming season."
Hernández has been getting back into shape after suffering a concussion during training in United's recent summer tour of the United States. United manager Sir Alex Ferguson said that he expects Hernández to return to action in seven days.
"I've been treated wonderfully in Manchester, and I simply need to repay that faith," he was quoted by FIFA.com. "I had a very good first season and I hope to be able to contribute much more."
Chicharito credited his father and sister, who came to live with him in England as a huge help to adapting to a new environment.
"Moving to a new country is always difficult, but the fact my dad and my sister came to live with me was a huge help," he said. "That made things easier. In fact, what I miss most about Mexico isn't the food or the customs, it's my family and the way we'd all sit around chatting together on an evening."
Pablo Barrera
Barrera did not play for West Ham in is 1-0 win over Doncaster Rovers (host) in the English Championship on Saturday. West Ham plays at Watford on Tuesday.
Carlos Vela
Vela, a forward, did not play for Arsenal in its season-opening scoreless draw at Newcastle United on Saturday. Arsenal hosts Udinese in a UEFA Champions League qualifier on Tuesday before welcoming Liverpool in an EPL encounter on Saturday.
Giovani dos Santos
Dos Santos, a midfielder-forward, and his Tottenham Hotspur teammates did not play their EPL opener against Everton at White Hart Lane due to the recent riots in London. Tottenham is scheduled to play Heart of Midlothian (Scotland) in the Europa League on Tuesday before returning to EPL play at Manchester United a week from Monday.
Francisco Javier Rodríguez
Rodríguez, a defender, played the full 90 minutes for VfB Stuttgart in its 1-1 road draw with Borussia Moenchengladbach in a Bundesliga match. Stuttgart hosts Bayer Leverkusen on Saturday.
Rafa Márquez
The central defender went the full 90 minutes for the struggling New York Red Bulls (6-6-13) in their 2-2 home draw with the lowly Chicago Fire (2-7-14). It appeared Márquez was out of position for Chicago's first goal (the second was scored eight minutes later). The Red Bulls have a six-game winless streak (0-3-3) and haven't won since a 5-0 home win over the New England Revolution on Saturday. They haven't won in New England in almost a decade (2002).
Omar Bravo
Bravo, a forward, and his Sporting Kansas City teammates did not play this weekend because the club receive a bye. Kansas City will host the Portland Timbers on Wednesday. Bravo won't play as he will serve a red-card suspension. Ironically, the club will be giving out a Bravo bobblehead doll to the first 10,000 fans who show up at Livestrong Sporting Park.
Michael Lewis, who has covered international soccer for three decades, is a frequent contributor to Fox News Latino. He can be reached at SoccerWriter516@aol.com.
Follow us on twitter.com/foxnewslatino
Like us at facebook.com/foxnewslatino