Best Mexican Player in the World? It's Debatable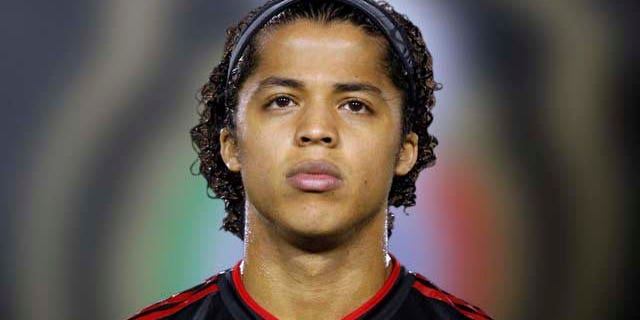 You want to start an argument?
Try to pick the best five Mexican players in the world. You could get as many arguments as the number of players nominated
Whom do you like: Giovani dos Santos? Carlos Vela? Or maybe Cuauhtémoc Blanco?
Let's find out. Here's one writer's opinion of the top Mexican football players.
Giovani dos Santos
To many observers, dos Santos is the best Mexican player. U.S. national coach Bob Bradley might concur after watching the wily forward make life miserable for the American defense and score the second goal of the 2009 CONCACAF Gold Cup final, which México won by a score of 5-0. Not surprisingly, he was named tournament's Most Valuable Player.
His fabulous skill and overall vision of the game makes him a dangerous player and can be the best in the world.Only 21, dos Santos already has been capped some 31 times by the National Team, starting in all five games at the World Cup in South Africa. He was a finalist for best young player of the tournament. Dos Santos played on the right side of midfield, helping the Mexicans reach the second round before Argentina picked them off. With his club team, Tottenham Hotspur, the Monterrey native has played at attacking midfield and at forward.
Given his pedigree and success at the youth level, much is expected of dos Santos, who is the son of former Brazilian player Zizinho. At the FIFA Under-17 World Cup in 2005, he was the Tricolores' playmaker en route to the world championship, and was awarded the Silver Ball as the second-best player of the tournament. Two years later, the the U-20 World Cup, dos Santos struck three times even as Argentina eliminated the Mexicans in the quarterfinals. Dos Santos earned Bronze Ball honors as the third best player of the competition.
After starting at Barcelona, dos Santos moved to Tottenham. But he had to be loaned out to Ispwich Town, England, and Galatasaray, Turkey, the past two seasons.
The question is whether dos Santos can play a vital role for the north London side in the English Premier League.
Carlos Vela
How appropriate that an Arsenal player is No. 2 on the list, considering Vela and dos Santos play for rival sides in north London.
Vela, also 21, has been compared by Arsenal Wenger to a young Robbie Fowler, high praise indeed. He has the nose for the goal, good pace and a cunning that makes him dangerous. Getting playing time on the English Premier League side, it will be his goal to score some goals.
"It's about starting the game, carrying the responsibility to be the main striker and showing that you can deal with that," Wenger recently said.
"It's a massive opportunity for him but he has worked very hard from the beginning of the season," he added, referring to Vela. "He is a different player to what he was last year when he was a bit easy-going sometimes. He has a more mature attitude now. I believe that Carlos can do it but, then again, you have to turn up at the right moment."
As a late substitute in the 4-1 EPL triumph over Bolton on Sept. 11, Vela scored in the 82nd minute as a substitute. Four days later he certainly showcased his wares by coming off the bench and connecting for the final two goals – a classy finish in the 69th minute and another goal in the 84th minute – in Arsenal's 6-0 demolition of Braga, Portugal, in the UEFA Champions League.
"He is an outstanding finisher who worked very hard this summer and he continues to improve," Wenger said. "He is 21 years-old and it is a fantastic quality."
Getting playing times for the Tricolores, on the other hand, isn't a problem as Vela has scored nine times in 33 international appearances, including two games at the World Cup before an injury sidelined him. We won't be seeing Vela don a green shirt for México any time soon. He and midfielder Efraín Juárez have been suspended from the National Team for their involvement in a Sept. 7 party in Monterrey after an international match with Colombia. Vela and 12 teammates were fined 50,000 Mexican pesos, or about $3,953 U.S. That would make him eligible to play internationally around March, in plenty of time for the 2011 CONCACAF Gold Cup – an opportunity to, if he faces the U.S., wreak more havoc.
If they continue their progress and stay away from injuries, Vela and dos Santos could wind up playing in two or even three more World Cups, which is not exactly what the Mexicans' CONCACAF foes want to hear.
Javier Hernández
Perhaps better known as Chicharito, or little pea, Hernández, 22, could not have planned a better debut with Manchester United. During the MLS All-Star game on July 28, Hernández came on as a substitute in the 63rd minute. Some 21 minutes later he was celebrating his first ManU goal at Reliant Stadium in Houston – among many Mexican supporters – in what turned into a 5-2 Manchester triumph. Hernández is United's first Mexican player.
The son of former Mexican international striker Javier Hernández who was nicknamed pea because of his green eyes, Chicharito scored 29 goals in 79 appearances for Guadalajara over four seasons, turning the head of United's brass, including manager Sir Alex Ferguson.
He already has been compared to ManU legend Ole Gunnar because like the Norwegian great, Hernández is quick, can shoot with both feet and is good in the air. He displayed some of that in United's 1-0 win at Valencia on Sept. 29, only the second time the Red Devils won against a Spanish side in Spain.
"Of course, Wayne Rooney and Dimitar [Berbatov] were the natural choices at the start of the season, which has meant Javier has not had a lot of football," Ferguson told reporters. "But he is young and he is developing his game and doing good work in the gymnasium. He still has work to do in that aspect of his physique, but you cannot take away from the fact that he is a fantastic finisher."
Hernández's reaction?
"It was a great night," he said. "I am so happy about the goal but also it was important to get the win. It is a dream come true for me. I always used to watch the Champions League when I was back home in Mexico."
There's little doubt that he is the real deal. He struck twice for the Mexicans in South Africa.
In the Tricolores' 3-1 second-round elimination loss to Argentina, Hernandez found the back of the net with a brilliant goal from the edge of the penalty area in the 71st minute.
In México's 1-1 friendly draw with World Cup champion Spain at Azteca Stadium on Aug. 11, Chicharito connected off a Andrés Guardado pass for a 12th-minute score, the first goal that goalkeeper Iker Caskillas has surrendered internationally since Chile's Rodrigo Millar beat him during the World Cup opening round.
He can be a one-man wrecking crew to be reckoned with in the future, if not already.
Andrés Guardado
With a name like that, you would think Guardado would be a goalkeeper or a defender. But the 24-year-old Deportivo La Coruna all-around player, a left-sided midfielder who likes to go forward for the Spanish La Liga side and the Mexican National Team.
After three productive seasons for La Coruna, United and Ferguson reportedly have an eye on Guardado. And why not? He crosses the ball well, has pace, dribbles well, can take long-range shots and can take free kicks. He has found the back of the net twice for Coruna this season.
If United doesn't corral him, don't be surprised if another European team snatches him up. Coruna paid Atlas $7.3 million for 75 percent of Guardado's rights in 2007; Atlas retained the other 25 percent.
Another one of México's World Cup starter, Guardado has a penchant for rising to the top. While playing for Atlas in México's Primera División in 2005, he was named the best rookie in the Apertura in 2005 and the best wingback in the 2005 Apertura and in the 2007 Clausura. He did not have an opportunity to add to his Primera honors as he joined Deportivo, earning the club's player of the year in 2007 and 2008.
Only four months after making his first team debut for Atlas, the 5-foot-7-inch, 132-pound Guardado played in his first international match against Hungary in December 2005 – at the ripe old age of 19. He has scored eight international goals in more than 60 appearances, his most recent in a 1-0 friendly win over Angola in Houston on May 13.
Perhaps Guardado's best known goal was his score in a 2-1 U.S. victory in the 2007 Gold Cup final in Chicago. He also set up Rafa Márquez's goal in México's 1-1 draw with host South Africa in the World Cup opener.
Carlos Salcido
Backline players don't have to be spectacular or offensive-minded. They must be healthy and reliable. That's what Salcido has brought to the table, for both club and country.
Salcido has kept himself in excellent shape and is a difficult man to beat, whether he is manning the middle of left side of the defense.
A steadying force in the back, Salcido recently signed with Fulham FC, England, for a three-year deal after four seasons with PSV Eindhoven, Netherlands. His experience – Salcido has performed in all eight games he has started at the 2006 and 2010 World Cups – has made him a desirable commodity. He wound up playing 121 times over five years for PSV in the Dutch Eredivisie and in the Champions League after commencing his professional career with C.D. Guadalajara in Mexico for five seasons.
After signing for Fulham on Aug. 27, Salcido made his club debut in a 1-1 draw with Blackburn Rovers on Sept. 18. He has made four appearances for the English side – three in the EPL and one in the Carling Cup (league cup).
"I was really pleased with Carlos' debut against Blackburn," Fulham manager Mark Hughes said. "He looked like he was really enjoying himself at the end of the match and produced a great ball for the equalizer. He's going to be a really important player for us."
Salcido has scored six times in 80 international matches dating back to 2004.
So, what happened to the older generation? Well, many of these players have earned their right to be in the spotlight as will be carrying the Tricolores mantle for years to come.
Do you think the likes of Blanco or Márquez belong on this list? Or perhaps someone else? We'd love to hear from you. Just drop us a line and tell us what you think.
Michael Lewis, who has covered international soccer for more than three decades, can be reached at soccerWriter516@aol.com.