Greivis Vásquez: One-on-One with the First Venezuelan Ever Selected in the NBA Draft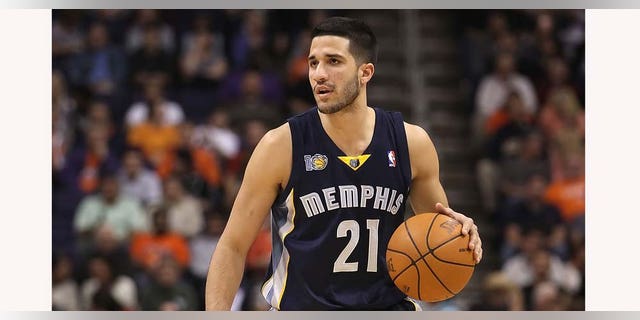 NEWARK, N.J.- For many decades, Venezuela had always served as a pipeline for Major League Baseball, funneling star after star onto the baseball diamonds of America's pastime.
The passageway for Venezuelan athletes to the National Basketball Association, however, has been far less active.
That is, except for one player – Greivis Vásquez, the first Venezuelan national ever selected in the NBA's draft.
The 6-foot-6-inch guard, whom the Memphis Grizzlies drafted in the 2010 draft, has averaged 12 minutes, 2 assists and 3 points per game in his first season as a pro.
Vásquez left his native country in 2004 when he was 17 years old to go to Montrose Christian School in Maryland. He later attended the University of Maryland, where he was the school's second-leading scorer with 2,171 points and was the only player in Atlantic Coast Conference history to score 2,000 points, dish out 700 assists and grab 600 rebounds.
The university honored him last month.
In a wide-ranging interview with Fox News Latino, Vásquez spoke about his alma mater, life in the NBA and, among other topics, how he communicates with his fans via Twitter.
Only three players from Venezuela have ever played in N.B.A. What does it mean to represent Venezuela, and what do you think of the sport in your country?
Basketball in Venezuela is growing a lot. We have a lot of basketball fans. The youth wants to play. Kids much younger than me that are in school studying want to come here. They want a scholarship. Basketball in Venezuela is booming; it's on the way up. Baseball is obviously our first sport. Well, with myself in the N.B.A., I'm going to help the Venezuelan community a lot. Obviously in the summer, I'm going to Venezuela to have some clinics [and] basketball camps. I'm going to be doing everything little by little. But in reality I'm very happy with the way basketball is growing in Venezuela.
What has your first N.B.A. season been like?
I'm happy to be playing minutes on the court and improving each game. I obviously have a lot of thing to improve on and I've motivated myself to work hard the rest of the season and keep improving that way when the season comes to an end. I've improved the things that I need to improve on – the little things that I'm seeing when I'm playing. But I feel good, have a lot of confidence and with the desire to keep helping the team.
A lot has been sacrificed to be where you are today and realizing your dream to making it to the N.B.A. Do you miss you family?
Of course I miss my family. Family is very important in my development not only as a basketball player but also as a person. It has been difficult to make that sacrifice that us professional athletes have to make in order to reach our dreams. I know my family supports me in everything I do and I always have them in my heart, especially my mother and father who are the ones that raised me.
What part of the year has been the hardest for you to be away from your family?
Chrismas is when the family unites and spends time together. That's the hardest time. My family was obviously not here. They were in Venezuela. Due to the schedule, we flew the day before Christmas. It's hard. It's something that is difficult to explain because those are the consequences of being an N.B.A. player.
How have you been able to overcome being away from your family since coming to the United States?
It's very hard to be like that. They come and go. Obviously in Venezuela it's always hot and they're not used to the cold. They don't speak English very well. I'm not always. It's a difficult challenge but we've spent a lot of time and had a good experience at the university. We've had a lot of success. I in the future, I'd say my father and mother would come here to live with me and follow my career much closer. Right now I have to establish myself in the N.B.A. and the league and get used to a lot of things that I need to.
Has the transition from being only a student-athlete to a professional being easy or hard?
It's been a hard transition in that the N.B.A. is very different to the college level. It's a different level. There are faster players in the N.B.A. and they're stronger. You're playing against a superstar every night. So you have to prepare yourself. It's a job that you have to take seriously. The transition and adaptation process is still in progress for myself. But I think as the season has gone along, I've done a good job and at the same time I feel like I can do better. All depends on my confidence and professionalism.
You averaged about 35 to 37 games in four years during your collegiate career. How are you feeling, physically and mentally, after already playing that many games this season?
I'm a little bit tired. It has taken a toll on me because I'm not used to it. I'm working with the trainer to condition my body and I have a good diet. So that helps me a lot and I also rest too. What is really important is to rest because the travel is obviously hard and I'm not used to that. It is my first season and I have to get used to it and understand that I have to be a pro in all facets of the game.
Memphis is near the bottom of the league in attendance. Are you satisfied with the support from the hometown crowd at the games?
We're happy. We obviously want our fans to go to the games but that falls on us. We need to win some games and keep improving. I think if we have a winning record, the people will start coming and supporting more. Like they say in Venezuela, we're measuring the race until we solidify ourselves as a good team in the Western Conference.
You're always active on Twitter, either before or after a game and even when you're free. What's that experience like being that a lot of the players in the league have accounts?
I want to have a very direct connection with my fans and I want them to understand the type of person that I am. I'm a common person just like them who also happens to do the same things. The only difference is that my job carries an image. Everyone has access to who I am and can see through various communication platform-television, radio and newspapers. Twitter is a good forum for the fans to know the type of person I am and to have direct contact with my fans who support me a lot, especially the fans in Venezuela.
Adry Torres, who has covered MLB, NFL, NBA and NCAA basketball games and related events, is a regular contributor to Fox News Latino. He can be reached at elpiloto137@gmail.com or follow him on Twitter: @adrytorresnyc.
Follow us on twitter.com/foxnewslatino
Like us at facebook.com/foxnewslatino