Graham Harrell's favorite Texas Tech memory not what you'd expect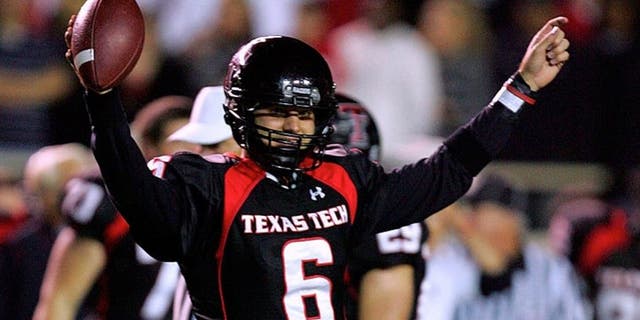 NEWYou can now listen to Fox News articles!
DENTON, Texas -- Graham Harrell has a lot of good memories in Lubbock.
Texas Tech won a lot of big games during his days as the starting quarterback from 2006 through a record-setting 11-2 season in 2008.
Harrell's game-winning touchdown pass in the final seconds to Michael Crabtree to knock off No. 1 Texas in 2008 seems like the obvious choice for most memorable play.
"A lot of people think it's the greatest play in Texas Tech history," Harrell said. "I think in people's mind that's the biggest."
But in Harrell's mind, there's one bigger.
Texas Tech went to College Station 2006 and Harrell connected with Robert Johnson for a 37-yard touchdown with 26 seconds remaining.
"The Texas A&M 2006 one I've just always liked better," Harrell said. "I like winning on the road better. There's nothing better in my opinion than going on the road and winning."
The Red Raiders stunned the Kyle Field crowd of 85,979 with a 31-27 win.
"It was loud that day, we were winning all game, and they take the lead late," he said. "To go from that crazy and loud on the road to an absolute hush, there's nothing better than that."
It was the first of many wins against the team Harrell enjoyed beating the most.
"I never lost to those guys," he said. "It was my first Big 12 game and it was against A&M. That one was special."
Unfortunately, Texas A&M isn't on the schedule anymore since joining the SEC in 2012.
"Somehow find a way to get them back on the schedule," Harrell said. "There was nothing better than Tech fans on A&M week. There were just a disdain [for the Aggies] and they just truly disliked them."
Heading into his first season as North Texas offensive coordinator, Harrell still enjoys looking back at all the great memories he made on the South Plains.
But there weren't great feelings for the first few years after he left Lubbock.
"The year after I left when everything went sour with [former head coach Mike] Leach, a lot of the people I knew were gone," he said. "There was a dark period when I lost connection."
Since Kliff Kingsbury has taken over as Texas Tech head coach, Harrell has re-connected with the program.
"I go out there once or twice a year just to see the old place," he said. "Now that some of the old regime is back with Kliff and some of the guys I played with, I've been around the building a few times."
North Texas and Texas Tech aren't scheduled to play each other in the near future, but would Harrell want to put his Air Raid against the Kingsbury's Air Raid?
"It would be fun to go out to Lubbock," he said. "It's not like I'd have any extra motivation to beat Tech. I'd have to approach it just as another game.
"If Kliff weren't out there it would probably be more fun. It's not a game I would mark on the calendar or push for."
Harrell will be busy working to rebuild the Mean Green, but he'll also be cheering for his alma mater this upcoming season.
"With Kliff and Eric being two close friends of mine, I pull for them every week," he said. "Kliff works his tail off and he's done a heck of a job. I want nothing but the best for Tech and I respect those guys a lot. I want them to win every game, and I want to win every game."
Texas Tech hasn't had a 10-win season or been a serious Big 12 contender since Harrell was a senior. How far are the Red Raiders from competing for titles again?
"Kliff has a pretty good quarterback," he said. "It doesn't matter at what level, if you've got a good quarterback, you've got a good chance to be successful. I think Pat [Mahomes] gives them that opportunity. I'd be surprised if they didn't do big things this year."
Since his time in West Texas, Harrell has been on a journey through the CFL, NFL and an assistant coach at Washington State. He's happy to be back home in Texas and close to the place he became a college football legend.
"I have so many fond memories out there," Harrell said. "I'm sure the older I get and the further away it becomes, the more reminiscent I'll get. They're all just warm and fuzzy feelings.
"I love Lubbock and getting out there. It's still not that long ago in my mind."