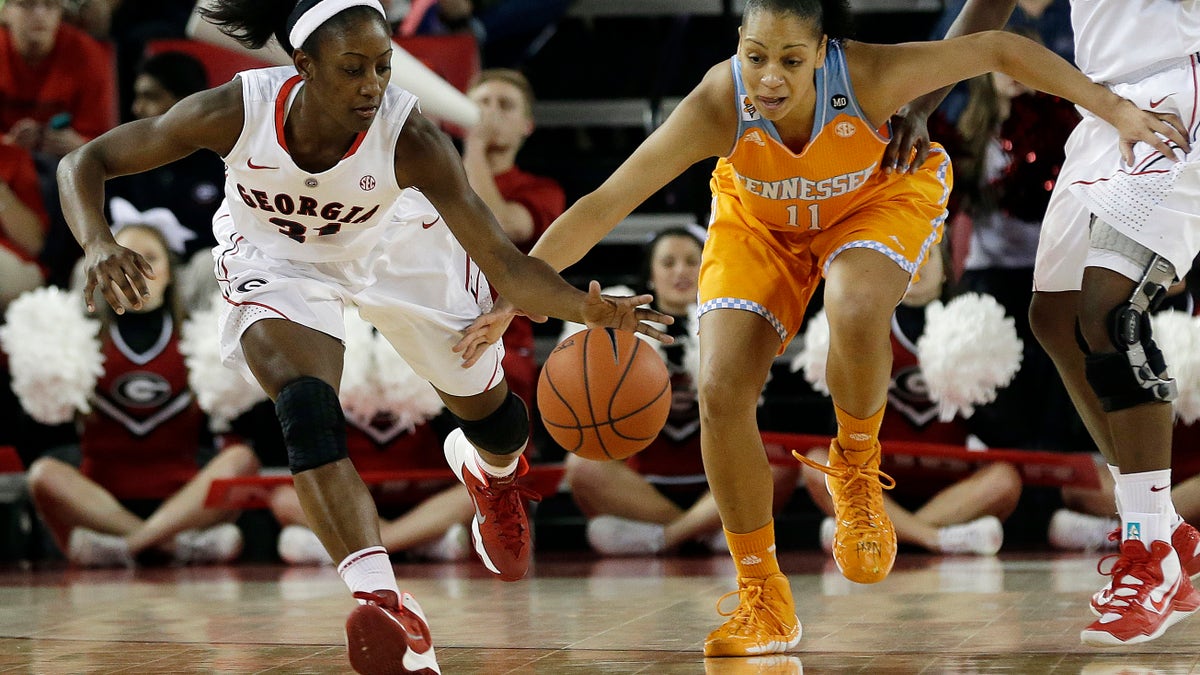 ATHENS, Ga. – Georgia is unranked for the first time in almost three years and is 0-4 in the Southeastern Conference for the first time in the program's history.
It's a new challenge for coach Andy Landers. He's trying to treat the sudden downward spiral for Georgia, which opened the season with 11 straight wins, like any other test he's encountered in his 35 years as the Lady Bulldogs' coach.
"Whether you're 16-0, 11-5 or whatever the case may be, there are always challenges," Landers said Tuesday. "If you're ranked No. 1 in the country, that's a challenge. So it's a different kind of challenge, but it's not all new.
"Are we at a place that we haven't been before? Yes, from the standpoint only of being 0-4. Are we at a place that is unfamiliar? Yes and no. We're always in a position where there's something significant that has to be done."
Georgia, normally a fixture near the top of the SEC standings, is last in the league as it prepares to play Arkansas on Thursday night. The Lady Bulldogs (12-5) fell out of the Top 25 Monday for the first time since the end of the 2010-11 season.
An AP Top 25 poll that doesn't include Georgia is notable. Since 1981-82, Georgia has been included in 509 of 586 polls — 86.9 percent.
Landers said Tuesday he's trying to provide encouragement for his players, who acknowledge their frustration has grown with the losing streak. He said encouragement is different than comfort.
"If we were 4-0, I wouldn't be comfortable and I wouldn't want them to be comfortable, so I'm certainly not trying to provide comfort at 0-4," he said. "As we always do, we've got a fight on our hands.
"Support? Yeah. Encouragement? Yeah. But we're not in the middle of some kind of a funeral. Comfort isn't a part of it."
Georgia has struggled with poor shooting. The Lady Bulldogs made only 1 of 15 3-pointers and shot 28 percent overall in their last game, a 58-44 loss to Texas A&M on Sunday.
Georgia, which set a season low for points against Texas A&M, ranks last in the SEC in scoring and free-throw shooting.
Guard Khaalidah Miller, the team's only senior, said the shooting woes are affecting players' confidence.
"I think we're just worried about missing more than just making the shot," Miller said. "It throws us off and we kind of get frustrated when we miss that first one. You kind of have that thought in the back of your mind that I have to hit this one because I just missed that last one. I think that thinking like that throws us off."
Georgia opened its conference schedule with a 66-63 loss at Vanderbilt. Its last three losses — against Tennessee, Missouri and Texas A&M — have been by 10 or more points.
The Lady Bulldogs' first loss of the season was a 61-58 decision at Vanderbilt.
Junior Krista Donald said players can lean on Georgia's long history of success under Landers, including 11 SEC championships, five Final Fours and 20 Sweet 16 appearances.
"It's definitely something we can look at and just know that there's some light, because the light is dim now but we don't see it ahead," Donald said. "But he knows what he's doing."
Miller said Georgia's successful history also gives players the feeling they must continue the tradition.
"You've got to feel good about that, knowing that we have a winning tradition," Miller said. "That makes you want to fight for something. That's kind of what we've been talking about as a team, just keeping that tradition and knowing who we are and what Georgia basketball is really all about and finding that."
Miller said there is still time to save the season.
"Obviously we're all very frustrated right now," Miller said. "I know personally I've never been in this situation before and it's just we're trying to keep our hope, keep our faith and keep the spirits high. We just have to understand there's still time to turn it around and we can still turn it around."