Georgia beats Oklahoma in dramatic, record-breaking Rose Bowl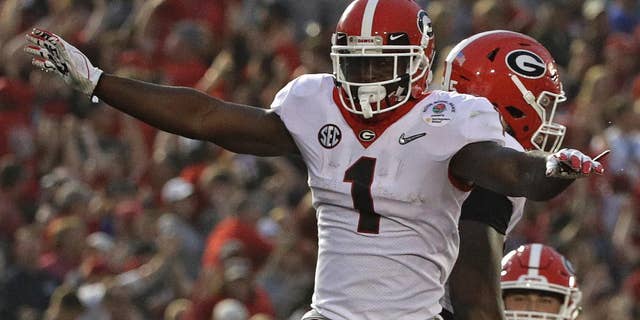 Beating Oklahoma and the newly crowned Heisman Trophy winner, Georgia is going to the national championship game.
But the victory for the Bulldogs on Monday wasn't easy.
It was the first overtime game in the 104-year history of the Rose Bowl, the highest-scoring Rose Bowl ever and the first College Football Playoff game to go into overtime.
What's more, it was a double OT.
Georgia will play Alabama or Clemson -- facing off in the Sugar Bowl Monday night -- in the title game on Jan. 8.
Sony Michel burst through the line for a 27-yard touchdown run in the second overtime to give No. 3 Georgia a 54-48 victory against No. 2 Oklahoma in Monday's game in Pasadena, Calif.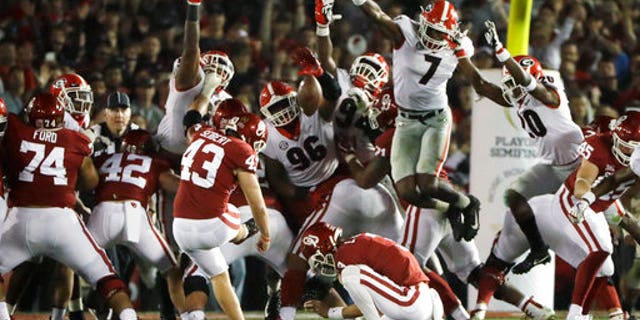 Michel, who had a fumble in the fourth quarter returned for a go-ahead Oklahoma touchdown, ran for 181 yards and three scores for the Bulldogs (13-1).
Rodrigo Blankenship made a 38-yard field goal to give Georgia a 48-45 lead in overtime. Austin Seibert's 33-yard field goal tied the game at 48 to force the second overtime. Lorenzo Carter blocked Seibert's second field-goal attempt to set up Michel's game winner.
Oklahoma's Steven Parker returned a fumble by Michel 46 yards for a touchdown with 6:52 left in regulation to give Oklahoma a 45-38 lead, but Nick Chubb's 2-yard touchdown run with 55 seconds remaining in the fourth quarter tied the score to force overtime.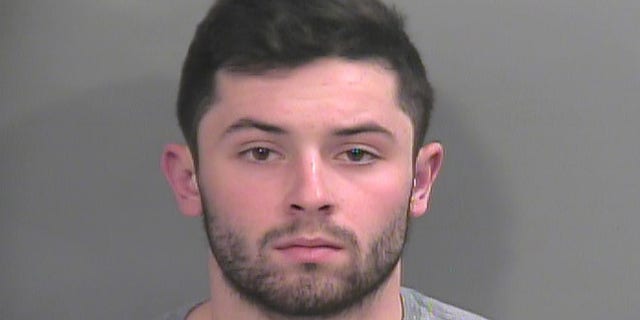 Georgia entered the game allowing just 13.2 points and 270.9 yards per game, good for fourth nationally in each category. The Sooners gained 360 yards and led 31-17 at halftime.
Georgia rallied and finally took the lead on a 4-yard touchdown pass from Jake Fromm to Javon Wims early in the fourth quarter. The Sooners responded with an 88-yard scoring drive that ended when Oklahoma's Baker Mayfield connected with Dimitri Flowers for an 11-yard touchdown pass to tie the score at 38.
In the final game of one of the great college careers, Heisman Trophy winner Mayfield threw for 287 yards and two touchdowns, and caught a touchdown pass that gave the Sooners a 17-point lead with 6 seconds left in the first half.
But the Mayfield could not get the Sooners into the end zone in the first overtime when a touchdown would have ended the game.
The Associated Press contributed to this report.