Gary Johnson jokes Trump is watching Olympics to see how high Mexican pole vaulters go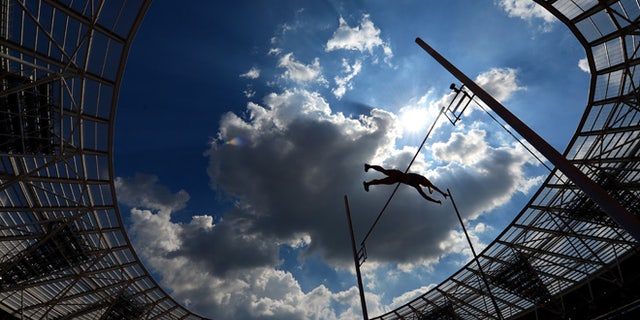 Donald Trump is taking a serious look at the track and field competitions at this summer's Olympic Games in Rio de Janeiro…at least that is what Gary Johnson is saying.
The libertarian presidential candidate joked this weekend that the Republican nominee would be closely watching the pole vault competition to see how Mexico does.
"I hear that Donald Trump is watching the Olympics tonight. He's seeing how high the Mexican pole vaulters go," Johnson said in reference to Trump's proposal to build a massive wall along the United States southern border with Mexico.
Trump's estimates for the size of his wall have fluctuated between 30 to 65 feet high. The world record in the pole vault is 19 feet and was set in the 2012 Olympics in London by Renaud Lavillenie of France.
Trump has insisted that the wall along the 1,954-mile border is possible and that the Mexican government will pay for it, but many politicians and border security analysts have derided the plan as not only unfeasible but also unethical. Others have applauded Trump for speaking out about immigration.
Trump has also called for the deportation of undocumented immigrants living in the U.S.
"Look, the deportation of 11 million undocumented workers starts with misinformation," Johnson said, according to the Reno Gazette. "They are hardworking people that have come into the United States and they have to come in illegally because the government can't provide them an easy way to get in legally."
The Associated Press contributed to this report.
Like us on Facebook
Follow us on Twitter & Instagram