Gary Andersen wrapping up spring drills in Wisconsin; Badgers are humming along, literally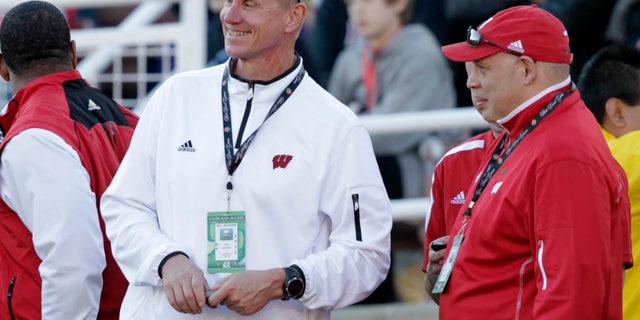 MADISON, Wis. – With managers holding massive white cue cards with the lyrics, members of the Wisconsin football team ended a recent spring practice singing the school fight song with the music blaring in the background.
As he has been throughout his first spring as Wisconsin's coach, Gary Andersen was right in the middle of it all, participating as if he were one of the guys.
"When you see that head guy taking it upon himself to do things like that, it's funny," said senior linebacker Chris Borland. "Guys think it's a good time and that's what football should be. It should be creating a fun atmosphere and I think we're responding well to that."
Transition has been the norm for Borland and members of the defending Big Ten champions. Over the past three seasons, Wisconsin has had 24 different assistant coaches and each has had his own methods.
Coming from Utah State to take over for Bret Bielema, who resigned in December to take the job at Arkansas, Andersen has eased the transition for the players by jumping right in. On any given practice, Andersen will run pass routes against the defensive backs, do coverage against the wide receivers or make snaps, he's a former center, to quarterbacks.
"It's gets harder and harder to bend down there and snap every single day, but it's fun to be a part of it and be involved with the kids," Andersen said. "We've had a few center-quarterback exchange problems, so it's a good way for me to be able to understand the issue. But most of all, it's fun to get down and be involved with the kids."
Not only has Andersen made his players sing, he broke up part of another practice by having players do a dance off. With three judges and the rest of the team looking on, Andersen had players show off their moves with James White and Melvin Gordon doing 'the Dougie" and Warren Herring doing the splits.
"That stuff is fun for the kids," Andersen said. "I think it brings energy and excitement. You get out there for recruiting, if I am a player, I want to have fun playing football."
There are football reasons behind all this, too. Every practice is run to a soundtrack of country, pop, hip-hop and dance music blaring from large speakers, a practice Andersen believes challenges the players to communicate effectively. And he starts and ends practice on time and makes every drill, every play and every repetition move at an up-tempo pace.
"We get in, get work done and we get out," said Herring, a defensive tackle. "One thing Coach A preached is, it's not about how long you are out, it's about the quality. You are get in, do things right and get out. If you don't do things right, you didn't finish on what you need to finish on, it's like losing a play in a game. You have to get in, work efficient and get out."
Wisconsin is changing schemes on both sides of the ball. Offensive coordinator Andy Ludwig, who spent last season at San Diego State and worked with Andersen at Utah, plans to keep Wisconsin's power running game, but he wants to develop the passing game and potentially incorporate zone-read and pistol formations to keep opposing defenses on edge.
Defensive coordinator Dave Aranda, who was with Andersen at Utah State last season, is moving Wisconsin from a 4-3 to a 3-4 defense and plans to have his players be aggressive every down.
Despite all the changes and new faces, Andersen's philosophy appears to be working.
"Any time there is structure to what you are doing and there's expectations, with positive and negatives coming from meeting and not meeting those expectations, you'll get results," Aranda said. "That's always been Coach Andersen's philosophy. He gets guys to buy in and understand that and relish the competition part. We're getting that right now."
Andersen will have an open scrimmage Monday before finishing with the spring game on April 20.
"(He's a) great coach," Herring said. "Every single coach preaches intensity. There's great energy whenever good things happen. When bad things happen, they don't get down. They continue to try to encourage, and that's what's makes us better every day because it keeps us driving. We have that good vibe. It seems like they've been here a long time because of how they fit with us and we fit with them."