Former Nationals infielder gushes about Jonathan Papelbon's value as a teammate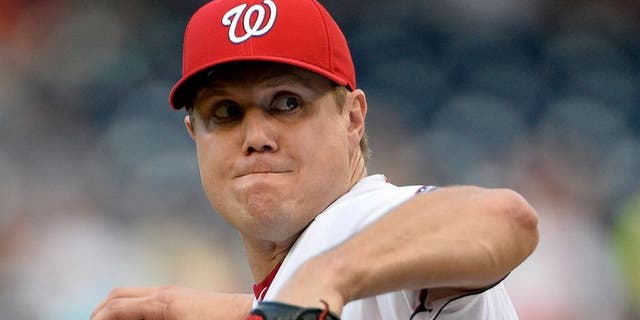 Jonathan Papelbon has gone from one of the game's most dominant closers to an unemployed reliever in the span of just a couple seasons. And many perceive that his combustible personality is a big reason why.
However, former Nationals infielder Danny Espinosa, who played with Papelbon for parts of the past two seasons in Washington, tells a much different tale.
Espinosa, who was traded to the Angels in December, recently appeared on Thom Loverro's "Cigars and Curveballs" podcast and spoke glowingly of his former teammate. From The Washington Post:
"Jonathan Papelbon was one of the best teammates I've ever had," Espinosa told Loverro. "Great guy. I really liked Pap. He'd take care of anybody for that team. If we were going to get in a fight, he'd be the first one out there. He's what you want in a teammate. He's an old-school teammate. He came up in a different era than we did, or than I did, and I think Pap's one of the last guys that was one of those kind of old-school ballplayers that came up in the era that he did. For me, it was a treat to play with Pap. I'll never say a bad thing about him. I love him. I'd go to battle with him any day of the week."
The perception that Papelbon isn't such a great teammate, of course, is largely due to the fact that once he choked Bryce Harper in the Nationals' dugout.
Papelbon, 36, was released by the Nationals last August after they acquired closer Mark Melancon and remains unsigned just a few days before pitchers and catchers report to spring training. In 37 appearances last season, he was 2-4 with a 4.37 ERA, 1.46 WHIP and 19 saves in 22 opportunities. Papelbon ranks third among active pitchers with 368 career saves.