For Miguel Cotto, Win VS Margarito Ushers in New Chapter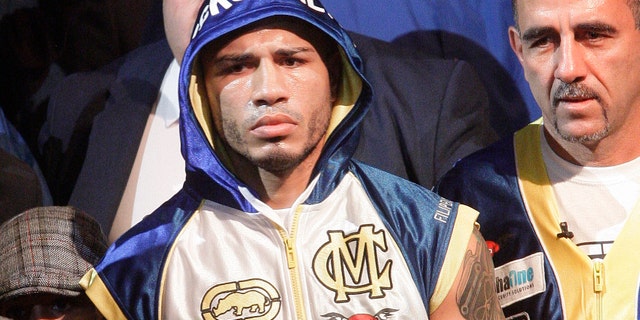 Miguel Cotto can now victoriously close a bizarre chapter in his boxing career three years after being at the end of a pounding from Antonio Margarito and accusing the Mexican fighter of knowingly having his hands illegally wrapped by his trainer.
Cotto and his mother, who asked Margarito in the ring if her son still hit like a girl - can now move on. Both mother and son changed their tears of blood from that first encounter into tears of joy Saturday night.
The Puerto Rican fighter walked into a Madison Square Garden as a sea of 21,239 fans, of mostly boricuas who pushed their idol to retain his Junior middleweight championship throughout the night.
Finally, their cheers were answered with by Cotto with a TKO in the tenth round after doctors stopped the fight because of Margarito's swollen shut right eye.
Cotto moved past this saga in his career last night by doing what many expected him to do which was to go after Margarito's weakness, his right eye, which underwent surgery after the beating Manny Pacquiao gave him in November 2009.
Cotto moved on past a fighter he had called a "criminal" in the days leading to the fight and handed him his sentence.
With much satisfaction he walked towards Margarito after the fight was called, savoring the moment. He stared at his opponent, gladly aware that he had finally gotten revenge and wouldn't have to deal with the memories from that night during their first fight in 2008.
"I don't have have anything to talk to him, you know. He has his own life. I have my own here. He can keep (on) with his life. I'm going to keep (on) with mine," Cotto said.
"I just simply stood there to look at him. I simply stood to taste the victory. I don't know, if with the eye he had open, he looked at me."
Cotto has moved on and is now entering another stage of his career.
And if Saturday nights fight was any indication of what the future has in store - watch out.
Cotto looked much better in the ring in his attack of Margarito, defending himself by moving and circling around Margarito to avoid his punches - a tactic stressed by his new trainer, Pedro Diaz.
The fight also symbolized the strengthening of a new bond between Cotto and Diaz.
Cotto's hiring of Diaz was frowned upon by many especially because he ended his relationship with Emmanuel Steward in October just two months before his big fight.
"It was the same Cotto. What happen was that he utilized his mind," Diaz said. "I think in two months it's difficult to change a boxer. What we solely did was take the good things that the other trainers did with him in the past and applied a little bit of intelligence only."

Cotto said the preparation and chemistry in his camp was the key in finally being able to beat Margarito. He singled out Diaz for planning a "perfect strategy for the fight".
"We followed it tonight. We simply utilized our quickness, our best moves against Margarito and avoided the ropes, which was that killed us in the previous fight," Cotto said.
Other fighters surely await in the horizon, notably Julio Cesar Chavez Jr., but Cotto wants nothing but rest. Puerto Rico's pride must now regain his boxing focus in about three weeks when he would then be able to know what exactly lies before him in the ring.
"We still need to work a lot to get to where we want to go. We will get that in the months coming forward and in the upcoming workouts and training sessions," he said.
Adry Torres, who has covered MLB, NFL, NBA and NCAA basketball games and related events, is a regular contributor to Fox News Latino. He can be reached at elpiloto137@gmail.com or follow him on Twitter: @adrytorresnyc.
Follow us on twitter.com/foxnewslatino
Like us at facebook.com/foxnewslatino