Florida woman hit in face with puck at NHL playoff game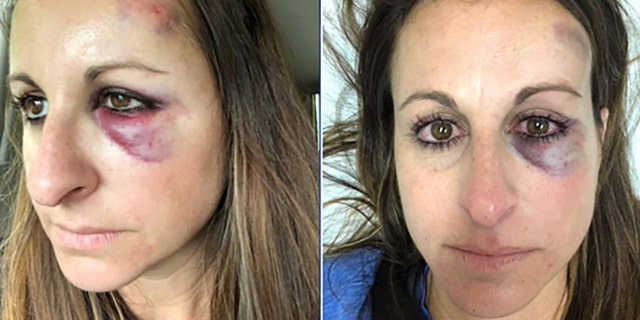 A Florida woman went to a playoff game to cheer on the Tampa Bay Lightning on Saturday, but unfortunately left the arena with more than she bargained for.
Sabrina Pattie was seated in the first level at the Amalie Arena in Tampa just outside the protective netting when a puck flew into the seats and hit her in the face five minutes into the game, according to FOX13 News.
Photos show Pattie with a bruised forehead and left eye.
The Tampa-area teacher said she knew the risks involved when sitting outside the netting at the arena, but she told the station the team could have more safety barriers for fans.
"I would feel more safe and I'm sure many people would feel more safe if there were better protective measures, whether it be glass or nets," she said.
The Lightning apologized for the incident, according to WFLA-TV.
"We are very sorry that Ms. Pattie was struck by a puck at our game on Saturday afternoon. The safety standards as they pertain to the spectator netting and minimum glass heights in all NHL buildings is set by the NHL and these standards are in place at Amalie Arena," the team said in a statement.
The Lightning defeated the New Jersey Devils in the game, 5-2.
Click for more from Fox 13 News.