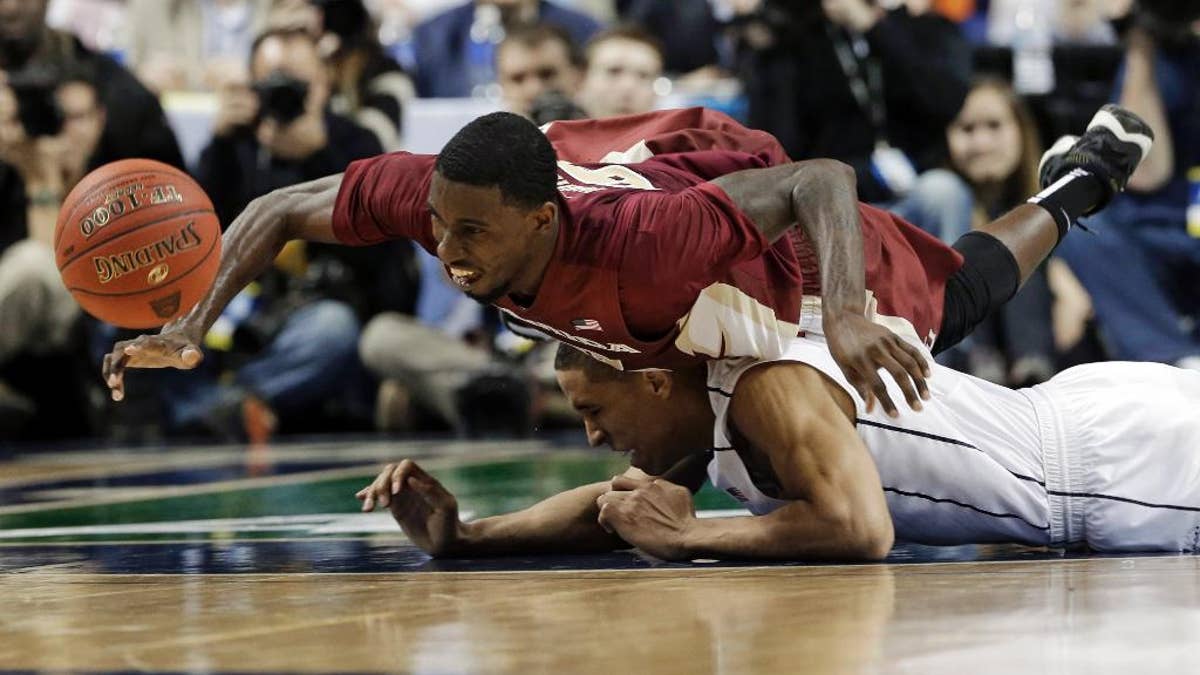 GREENSBORO, N.C. – All Florida State can do now is wait and hope.
The Seminoles could have given their NCAA tournament resume a boost by knocking off No. 6 Virginia in the Atlantic Coast Conference tournament quarterfinals.
Instead, the Cavaliers beat Florida State 64-51 on Friday and set up the Seminoles' long weekend of sweating until selection Sunday.
"Our record speaks for us to be on the bubble, but I think we're a great team," forward Okaro White said. "We had a tough time throughout the course of the season, but I think we've shown everyone we're a team that should be out there. I think we're a team that's up to the level of a lot of the teams that are going to be in the NCAA tournament, but it's hard."
White scored 17 points, Aaron Thomas added 13 and Ian Miller finished with 10 for the ninth-seeded Seminoles (19-13).
They shot 43 percent against one of the nation's best defenses but couldn't keep the patient Cavaliers off the boards when it counted most, and were denied their third victory over a top-seeded team since 2009.
"In order to guard this type of system, you can't take any possessions off defensively," Florida State coach Leonard Hamilton said. "I just think that we look for some spots to catch a breather, and each time we did that, I thought that it cost us."
Joe Harris matched a season high with 20 points and Anthony Gill added 16 to help the top-seeded Cavaliers (26-6) reach the ACC semifinals for the first time since 1995.
They shot 48 percent, forced 15 turnovers and earned their third double-digit victory over the Seminoles this season while winning their 14th in 15 games.
"We really just wanted to go out there and prove to everybody that we deserve to be here, we deserve the No. 1 seed," Gill said.
Virginia established a 31-25 rebounding advantage — 21-13 in the second half — and finished with 17 second-chance points.
"We talk about outlasting people all the time," freshman London Perrantes said. "We know that nobody's going to want to guard us 35 seconds every time down the court, so we know that if we keep running our offense, they're going to get frustrated and we're going to get good shots."
White pulled Florida State to 61-49 with his jumper through contact with 3:25 left. But he missed the free throw and the Seminoles didn't hit another field goal the rest of the way.
Virginia advanced to face either No. 15 North Carolina, the tournament's fourth seed, or fifth-seeded Pittsburgh in the first semifinal Saturday.
That's unfamiliar territory for a Cavaliers program that hadn't reached the semifinals in nearly two decades — the longest drought in the conference.
In matching a league record with 16 conference victories, Virginia earned the No. 1 seed in the tournament for just the second time and first since 1981.
The Cavaliers' only tournament title came in 1976 and until Friday they had won only four ACC tournament games since that last semifinal appearance — and none since 2010.
"We've done a lot of things that we haven't done for years," Perrantes said. "So for this to happen for us now is definitely a relieving experience."
They led for all but about eight minutes of this one and were in control throughout — even if it took a while for the scoreboard to finally reflect that.
"It's very hard to come back on a team like Virginia when they're coming down and using 30 seconds of the shot clock," White said. "You can't get down on them."
Harris, who matched the season high of 20 points against Hampton on Nov. 26, was 7 of 12 and hit at least half of his shots for the first time since a win against Maryland on Feb. 10.
"He has a good feel when to let it come and when to be assertive," ACC coach of the year Tony Bennett said. "He senses. He doesn't get it right all of the time (but) he senses when something is required of him."
___
Follow Joedy McCreary on Twitter at http://twitter.com/joedyap