Five players for AFC West fans to watch in 'New Year's Six' bowl games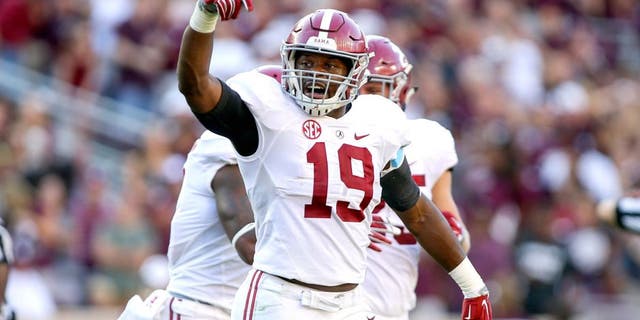 The Denver Broncos and Kansas City Chiefs are both gearing up for the second seasons this week.
It'll be the postseason soon, though. And networks of scouts from all four AFC West teams -- the Broncos, Chiefs, San Diego Chargers, and Oakland Raiders -- have been crisscrossing the country for months, looking for the college players to help them with their next playoff runs.
They'll likely find a few of them in the days ahead. College football's "New Year's Six" games are jam-packed with amateur talent just waiting to be drafted in April. AFC West teams (and fans) should pay close attention to these five following prospects:
Ronnie Stanley, OT, Notre Dame: Fiesta Bowl
He's a consensus All-American, a semifinalist for the Lombardi Award and the Outland Trophy, and was named Notre Dame's Offensive Player of the Year. The long-armed, athletic edge blocker is very competitive and durable; he's started 38 consecutive games. The 6-5.5, 315-pound Stanley can start from Day 1 on either the left or right side of an offensive line.
Teams interested: Chargers, Chiefs, Raiders, Broncos
Ezekiel Elliott, RB, Ohio State: Fiesta Bowl
Elliott trails only two-time Heisman winner Archie Griffin as a Buckeyes all-time rusher. The Big Ten Running Back of the Year and Offensive Player of the Year led the conference with 1,672 yards rushing and 19 touchdowns. He's a bullish runner has breakaway speed. Elliott runs behind his pads and doesn't give tacklers much to hit. He'd fit well in a zone-blocking scheme that utilizes his breakaway speed best.
Teams interested: Broncos, Raiders
Jalen Ramsey, S, Florida State: Peach Bowl
Arguably the best athlete in the ACC, Florida State's junior corner/safety Jalen Ramsey would have been a first-round pick last season if he was eligible for the draft. This season, the 6-1, 202-pound track champion was named a consensus All-American and ranked third in the ACC Defensive Player of the Year voting. From corner to safety, Ramsey can do it all and is a star on special teams.
Teams interested: Raiders, Chargers, Chiefs (if Eric Berry leaves via free agency)
Jordan Leggett, TE, Clemson: Orange Bowl
Extremely athletic, Clemson's 6-5, 220-pound junior TE Jordan Leggett caught 34 passes for 442 yards and seven TDs en route to being named an all-ACC first-teamer and a Walter Camp All-American. Leggett has good speed and soft hands can be a difference maker in the Tigers' offense.
Teams interested: Broncos, Chargers
Reggie Ragland, ILB, Alabama: Cotton Bowl Classic
The accolades kept rolling in for the Tide's next standout linebacker. Ragland's a Bednarik Award and Nagurski Trophy finalist (Defensive Player of the Year). The 6-foot-2, 252-pounder is also a Lombardi Award semifinalist. He played all four seasons under Nick Saban, but led Saban's defense as a starter for two years. His stat line: 183 tackles, 17 tackles-for-loss, four sacks since 2013.
Teams interested: Chiefs, Raiders, Broncos (if either Brandon Marshall or Danny Trevathan leave via free agency)