Fewer than 10 Philadelphia Eagles were set to visit White House: report
NEWYou can now listen to Fox News articles!
Fewer than ten Philadelphia Eagles players were reportedly going to attend the White House's Super Bowl ceremony before President Trump canceled it Monday.
Eagles owner Jeffrey Lurie left it up to the players to decide if they wanted to go and the team was set on sending the small contingent, according to NFL.com. Lurie and head coach Doug Pederson were going to be part of that group before the cancelation, ESPN reported.
The Eagles were disinvited from the ceremony amid the national anthem controversy.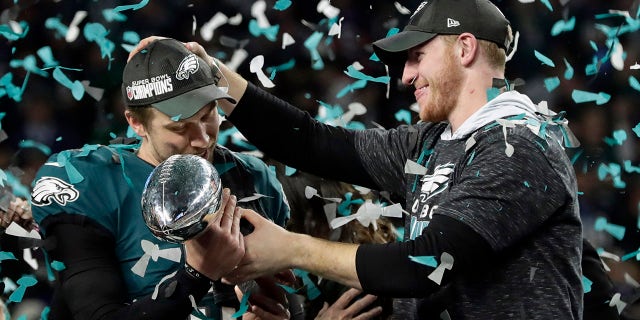 Trump said the team was "unable" to attend because they don't share his view that NFL players should "proudly stand for the National Anthem, hand on heart, in honor of the great men and women of our military and the people of our country."
Eagles Brandon Graham, Malcolm Jenkins, Chris Long and Torrey Smith previously stated they would not attend the ceremony.
Torrey Smith, a wide receiver who played for the Eagles during the 2017 season, attacked the president's decision and said he "continues to spread the false narrative that players are anti-military."
He added that the players in the team have wide-ranging views and anyone who wanted to attend the White House "should've been able to go," but canceling the event was "a cowardly act."
The White House will still hold a ceremony on Tuesday for a group of 1,000 fans in which Trump said he "will honor our great country, pay tribute to the heroes who fight to protect it, and loudly and proudly play the National Anthem."
Fox News' Lukas Mikelionis contributed to this report.