Federer and Murray to meet in an Australian Open quarterfinal after a year of ups and downs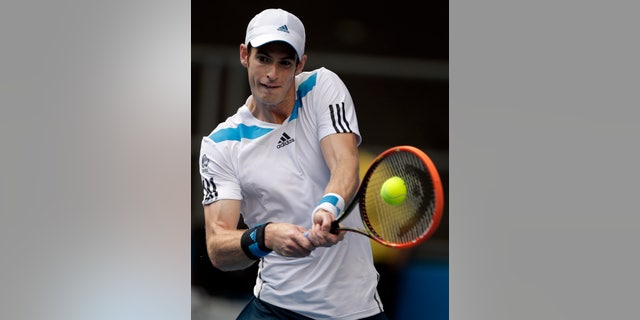 NEWYou can now listen to Fox News articles!
MELBOURNE, Australia – As Roger Federer sees it, he and Andy Murray are making a comeback from a year of ups and downs.
That's putting it mildly.
For 32-year-old Federer, the winner of 17 Grand Slam titles, 2013 was the year that his tenure near the top went into sharp decline. He slipped out of the Top 5 and failed to reach a Grand Slam final for the first time since 2002. He struggled with back problems, split with his coach and it appeared that age was taking its toll.
For Murray, the year included a stupendous success. He won Wimbledon, becoming the first British man in 77 years to win the coveted title at the All England Club. A few months later he underwent back surgery that forced him to sit out the last three months of the season.
Both are now back, feeling fit and healthy as they prepare to face each other in the Australian Open quarterfinals Wednesday. It will be the first time they've played since last year's semifinal at Melbourne Park, a five-set battle won by Murray.
"This is a big test for me," said No. 6-seeded Federer, adding that he feels fit enough to tackle big challenges. "I've overcome a lot in the last few months."
"I'm looking forward to the match, I must say. We had an interesting year last year with some ups and downs. It's a good start to the season for both of us."
When the tournament started a week ago, Federer was not among the favorites to win. But his return to Melbourne has marked a return of the old Federer — his graceful strokes and his ability to make incredible shots look effortless. But there are also elements of a new Federer. His back is better, he's testing out a new racket with a bigger head and has a new coach, six-time Grand Slam winner Stefan Edberg.
He's also been trying out some different tactics successfully, like rushing to the net. In his fourth-round match against Jo-Wilfried Tsonga, Federer came to net 41 times and won 82 percent of those points.
"I was good at net. I was consistent. I was solid. I was quick," said Federer, whose self-confidence has also returned. He hasn't dropped a set on his way to the quarterfinals. "I don't have doubts anymore. I know I'm going definitely in the right direction."
When Murray speaks, he is characteristically more modest. After minor back surgery in September, he says his back is "pretty good so far," apart from some occasional stiffness and soreness.
The three-time Australian Open finalist has also spoken about the mental challenges of coming back after surgery and needing to rebuild his confidence after not playing in front of big crowds for three months.
"I need to play a great match to win," said Murray, who has an 11-9 edge over Federer in head-to-heads. "You play 10 percent below your best, you can be off the court quickly."
Federer is bidding for a record fifth Australian Open title, but it won't be easy. If he beats Murray, he could face a semifinal against No. 1 Rafael Nadal, who next plays first-time major quarterfinalist Grigor Dimitrov.
A win there for Federer would likely set up a final against three-time defending champion Novak Djokovic, who was playing his quarterfinal Tuesday against No. 8 Stan Wawrinka.
"It's a tough thing to do. I don't know if it's been done before," Federer said about beating three reigning Grand Slam champions to win a major. "It's definitely a tough task. Then again, if you don't embrace that challenge, you might as well not enter the draw."