Fantasy Football TE Rankings - Week 5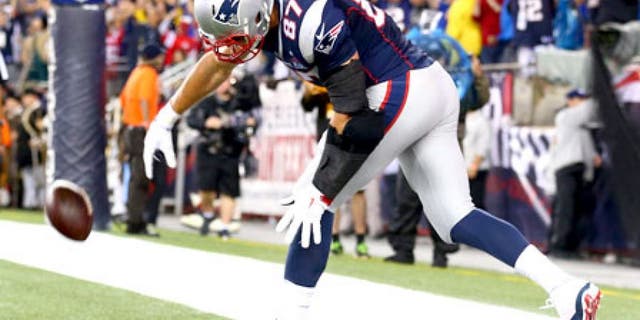 NEWYou can now listen to Fox News articles!
The FOX Sports fantasy football department will publish their weekly fantasy football rankings every Wednesday afternoon and Friday / Saturday around Midnight (EST) during the NFL season. Our weekly rankings are based on that week's matchup and not a rest of the season ranking. Links for each positional weekly ranking can be found below or you can visit the FOX Sports fantasy homepage for more news and analysis. Note: in cases of wait-and-see injury news each contributor may have different opinions on whether or not that player will be active, which will be evident in their ranking below.
Can't wait for the rankings? Follow us on Twitter and fire away!
Ryan Fowler @FOXSportsFowler
Adam Meyer @FOXSportsMeyer
John Halpin @jhalpin37
D.J. Foster @FOXSportsFoster
Fantasy Football Hot Links
Weekly fantasy football podcasts
Weekly fantasy football news and information
Weekly Fantasy Football Rankings
QB | RB | WR | TE | DST | K

Player Bye Week Opponent Fowler Meyer Halpin DJFoster Avg 1. Rob Gronkowski (NE - TE) 4 @Dal 1 1 1 1 1.0 2. Travis Kelce (KC - TE) 9 Chi 4 2 3 2 2.8 3. Martellus Bennett (Chi - TE) 7 @KC 3 5 2 3 3.3 4. Charles Clay (Buf - TE) 8 @Ten 2 6 4 8 5.0 5. Jimmy Graham (Sea - TE) 9 @Cin 9 3 5 5 5.5 6. Jason Witten (Dal - TE) 6 NE 10 4 7 4 6.3 7. Delanie Walker (Ten - TE) 4 Buf 8 7 6 9 7.5 8. Antonio Gates (SD - TE) 10 Pit 6 8 10 7 7.8 9. Tyler Eifert (Cin - TE) 7 Sea 7 10 8 6 7.8 10. Owen Daniels (Den - TE) 7 @Oak 5 9 9 16 9.8 11. Jared Cook (StL - TE) 6 @GB 11 18 14 10 13.3 12. Zach Ertz (Phi - TE) 8 NO 14 21 12 11 14.5 13. Gary Barnidge (Cle - TE) 11 @Bal 17 14 15 13 14.8 14. Richard Rodgers (GB - TE) 7 StL 16 13 16 15 15.0 15. Larry Donnell (NYG - TE) 11 SF 18 12 13 17 15.0 16. Coby Fleener (Ind - TE) 10 @Hou 13 11 24 14 15.5 17. Heath Miller (Pit - TE) 11 @SD 12 25 20 12 17.3 18. Dwayne Allen (Ind - TE) 10 @Hou 19 15 18 23 18.8 19. Crockett Gillmore (Bal - TE) 9 Cle 21 33 19 18 22.8 20. Scott Chandler (NE - TE) 4 @Dal 24 19 23 35 25.3