Fantasy Baseball Waiver Wire Additions (July 6)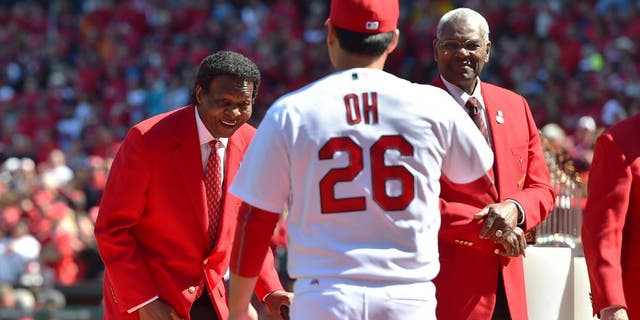 NEWYou can now listen to Fox News articles!
If you're new to this feature, here are the ground rules.
No player in this space will be mentioned in back-to-back weeks, as we don't want to spam you with the same choices over and over again. We'll also limit the waiver wire suggestions to players owned in fewer than 40 percent of FOXSports.com leagues. Got it? Let's get to this week's fantasy baseball waiver pickups:
Catcher
Travis d'Arnaud, NYM (29.6% owned)
He's finally back from injury, and he's back in a big way. d'Arnaud is raking right now, as he's hitting .361 over his last 11 games. The average is great, but the power should be coming along soon enough as well. Remember, d'Arnaud hit 12 HR in 67 games last year, so there's definitely some pop present.
First Baseman
Logan Forsythe, TB (37.7% owned)
He'll probably be more interesting to you as a second baseman, but Forsythe has dual eligibility and is a great platoon option if you can afford to have one on your bench. Forsythe is hitting .408 against left-handed pitching this year and has a 1.186 OPS to boot. That's not necessarily out of character, as Forsythe smashed southpaws last year as well. If you're an active manager, you should own him.
Second Baseman
Yangervis Solarte, SD (5.8% owned)
He's another multi-position guy, and I love having at least one of those on my bench. Solarte is red-hot as of late, going 10-for-22 with 2 HR over his last seven games. He's hitting .299 on the year and getting on base at a very high clip (.387) as well. He may not blow you away in any one category, but he won't hurt you with the way he's been hitting this year.
Third Baseman
Jurickson Profar, TEX (5.7% owned)
We've already gotten a taste of what Profar can do when given the opportunity (.327 avg), but he just can't find time on the field now that everyone is healthy. Despite that, Profar may be worth a stash in the hopes that Texas clears space with a trade, or that he gets dealt elsewhere before the deadline. If you have a free roster spot, it's not a bad idea.
Shortstop
Jose Reyes, NYM (28.9% owned)
From the sound of it, Reyes should spend most of his time at third base, but he may also play some shortstop and center field as well. That should help him earn multi-position eligibility down the line, which would make him a little more useful. We're here for the speed and batting average, as Reyes stole 24 bases in 116 games last year. No one is excited about owning him, but he may be able to help if you have a need for speed.
Outfield
Rajai Davis, CLE (21.8% owned)
He was listed here two weeks ago, but most owners haven't caught on quite yet. Davis has 22 stolen bases on the season already, and he's still hitting well (11-for-30, 2 HR over the last seven games) and for power. Even if you only play Davis against lefties, who he historically performs much better against, he's worth it for his speed.
Starting Pitcher
Hyun-Jin Ryu, LAD (9.4% owned)
He's not a big time strikeout pitcher, but he'll be making his return to action this week and will replace Julio Urias in the rotation. Ryu has three-year averages of a 3.14 ERA and 1.20 WHIP, so he's solid and should be able to get some wins and quality starts for you.
Relief Pitcher
Seung Hwan Oh, STL (32.3% owned)
Oh has taken the closer role in St. Louis from Trevor Rosenthal, and he might not give it back. His 57 strikeouts in 42 innings and his tiny 1.71 ERA and 0.90 WHIP are great, but it's the saves you care about. Oh converted his first two chances this weekend, and they'll start piling up soon since he plays for a good team. If you need saves, go get him immediately.
Tweets from https://twitter.com/FantasyOnFOX/lists/fox-sports-fantasy