Faber: Ludwig is 'a bully ... for me, I'm done with the guy'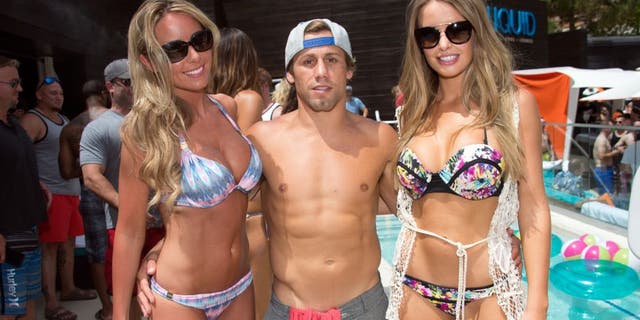 NEWYou can now listen to Fox News articles!
Urijah Faber and the former head coach of his Team Alpha Male stable Duane Ludwig have feuded publicly for some time, now, but always only making the most vague of references to issues with one another. "The California Kid" is done restraining himself on the topic of "Bang," however.
"You know, I've tried to keep it real private because I don't want to air dirty laundry necessarily, but it's just kind of sad," Faber recently told Submission Radio.
"Duane is a guy that was really, really down and out when I gave him a call, and I've just learned that dysfunction kind of follows that guy. So we've brought him into a great situation and really tried to hoist him up, and to see him bad-mouthing the team is kind of sad, you know?"
Ludwig left Alpha Male about a year ago but still trains team member and UFC bantamweight champion TJ Dillashaw, who splits time with the coach in Colorado and TAM headquarters in Sacramento, Calif. However, Ludwig made unfortunate headlines in July when he said that Dillashaw was the only fighter on Team Alpha Male who truly has the desire necessary to be a world champion.
Faber, himself a former world champ, clearly has not forgiven Ludwig for that slight, or many other alleged ones.
"We've done a lot for him and he's been out of our gym for maybe a year and a half, and to see a guy talk about guys he hasn't even been around for a year and a half ... like he knows what the heck they're even up to is kind of strange," Faber explained.
"Especially guys that have really gone out of their way to help promote a guy, because he was pretty emotional about how down and out he was at the time. So it's just unfortunate, man."
Faber doesn't claim that Ludwig has stabbed him or any other Team Alpha Male members in the back. Rather, the new TUF coach says that Ludwig trips himself up.
"There's some guys that, no matter the opportunity, seem to stab themselves in the foot. And from my stand point, what I've seen from him, I don't like the way he treats people," Faber continued.
"He's a bully, he's done things that have really rubbed me the wrong way as far as building a positive environment. I feel bad for the people that are stuck with him, because he takes and he takes and he takes, and it's not the way that I built my team and I don't appreciate his negativity. So for me, I'm done with the guy."
Well, none of that is likely to help with any awkwardness between Dillashaw and his Alpha Male teammates. The divide between his chosen head coach and his chosen team only seems to be widening.