Expect a slimmer, trimmer and more in shape Josh Barnett than ever before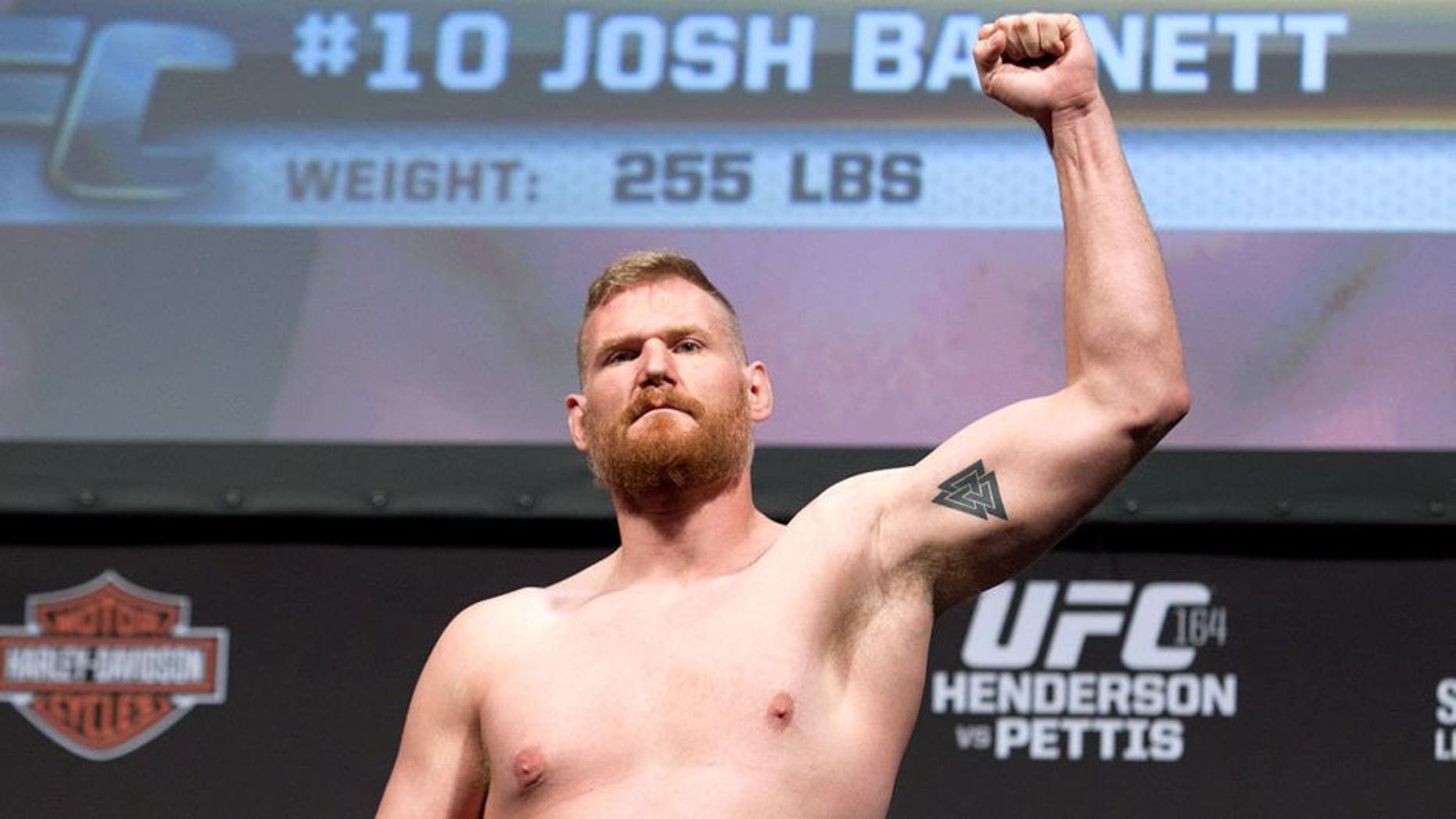 As a heavyweight, Josh Barnett has never worried much about shedding pounds before stepping on a scale. With nearly two decades of fight experience under his belt, he knows how his body should feel in the days leading up to competition.
For the first time in his career, with his upcoming fight against Roy Nelson at UFC Fight Night in Japan on Saturday, Barnett worked with a nutritionist to see what would happen if he actually changed his diet and paid closer attention to the food he ate on a daily basis.
The result will be witnessed at the official UFC weigh-ins on Friday night as Barnett is expected to tip the scale looking slimmer, trimmer and more in shape than any of his recent fights over the past few years.
"What we did was pay a lot of attention to the diet, specifically his calorie intake," Barnett's nutritionist and training partner Erik Hammer told FOX Sports. "Him being a heavyweight, he's never really had to worry about cutting weight. He ate clean for the most part during the camps, but never really paid attention to the exact calories and macronutrients he was putting in.
"We got really specific for this camp and what we found right away was he shed a lot of body fat and he looks phenomenal right now. He's still maintaining strength and he still looks really good, he's a lot faster, he's lighter on his feet and we noticed when he throws his kicks he's got a lot more flexibility in there now. He just looks like a better athlete at this point."
Hammer has worked with Barnett for years as a sparring and training partner, but only recently did he actually take over the UFC heavyweight's diet as he prepared to face Nelson in Japan.
Hammer admits that part of the motivation to get Barnett in better shape was to see how much stronger and faster he could be after shedding some unneeded body fat, but he also knows that as the former UFC champion closes in on 38 years of age, the body needs a little more fine tuning than what he could get away with in his 20's.
"We all realize, I mean I'm 35 and I'm not competing in the UFC or anything, but I'm his training partner and I'm there every day with him and the guys who know about the diet are sometimes the last ones to follow it, however, I dialed mine in and he got dialed in on his," Hammer said.
"Part of the deal is he is getting older and you do start to take advantage of every opportunity possible. That was really the focus to find any advantage we could."
While Barnett has always been a big heavyweight, he's never had to worry about coming in above the 265-pound weight limit for his division so there was never a need to really drill down to specifics when it came to his food intake.
Hammer helped tweak everything in Barnett's diet for this fight camp while constantly building up his core strength as well as his quickness and agility. The visual difference will be seen on the scale Friday night -- the physical difference will be apparent when he steps into the Octagon across from Nelson on Saturday.
"Food had a value to it, it was viewed as a fuel and everything was done with intent. Every calorie put in his mouth was done with a reason," Hammer said.
"He looks really lean. You can see the muscle on the back and the shoulders and his abs are coming in. Depending on how hydrated he is, you should see him weigh in around 240 or 242 or maybe 245, but for the most part for his past fights he's come in around 255 or 250. It's just a big difference in fat loss for him."
When he's not working with Barnett for his UFC fights, Hammer is also a nutritionist for several top-named wrestlers, including Helen Maroulis, a 2015 gold medalist at the World Wrestling Championships, as well as wrestling prodigy Aaron Pico and Elena Pirozhkova.
Because he works with several Olympic-level athletes, Hammer is also well versed in keeping his athletes fed and hydrated while staying up to date on the latest protocols with the World Anti-Doping Agency (WADA) codes to avoid any supplements that might harm his clients more than help them.
The UFC recently employed the United States Anti-Doping Agency to conduct enhanced drug testing across the board for all the fighters on the roster, and everything from supplements to the use of IV's to rehydrate after weigh-ins have come under scrutiny with the new system in place.
Barnett already went through WADA enhanced testing ahead of his fight with Travis Browne in 2013, so this new system is old news for him, but Hammer said he's always cognizant of what he's telling his athletes to put in their body, especially when it comes to the highly unregulated world of supplements.
"I'm very particular on the supplements I use. I think supplements cover such a huge umbrella of things. For me I only use proteins and a carb powder. We do vitamins and minerals but that's about it. I think a lot of supplements have a purpose for some, but I'd rather people save the money and eat real food as much as possible," Hammer explained.
"A lot of these guys just don't have the concept of meal timing, when to eat and when to eat the right things. Supplements are really the last thing I worry about because you can get everything you need through food."
The end result for Barnett after a hard training camp was a much healthier and happier fighter. Hammer says fans can expect that to show through in his performance on Saturday night as well.
"It makes him a much more dangerous fighter," Hammer said in closing.
Don't miss a minute of Barnett's fight against Nelson as well as the rest of the card with our UFC Fight Night viewing and schedule guide ahead of the event this weekend airing on FS1 and FS2.