Eagles gearing up to stop Packers workhorse Eddie Lacy now that Aaron Rodgers is out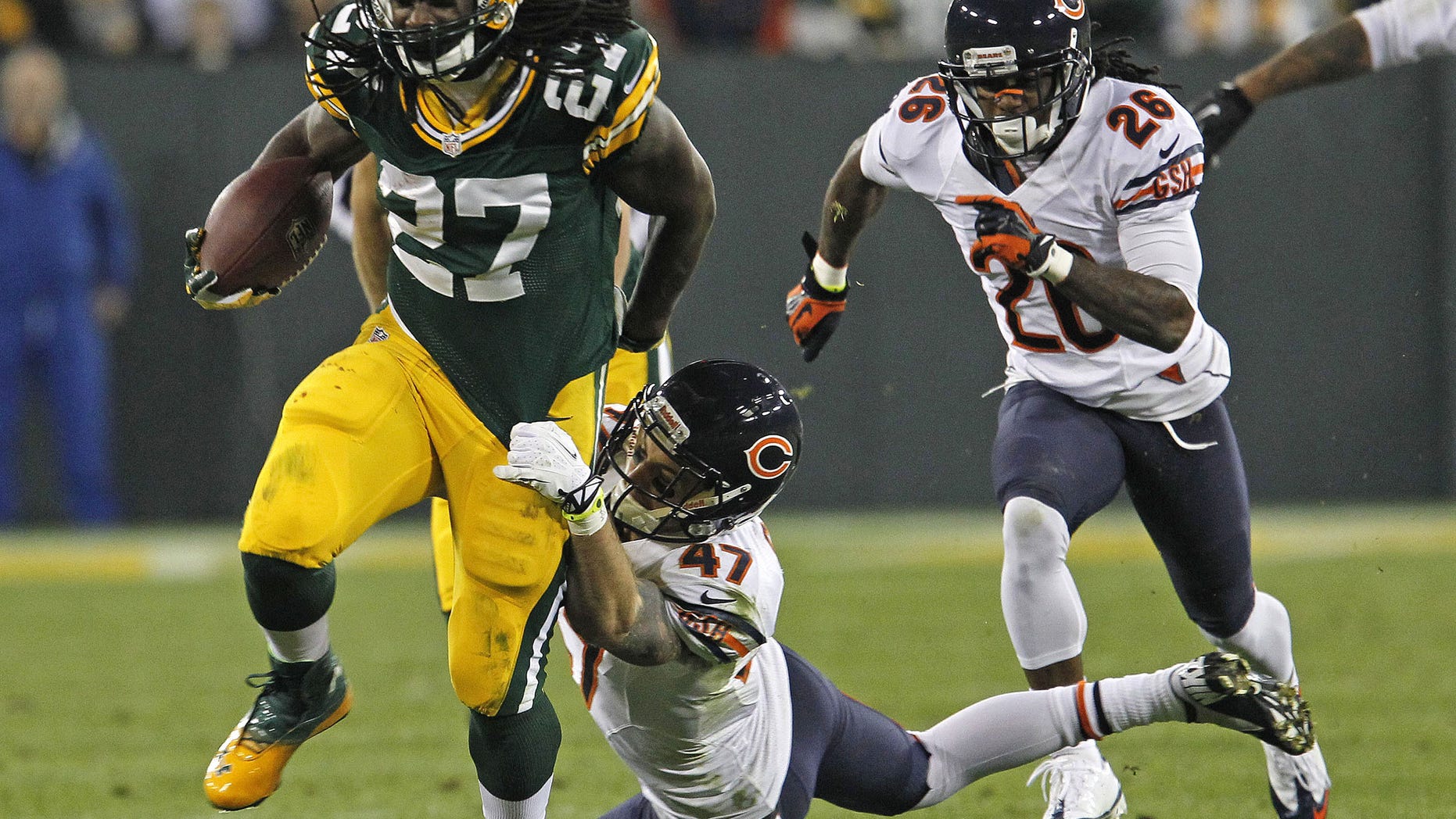 PHILADELPHIA – With Aaron Rodgers injured, the Philadelphia Eagles expect the Green Bay Packers to play old-school football.
The Packers (5-3) have relied heavily on passing for more than two decades behind the arms of Brett Favre and Rodgers. Now they're likely to put the ball in Eddie Lacy's hands as much as possible.
Seneca Wallace, released by two teams this year, will be the quarterback against the Eagles (4-5) on Sunday because Rodgers fractured his collarbone in a loss to Chicago. Wallace, who is 6-15 in 21 starts during an 11-year career, is hardly the same threat.
"They're going to bring it. We expect to have that mindset where we need to man up against the run and win our battles," Eagles rookie defensive tackle Bennie Logan said. "It's a focus for our defense. They've got some physical running backs and we have to get after the ball, hit them hard and wear them down. The whole defense has to get in there against the run."
Lacy, a rookie out of Alabama, has solidified Green Bay's run game, a feature that's been missing from the offense for years. Lacy has 596 yards rushing, four touchdowns and is averaging 4.4 yards a carry.
Since returning from a concussion that forced him to miss almost two full games, Lacy has averaged 24 carries and 109 yards over the last five games. He had 150 yards in Monday night's loss to Chicago.
The 5-foot-11, 231-pound back should be even more of a workhorse with Rodgers sidelined. James Starks, averaging 6.0 yards a carry, teams with Lacy to give the Packers a tough 1-2 punch.
They'll need it without their 2011 NFL MVP.
"They made a concerted effort even before Aaron got hurt to run the ball, and they had been running the ball pretty effectively before Aaron got hurt," Eagles coach Chip Kelly said. "So I think it's a real concern of ours because they're two big backs, they're two physical backs."
Despite having the worst-ranked defense in the NFL, the Eagles are decent against the run. They've allowed just 103.8 yards on the ground over the last five games. Lacy and Starks will be the toughest test for Philadelphia's front seven since facing Kansas City's Jamaal Charles in Week 3.
"They're downhill, run-you-over, angry runners," defensive coordinator Billy Davis said. "And they're getting a lot of production out of them. We've got our hands full to stop their run game. When they commit to the run, like they have lately, they've got a solid offensive line, and they run behind their pads well with their running backs."
The Packers are ranked sixth in rushing with an average of 148.6 yards a game. They haven't been a top-10 rushing team since Ahman Green was the featured back in 2004.
NOTES: Eagles QB Michael Vick and LB Jake Knott are doubtful with hamstring injuries. CB Bradley Fletcher (chest) is questionable. Nick Foles will start for Vick, though Kelly still hasn't confirmed it. Foles tied an NFL record with seven touchdown passes last Sunday in a win at Oakland. Rookie Matt Barkley took reps as the backup.
___
AP NFL website: www.pro32.ap.org
___
Follow Rob Maaddi on Twitter: https://twitter.com/AP_RobMaaddi