Dwyane Wade cancels meetings as free agent rumors heat up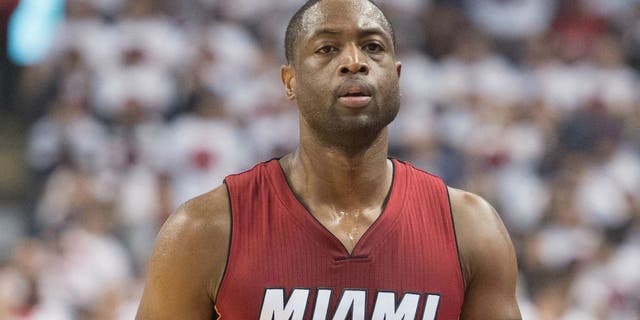 NEWYou can now listen to Fox News articles!
The biggest name left in this year's free agent class is veteran guard Dwyane Wade, and the internet is buzzing with rumors about where he'll eventually land.
While many initially expected Wade to re-sign with the Miami Heat, it's starting to look more and more like the 34-year-old is ready to move on from the only team he's ever known throughout his 13-year NBA career.
On Monday, the Heat offered Wade a two-year, $40 million offer with a player option for the second year, according to the Associated Press' Tim Reynolds. That same day, Brian Windhorst of ESPN reported that Wade's representatives were seeking a two-year deal around $50 million -- a price too high for cap-strapped Miami.
Not only is Wade reportedly unhappy about the money being offered by the Heat, but Ethan J. Skolnick of the Miami Herald says that the relationship between Wade and the Heat is not as cozy as it once was:
Wade and the Heat are not on great terms. That is coming from both sides. "Ugly" has been the common descriptor. Wade did not feel like the Heat prioritized him ... again. The Heat wanted Wade to be patient, while it was securing Hassan Whiteside and trying to land Kevin Durant.
And then there's all the talk of canceled meetings. Windhorst reported Monday morning that Wade "canceled some free-agent meetings with teams he'd set up with this week." ESPN cohort Zach Lowe later added that the Milwaukee Bucks were one of those teams.
Of course, there's also the scuttlebutt about a possible reunion between Wade and his close friend LeBron James. Which only intensified when the Cavs apparently followed Wade and his wife, Gabrielle Union, on Twitter and Instagram. There were rumors Monday night that Wade was on a plane with James and Cavaliers owner Dan Gilbert, discussing a potential deal. That rumor was debunked by Skolnick, who said Wade was vacationing in Spain and was not scheduled to fly home until Tuesday morning. But that doesn't completely rule out the possibility of Wade and LeBron teaming up again, Skolnick notes:
Yes, joining LeBron James in Cleveland is an option. Among a few still, and "a long shot" due to the economics, according to a source, but definitely an option. The Cavaliers don't currently have anything other than the taxpayer mid-level to offer ($3.48 million), which would be a huge reduction in pay. So they would need to make multiple deals to accommodate more salary. Or James would need to take a historically large cut, which wouldn't sit well with the players' union, but maybe he doesn't care about that. He repeatedly told me, when I was covering the Cavaliers during the 2014-15 season, how much he missed Wade. That may be priceless.
While Wade to Cleveland remains the most intriguing possibility for the 12-time NBA All-Star, it's probably the most unrealistic. But then again, as history as shown us, you can't put anything past LeBron James and the Cavaliers.