DW: The Chase Is On — Now What?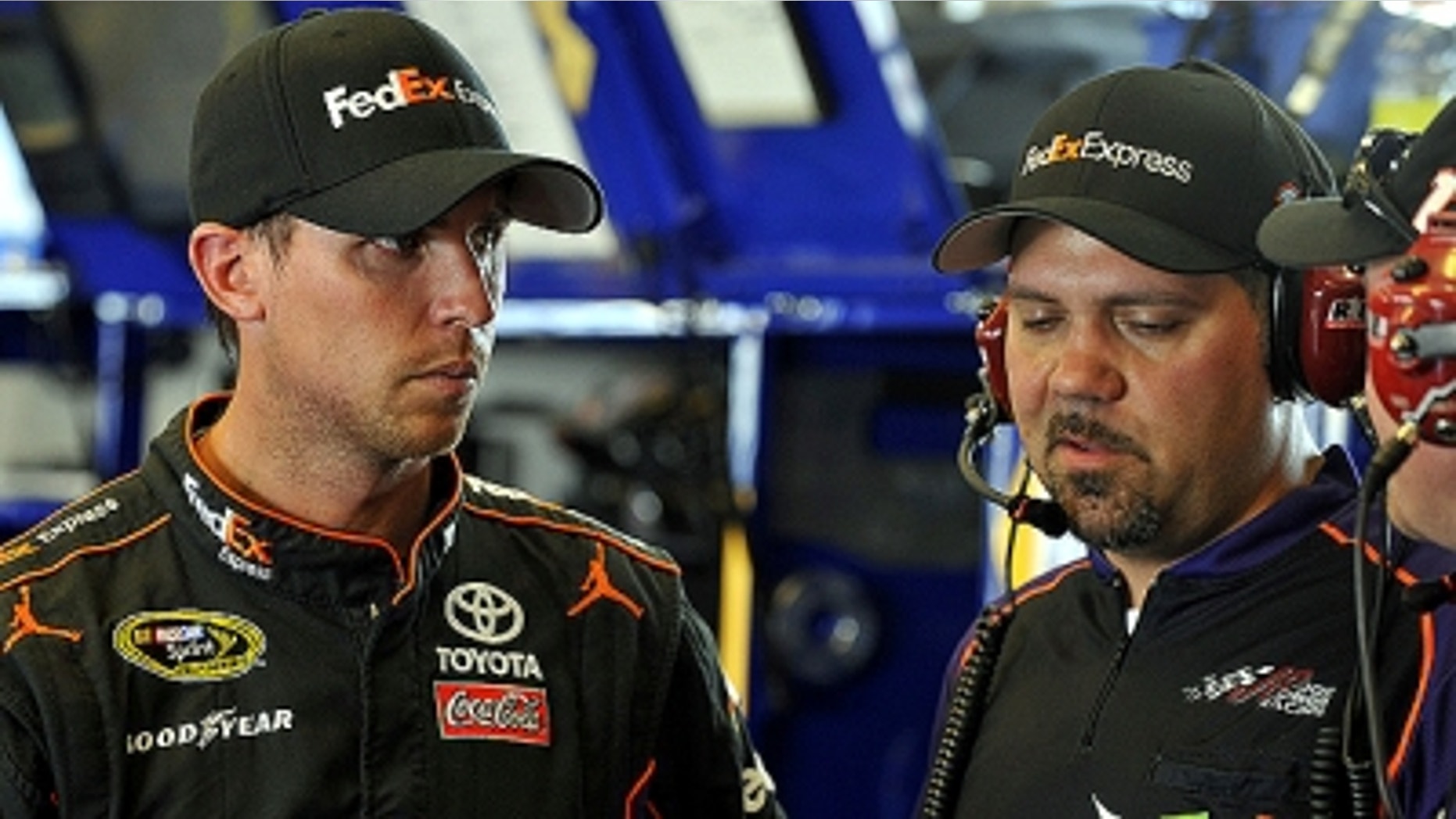 Well folks, you have to admit that was pretty exciting racing on Saturday night.
I love the final race of the regular season — it is one of the most exciting races of the year because there's so much at stake. Sure, you know who some of the Chasers are ahead of time, but the battle for the final spots, like we saw Saturday night with Kyle Busch and Jeff Gordon for the final wild card, is intense.
But the thing about the regular season is that everybody wants to win so they can get those crucial bonus points for the Chase — those are important. But in the Chase itself, I'm not so sure winning is as important.
Now you can say "Wait a minute DW, what about Tony Stewart last year?" All right, Stewart had five wins, how many did Carl Edwards have? Zero, yet the two ended up tied at the end of the season (with Stewart winning the championship on a tiebreaker).
Once you get into the Chase, points are as important as wins if not more so. Consistency is what wins championships.
That's the difference between the regular season and the Chase for the Sprint Cup playoff. You've got only 10 races and you can't screw up any of those — you're not going to get any mulligans — so as much as I like the race to the Chase, it's going to be business as usual these next 10 races: Put down solid finishes and that'll give you a good chance of winning the championship.
But let's look at what happened Saturday night. You've got to admit that it lived up to most of its billing. Sure, there was disappointment with the constant rain that kept delaying the race and forced the race to finish in the middle of the night. Trust me, I know because I did Victory Lane with Kyle Petty, Kenny Wallace and John Roberts after the race so I didn't get to bed until about 3 or 3:30 a.m. But at least that's better than my buddy Clint Bowyer, who went to bed around 5 a.m. I spoke to my brother and he said they certainly celebrated the victory and the team making the Chase — and rightfully so.
What a stroke of luck for Bowyer and Gordon — both of them had pretty amazing nights.
Bowyer had a tire cut down and he spun out, next thing you know he comes back and has the fastest car on the track.
Gordon struggled all night long, but he and his team did a great job of analyzing the problems and working to find solutions so they could make a fantastic charge at the end of the race. Alan Gustafson, Gordon's crew chief and one of the best minds in the sport, and Gordon, perhaps one of the greatest drivers of all time, worked together and earned their result. By comparison, Kyle Busch, who was battling for the final wild card, and crew chief Dave Rogers just couldn't handle the pressure.
I was afraid of that, and here's why: Kyle has won four spring Richmond races, but his two worst finishes at the track have come during the fall race. For whatever reason, they have not figured out the fall race there. But with Busch, who had a 4.7 average finish at the track going into the race, you had to figure he'd get a decent finish to make the Chase.
But from the first practice on, they never got that No. 18 car right. Kyle is a great driver — car control, aggressiveness, passion ... there's nobody better. But when it comes to problems — and these things tend to rear their ugly heads — he tends to have a bad attitude. Kyle and Rogers went off, they didn't really talk about how to fix the car but just argued with each other back and forth. Everybody knows that Rogers made a bad call by not bringing in Kyle to get new tires and top off with fuel in that late rain caution — the guys who did do that ended up getting great finishes. By not doing that, the No. 18 team ended up not making the Chase.
That was unfortunate for Kyle. He didn't run that great (16th) and the team was never able to make the car that great. He was very frustrated, but I love the way Joe Gibbs came over, stuck his head in the car and tried to calm Kyle. He told Kyle to handle it the right way and Kyle got out of the car and left. Even when he did make his postrace comments, you could tell he was disappointed and upset, but he didn't blast anybody. Under those circumstances, that's the best he can do.
But it was a great race all night. A lot of things changed throughout the race. Stewart started 28th, but he and crew chief Steve Addington did a great job to work their way back into the top five and earn a good finish. Going into the Chase, that result could be very important. They've been a little inconsistent, but with a nice fourth-place finish like that, anything can happen, as Stewart himself proved last year on his way to the championship. Now, last year has nothing to do with this year, except it probably gives Stewart an extra boost of confidence entering the Chase.
We have to give a tip of the hat to Rick Hendrick. Dale Earnhardt Jr. won the pole last weekend, and that turned into a blessing in disguise as Jeff Gordon qualified second. On the start it was pretty obvious that Dale Jr. let Gordon lead so he could get a bonus point, which turned out to be the difference between making the Chase or not making the Chase for Gordon — the margin was that small in the end. But he makes it, joining his three teammates and giving Hendrick four cars in the Chase for the first time. But it's more than that, all four of them are running good.
I chuckle — I was talking to Jimmie Johnson the other day and he said "Man, I don't know what happened. A couple of weeks ago before (Denny) Hamlin rattled off those two victories, the championship was in the bag. But then Hamlin gets on a tear and, combined with Saturday night, you just don't know who's going to win this championship."
People keep asking me who's my favorite and why. I gotta tell you, it's hard to bet against five-time, but I just believe the lessons learned by Hamlin when he lost the championship two years ago, and the experience that crew chief Darian Grubb has from winning with Stewart last year, make the No. 11 team the one to beat. Darian really complements Denny, and they have so much confidence right now, that's what you need going into the Chase. That's why Denny is my favorite.
My two dark horses: I gotta tell you, my brother Michael's cars. The thing the Nos. 15 (Bowyer) and 56 (Martin Truex Jr.) have going for them is speed, man. Those are fast cars, and you gotta have fast cars to win the title. I just have a good feeling about Michael's cars. And don't forget about the No. 55 that Mark Martin's driving — it has a good shot at winning races over these next 10 races, too. My brother, Rob Kauffman, competition director Scott Miller and their group have done a great job of getting those cars to where they are. I'm proud of them. I'm really impressed with the job Bowyer is doing — it's just been fun to watch.
And of course, poor Carl Edwards — his bad luck just continues. He couldn't do any better than 17th on Saturday night and never really was a factor. He has just two top-five finishes this year, and they came during the first five races. That is just a meltdown for that entire organization. Something's gotta give. Something's gotta change for Edwards to get back in the hunt. Maybe he can do some good during these next 10 weeks now that the championship is out of reach, to get his team pumped up for next year.
On a different subject, the rule change that came down about the bushings and truck arms — I just gotta tell you from my own experience here, it's not going to stop Hendrick Motorsports. Remember when NASCAR made a change with the rear sway bar because teams alleged that the Hendrick cars were finding an advantage with them? It didn't stop Hendrick. It's much ado about nothing.
Here's what I suggest: NASCAR needs to find a way to stop the cars running sideways down the racetrack. They need to get the cars running straight down the track like they are supposed to. These cars look stupid on TV all yawed out and they need to stop that. The reason we went to the Car of Tomorrow was to get rid of the "twisted sister," but now teams have taken this car and twisted it in a different way. I just hope before next year, with the new car coming, they can make the "sidewinding" stop. That'd be the best thing for everybody.
And finally, you've got the best minds in the sport going into the Chase. You've got Grubb, who won the championship as crew chief for Stewart last year, you've got Chad Knaus, who's got five championships already, you've got Addington and Paul Wolfe, Brian Pattie, who just won on Saturday night with Bowyer, Matt Puccia, who's been doing a great job with Greg Biffle, Jimmy Fennig with Matt Kenseth, Steve Letarte working the magic for Dale Jr., Gil Martin back on top of the pit box for Kevin Harvick, Chad Johnston, Kenny Francis and Alan Gustafson. Those are the greatest minds in our sport, and that's why this is going to be one of the greatest Chases we've seen.
Mark my words, it'll come down to a two-man race. The first three races, we'll eliminate a few guys from title contention. Then we'll eliminate a few more. And by the time we get to Homestead for the finale, it'll be a two-man race. The question is, who will those two be?