Dustin Poirier: We'll see how Joseph Duffy's chin holds up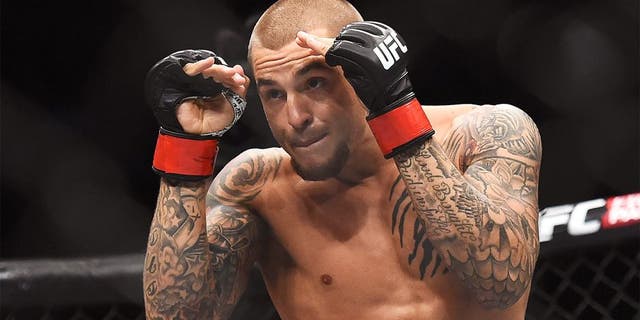 When Dustin Poirier found out that Joseph Duffy suffered a concussion in training just days before their scheduled fight in Ireland that forced the entire bout to be scrapped, he didn't hold any ill will towards the highly touted prospect.
In fact, Poirier didn't get mad at Duffy at all for being forced off the card because he understands that any number of things can happen to alter the course of a fight and unfortunately this time it just happened to him.
"I wasn't angry at all. I was a little disappointed but this is a crazy sport and crazy stuff happens everyday. I was upset it was me this time. I see it happening all the time in the news to other guys, crazy stuff, but I guess it was just my turn," Poirier told FOX Sports just before Christmas as he prepared for newly scheduled fight with Duffy at UFC 195.
"That's a good thing that he told them. Because I would have felt bad, we were fighting in the main event that was five rounds. I'm sure he was going to take a lot of shots that night and if anything would have happened it would have been horrible for the sport and for him and his family. I think the right thing was done."
Duffy apologized profusely for dropping out of the fight after he got caught with a strike that left him rattled and dazed before he was scheduled to meet Poirier in October.
Since that time, Duffy has obviously been cleared to return to action but taking a shot like that can be tough to come back from and Poirier can't deny that he's curious if the Irish lightweight is ready to take a punch on Saturday night.
"We'll see how his chin holds up. We are going to find out because I 100-percent will tag him," Poirier said. "This is a fight, I'm going to finish him. With that said, I didn't really think of it like that or think about it that much, I was just preparing for another fight with him. If he didn't train hard because of precautionary reasons, because of the concussion, I'm sure there's going to be doubt in his head if he can take another shot if he hasn't been taking them."
A lot has been made about this fight for Poirier and his future in the UFC. The American Top Team fighter is coming close to the end of his current deal with the promotion but he's confident that his future will reside with the same company where he's already spent the last 15 fights of his career.
"First things first, that's winning this fight and everything will fall into place. But I had signed a six-fight contract my last UFC deal and this is going to be No. 5 of the six," Poirier explained. "Obviously, they keep you locked in and renegotiate after this one. I have one left on my contract after this fight next weekend but we're going to renegotiate and hopefully we come to terms and I won't have to fight it out."
Throughout his time with the UFC, Poirier has wanted nothing more than to become a champion and while he came up a bit short competing at featherweight, now that he's a much healthier and happier 155-pound fighter, he sees that as the ultimate goal.
There's no higher achievement in MMA than becoming a UFC champion according to Poirier and that's what he wants more than anything else in this sport.
"That's the belt that matters most anywhere I feel," Poirier said. "I feel like everybody's who fighting, young fighters and still learning and growing, that should be their goal -- to be the UFC world champion."
A goal that Poirier set for himself in 2015 won't be attained due to the delay in his fight with Duffy so the Louisiana native is setting an even higher bar for what he wants to do next year. It all starts with beating Duffy on Saturday night at UFC 195.
"I set a goal to be in the top 10 by the end of this year and with Joe falling out of the fight it got messed up and unless the rankings switch up in the next week, it's not going to happen," Poirier explained.
"But I know 100-percent next year I'll be in the top 10 and by the end of the year I should be knocking on the door or fighting for the belt.