Don't credit luck for the Warriors' incredible run (but you can blame a toaster)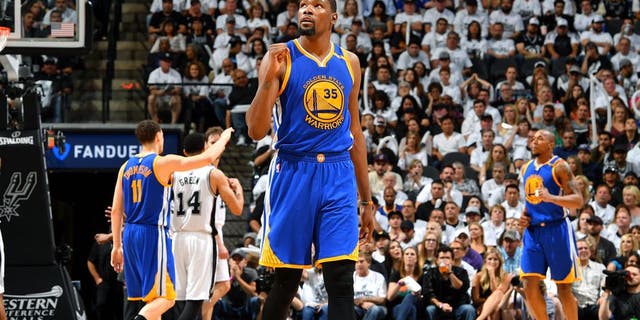 The Golden State Warriors have won more regular-season games in the last three years than any other team in NBA history 207 and have added 43 more wins in the postseason following Monday night's Western Conference Final sweep of the San Antonio Spurs.
The Warriors will head into their third straight NBA Finals undefeated in this postseason and as the first team to go 12-o in the first three rounds in NBA history.
In all, the Warriors made easy work of the competition in the West over the last month, posting a net rating of16.8 in their 12 games.
For some, the Warriors made it look too easy.
To them, the Warriors can't be that good they just got lucky, again.
The argument for the Warriors' being a lucky team is well-rehearsed: Golden State won the 2015 NBA Finals because Kyrie Irving and Kevin Love didn't play, they got what was coming to them in 2016, and they are heading back to the Finals because Kawhi Leonard was injured in Game 1 of the Western Conference Final.
There's a tremendous amount of inference in those statements, but there's some truth in there as well.
The Warriors certainly were lucky that Kevin Durant signed with them but he could have signed with other teams as well. They capitalized on the good fortune (and cap space) that befell them, unlike the Washington Wizards.
And yes, it's true the Warriors have only played a full-strength squad in the postseason twice in the last three years that's important to note but was Blazers centerJusuf Nurki really going to turn the tide in the Warriors' opening round series? Would the Spurs have been able to carry the strong play from the first half of Game 1 throughout a seven-game series with Leonard on the court, or was it perhaps an outlier performance by a rusty Warriors team coming off a long break?
The Warriors' series against the Spurs will be considered awhat if for many, and while there's no way to definitivelysay what would have happened if Leonard (or LaMarcus Aldridge who was actually on the court) had played, spending hours discussing hypotheticals is an empty exercise.
There are easier ways to try to delegitimize a great team than to pretend the games were played in an alternate universe the easiest way is to rattle off a great "3-1 lead" joke. Those won't go out of style anytime soon, even if the Warriors claim the title.
The truththat's convenientlyignored by Warriors it's-all-luck truthers is that every successful team and player has needed some luck along the way, too. Michael Jordan was lucky that Scottie Pippen didn't want to leave and that he wasn't called for a push-off on Byron Russell. Kobe Bryant was lucky that he had Shaq and then Pau Gasol (we don't acknowledge how good Gasol was for Kobe's final two titles). You could argue that LeBron has been lucky to play in the Eastern Conference his entire career, or that Stephen Curry wasn't at 100 percent for last year's Finals, or that Draymond Green was suspended for Game 5.
But all of those things happened as they happened. You can only play the cards that you're dealt, and save for the meltdown in last year's Finals, the Warriors have played their hands with maximum efficiency.
To claim it's significantly or all a byproduct of luck and good fortune is as silly as claiming the team is "light years ahead." It's to ignore the joyful basketball that has been played for three years now out of spite or pettiness.
If you want to claim something supernatural ormagical is behind the Warriors' success, you can look towards the toaster.
Yes, the toaster.
In March, a fan had Warriors guard Klay Thompson sign a Warriors-logo-emblazoned toaster (which was already signed by David Lee), and since that Sharpie hit the kitchen appliance, the Warriors are 27-0 with Thompson in the lineup (and 27-1 in all games).
But it wasn't a toaster that integrated Durant into the Warriors' offense or got him to buy into the defensive responsibilities that come from playing in a super-switching look. A toaster doesn't have Curry bounce back from ankle surgery to become the back-to-back league MVP. A kitchen appliance doesn't turn Green into an All-NBA player or have Thompson develop into a two-way star or make Javale McGee a viable starting center once again or turn Patrick McCaw and Ian Clark into threats off the bench, either.
Luck doesn't do those things either it's just an easy way to dismiss a complex context.
Yes, the Warriors, boast a preponderance of talent, and no, they didn't face stiff competition in this year's postseason, but lest we forget it's hard to get great talent to play together (how'd Karl Malone or Dwight Howard do in L.A.? What's Lob City up to? What seed were the "three alpha" Bulls in the Eastern Conference playoffs this year?) or that their presumed opponent out of the East is also facing off against a team that is missing its best player in the Conference Finals.
Hours, days, and weeks have been wasted trying to undercut Golden State's' success for a variety of reasons, but the Warriors' three-year run will define itself soon enough. Winners of one title and losers of another, Golden State will have its NBA Finals rubber match starting June 1 against a full-fledged Cavaliers team.
Then we'll really know what we've been watching for the last 250 games. Toaster willing, of course.
Mark J. Rebilas-USA TODAY Sports | Mark J. Rebilas