Dodgers GM admits Dee Gordon 'exceeded our expectations'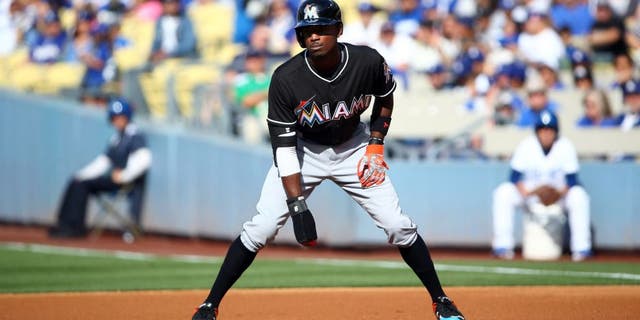 Dee Gordon returns to Dodger Stadium as a member of the Marlins in 2015. Victor Decolongon Getty Images
The Los Angeles Dodgers have no regrets about the trade that sent second baseman Dee Gordon to Miami, but they're willing to admit that he performed well beyond what they imagined in his first season with the Marlins.
After flashing potential in his final season with the Dodgers in 2014, in which he made his first All-Star team, Gordon had a stellar year for the Marlins, winning the batting title with a .333 average and taking home a Gold Glove as well.
"I would say he exceeded our expectations," Dodgers general manager Farhan Zaidi said. "I think he exceeded everybody's expectations. That's a testament to him and his work ethic and his ability to improve. There were definitely people in our organization that felt like he had shown that ability to improve."
Prior to being traded to Miami, the Dodgers had experienced a mixed bag of performances from Gordon.
While his lightning-fast speed increased his value to the team, his hitting was inconsistent, as was his fielding at shortstop, where he started out before being converted to a second baseman with Hanley Ramirez taking over at short.
"Trading away a guy is not an indictment of that player," Zaidi said. "A lot of time it's need for need."
Although the Dodgers didn't reap the reward of Gordon's terrific 2015 season, they still garnered valuable assets from the trade that sent him packing.
In exchange for Gordon and pitcher Dan Haren, Los Angeles received utility man Kiké Hernandez, reliever Chris Hatcher, catcher Austin Barnes, and starter Andrew Heaney, the latter of whom was turned around to the Angels for second baseman Howie Kendrick.
"We're obviously really happy with the guys that we got," Zaidi said. "It was about filling the position, which we were able to do with Howie, and also creating some depth at some other spots, getting some guys that are going to part of this club for the next several years."