Dez Bryant's son was a big hit at the Pro Bowl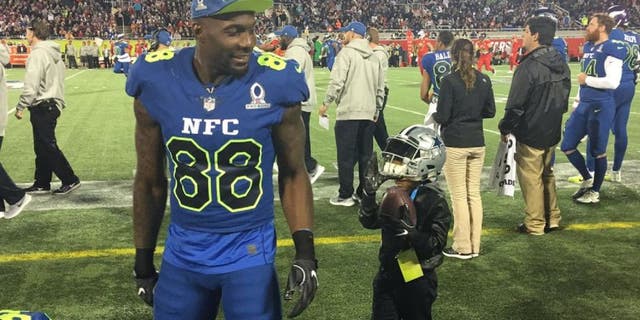 Dallas Cowboys wideout Dez Bryant is known for being a show-stopper, but Sunday night at the Pro Bowl, his son Dez Jr. took over those duties.
The son of the flamboyant wideout did a little bit of everything in the AFC's 20-13 win.
Dez Jr. helped his father get loose before the festivities, showing off the same hands that has made the elder Bryant a three-time Pro Bowler.
Bryant Jr. then displayed his strength, running over the Cowboys running back who usually does that to would-be tacklers.
Then Bryant Jr. had a little face-to-face time with another great wideout, Giants star Odell Beckham Jr.
The elder Bryant might have made an impact on the field -- five catches for 59 yards -- but Dez Jr. was a star off of it.