Detroit Tigers at Tampa Bay Rays game preview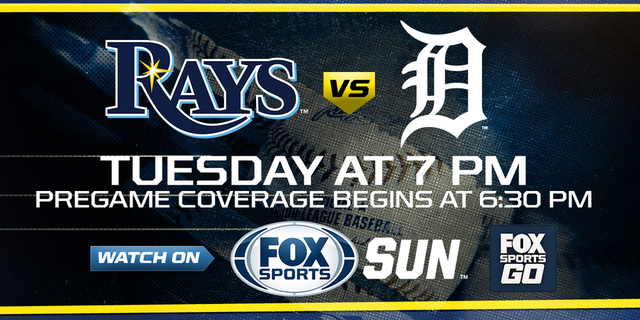 NEWYou can now listen to Fox News articles!
TV: FOX Sports Sun
TIME: Pregame coverage begins at 6:30 p.m.
ST. PETERSBURG, Fla. -- A week ago, the Tampa Bay Rays closed a season-opening homestand with a 5-2 record for the best start in franchise history.
The Rays return to Tropicana Field to face the Detroit Tigers on Tuesday, having lost six of seven games on the road to fall to 6-8, with much of that early momentum already long gone.
"We talk about for us to have our best chance, we have to play clean baseball," manager Kevin Cash said after Monday's 4-3 loss to the Boston Red Sox. "We could probably go back to a couple plays on this road trip that it just didn't go our way. Very tough for us to overcome."
Monday's loss at Boston included 11 more strikeouts by the Rays, giving them a major-league-high 150 this season.
Tampa Bay hitters had 15 at-bats with runners in scoring position, and managed only three hits for a .200 average, losing despite outhitting the Red Sox by an 11-9 margin.
"We had some opportunities late, got guys on base, had some big at-bats," said Cash, whose team had the bases loaded with two out in the seventh, only to have Logan Morrison pop out to shallow right field.
"Just wasn't able to get that big hit, the big blow there. … We've got to play fundamentally sound baseball. Everybody in this clubhouse knows that, and we haven't been on this road trip."
They will have to get back on track against two of the best teams in the American League, Detroit and Houston, both off to 8-4 starts. The Tigers have won three straight series, and open the three-game set with the Rays against a pitcher who has excelled against them in right-hander Michael Fulmer.
Fulmer (1-0, 2.25 ERA) is 2-0 with a 0.64 ERA for his career against the Rays, with two gems last season.
In May, he struck out 11 Rays while holding Tampa Bay to one run on four hits in seven innings, and in July at Tropicana Field, he was even sharper, throwing seven shutout innings of two-hit ball and striking out 10.
The Rays have struggled with strikeouts in their recent skid, including 40 in the last three losses to Boston. They will try to turn that around in support of No. 5 starter Matt Andriese (0-0, 4.50), who carries a career 5.73 ERA against Detroit.
Andriese pitched well in his last outing against the Tigers, pitching three innings of one-hit, scoreless relief in a June 30 game last year.
Tampa Bay's bullpen has struggled in the last week, which presents a target for a Detroit offense that's prided itself on coming through with late runs to help them to an 8-1 record in games decided by three runs or fewer.
"Add-on runs are enormous," Detroit manager Brad Ausmus said after Sunday's win over Cleveland. "The later in the game, the more you can add on, the more secure the lead. I can't really put a value on them. Add-on runs are huge."