Deshaun Watson issues stern warning to teams ranking Mitchell Trubisky above him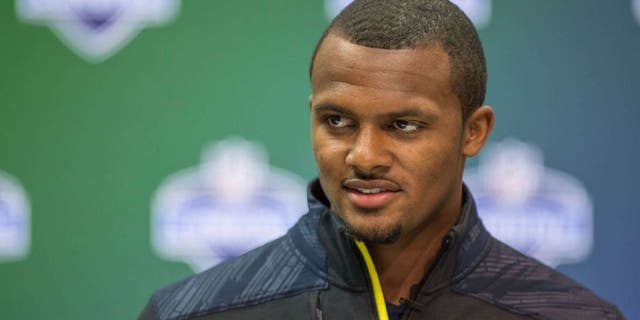 The NFL Draft is just two days away, yet we still have almost no clue where the top quarterbacks are going to land. The Cleveland Browns have expressed interest in guys like Mitchell Trubisky and Deshaun Watson, but neither are worthy of the first overall pick.
Many view Trubisky as the better prospect, but at least one person takes exception to that claim. On Good Morning Football Tuesday, Watson issued a warning to every NFL team considering drafting Trubisky ahead of him.
"You're gonna have to live with the consequences that come with it. That's how I see it," Watson responded. "I try to stay in my lane. I try not to take the path. I respect Mitch and what he's done and all the hype he's getting, but at the same time, my result speaks for itself. I feel like I've accomplished everything that I could. I guess if that's who they're gonna roll with, so be it."
Getty Images
Watson has far more experience than Trubisky, who started just 13 games in college. He also has a proven track record of winning at a very high level, culminating in a National Championship victory this past year.
That may not be enough to vault him ahead of Trubisky on draft night, but there should be plenty of consideration for Watson to be the first quarterback taken. Well have to wait and see how it shakes out on Thursday night, but Watson should prepare to prove at least one team wrong if Trubisky is selected ahead of him.