Demian Maia calls for the next shot at the welterweight title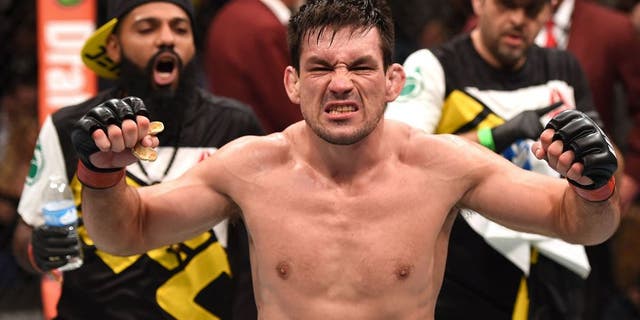 NEWYou can now listen to Fox News articles!
Following a dominant win over Gunnar Nelson at UFC 194, Demian Maia immediately called for a shot at the title and he's doubling down on his request to earn the next championship fight at 170 pounds.
Maia has won his past four fights to move up to No. 5 in the UFC rankings at welterweight, and he's not staying quiet about his desire to earn a shot at the belt sooner rather than later.
"That's what I want. I know many things can happen, but I'm ready for the title any time I can fight for that," Maia said about the title fight just before UFC 195. "I'm already training a little bit, but I want this chance."
Welterweight champion Robbie Lawler just went through a war on Saturday night in a five-round fight with Carlos Condit to successfully defend his belt for the second time. Lawler will rest before booking his next title defense, but Maia believes he should be the person who gets the call.
The most likely candidates for Lawler's next fight include a potential rematch with Condit as well as No. 2-ranked welterweight Tyron Woodley, who has been waiting for a title shot after his last fight against Johny Hendricks was scrapped.
Maia knows he's the other option and deep down he believes that the shot belongs to him ahead of Condit, Woodley or anyone else at 170 pounds.
"(My manager) is talking to them. You know what I see, Rory (MacDonald) has a fight coming up, he just fought for the title. (Johny) Hendricks is fighting. Pretty much there is me and (Tyron) Woodley so I think I deserve to fight for the title," Maia said.
"I'm asking for that because that's the way you get the chance. You've got to fight, you've got to do well but you've got to ask if you want the title, you really need to push for that. My style is not so loud but I want to fight for the title."
Maia certainly has one of the most unique skill sets in the division with a dominant ground game and possibly the best submissions in the world at 170 pounds.
Maia believes if he gets his chance to fight for the title, he'll prove once again what a dangerous threat he can be when taking his opponent to the mat. If he does that in a title fight, Maia sees himself walking out as the new UFC welterweight champion.
"Everybody will know if I take the fight to the jiu-jitsu world, to the ground, I've got a chance to win," Maia said. "And a big chance and I believe that."