Demetrious Johnson mauls Wilson Reis to tie all-time record for UFC title defenses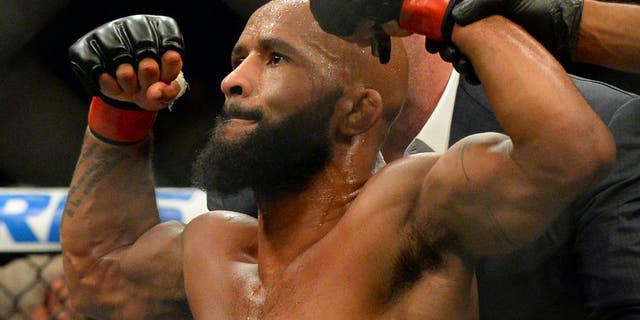 Demetrious Johnson further cemented his place in history with a flawless performance against Wilson Reis to notch his 10th consecutive title defense in a lopsided victory to cap off FOX UFC Fight Night from Kansas City.
It was a remarkable performance from the opening bell until the end of the fight as the flyweight champion dominated Reis and continued to reign terror over anyone and everyone who has stepped into the Octagon with him at 125-pounds.
The win tied Johnson with Anderson Silva for the most title defenses in UFC history, and it's clear he's not done with the record books just yet.
It was clear Johnson was out to prove a point because he came firing out of the gate by landing punches and kicks at will while countering Reis on two separate takedown attempts in the opening round.
Not only was Johnson accurate with stinging combinations but he was ultra quick with his footwork and head movement by making Reis miss with almost everything he threw on the feet.
Johnson's work rate was unreal as he landed three and four punches for every single shot that Reis could manage to throw back in return yet rarely finding a home for any of them.
The assault continued after Johnson cracked Reis with another blistering series of punches as well as a thunderous body kick before the fight went to the ground with just seconds remaining in the second round.
Johnson continuedhis offensive onslaught by blasting away at Reis with hammerfists until the horn sounded.
The incumbent champion didn't slow down in the third round while just punishing Reis with his striking, including another body kick that echoed throughout the arena in Kansas City.
Johnson switched his strategy by taking Reis to the mat with a quick double leg takedown before transitioning to side control as he started fishing for submissions while also landing a barrage of punches.
By this stage of the fight, Johnson was virtually picking his shots as he finally moved to mount as blood started streaming across Reis' head as the champion just battered him with punches.
The ground-and-pound attack ultimately served as the perfect set up for Johnson to then quickly whip around to grab onto an armbar that hyper-extended Reis' elbow as he quickly tapped out before any serious damage was done.
Johnson got the win at 4:49 into the third round while becoming the first fighter to ever submit Reis during his nearly 30-fight career.
"This is probably the best training camp I've ever had," Johnson said after the win. "Matt Hume was just like 'be you, just be you'. I went back and did a lot of things different this camp and this is the best I've ever felt."
While Johnson ultimately won the fight by submission, he outlanded Reis by a ridiculous margin on the feet with 108 to 16 significant strikes over three rounds.
Johnson's dominance in this fight was just another reminder of the run he's had since moving to the flyweight division in 2012 when the UFC first introduced the division.
With 10 consecutive title defenses, Johnson tied Silva's record while also passing Georges St-Pierre, who relinquished the welterweight title in 2013 after nine title defenses of his own. Of course, Johnson is happy to share such rarified air with two UFC legends, but in his mind, he's already surpassed both of them.
"GSP, Anderson, they're great champions but I'm the best champion to ever step into this Octagon," Johnson declared. "I'm finishing my opponents. There's not another champion out here that can mix it up, wrestle, strike, clinch."
As far as what comes next, Johnson has been asked dozens of times about moving to bantamweight for a potential super-fight showdown against current champion Cody Garbrandt. That matchup was mentioned after Johnson was bombarded with questions about a rematch with former champion Dominick Cruz while he was atop the 135-pound division.
Whether it's Garbrandt or Cruz, Johnson's answer has always remained the same that he's more than willing to accept the opportunity so long as there's a hefty payday attached to the fight.
Until then, Johnson is more than happy to stay at flyweight where he will have a chance to set a new UFC record with his next title defense.
"I already told Dana White I need seven figures. I need a million-dollar payday," Johnson said. "I'm out here whooping and cleaning it up.
"Next time we step into the Octagon, we break it!"