Daniel Cormier: 'This is life for death for me, do or die'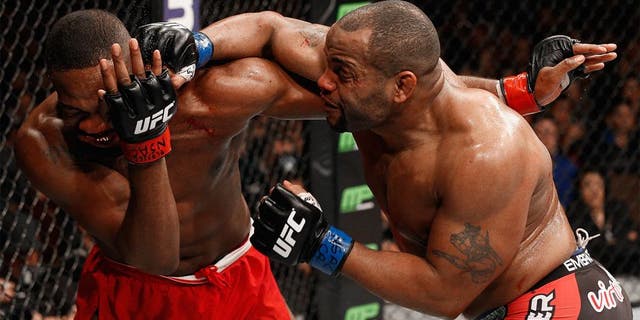 NEWYou can now listen to Fox News articles!
Daniel Cormier will never forget the moment he stood in the center of the Octagon and heard Bruce Buffer read three scorecards that all touted Jon Jones as the winner of their main-event fight at UFC 182.
Jones celebrated with a guttural scream while Cormier could only stand there despondent from losing the biggest fight of his MMA career.
As he retired to the dressing room, Cormier felt the tears welling up from inside just begging to get out because this was supposed to be his crowning achievement. Instead, it was, perhaps, his greatest downfall.
Teammates rallied around him for support. Cormier's head hung low.
And a moment later Cormier's best friend and head coach Bob Cook stepped forward to offer him some words after the defeat.
"I usually get a better guy in the cage than I do in the gym and you didn't do that. You fought like s--t tonight," Cormier recalls when echoing what his coach said to him that night.
Harsh words don't make them any less true and Cormier knew his coach was right. He fought on pure emotion instead of skill and Cormier allowed his hatred for Jones to permeate his performance. Instead of going out to win, he went looking for the kill.
"No patting me on the back, making me feel better, I'm crying, I'm sad -- he didn't comfort me," Cormier said about that moment backstage. "He told me the absolute truth. I go back and I watch that fight and he's right. I didn't fight at my best."
As an athlete, Cormier has suffered devastating losses before so falling to Jones wasn't a new phenomenon.
In college, Cormier was one of the best wrestlers in the country, but he competed in the same weight class as Cael Sanderson -- who went 159-0 at Iowa State with four championships -- so he never won an NCAA title. In the Olympics, Cormier finished fourth in 2004. He looked poised for a serious run at a medal in 2008 until his own body backfired and he was pulled out of the competition due to kidney failure from a drastic weight cut.
Since, Cormier has won regional MMA titles as well as a Strikeforce Grand Prix heavyweight title, but the battle with Jones was the most personal fight of his entire career and he came up short.
Nothing stung so bad as watching Jones dance and smile while mocking Cormier's emotions after the fight was over. This was the moment that was supposed to define his career and Cormier couldn't get the job done.
This is life or death for me in the sport. Because if I can't be the champion, I'm not going to do it. -- Daniel Cormier
Now 18 months later as Cormier stands on the precipice of a rematch with Jones at UFC 200 on Saturday in Las Vegas, he can honestly look back and he knows that he held such a deep-rooted disdain for Jones that it actually bled out from his mind into his body and from his body into his performance that night at UFC 182. Seething animosity might seem like the perfect motivation heading into a fight, but for Cormier it was like trying to perform surgery with a chainsaw.
This time, Cormier has let go of his anger and armed himself with scalpel instead.
"I'm not an emotional wreck like I was last time. Last time it was bad. Like really, really bad. Like I couldn't even live my day-to-day life because I was so consumed by this man," Cormier said. "Not anymore. I train for Jon Jones and I go about living my day-to-day life like I need to.
"I don't feel that blood boiling hatred that I felt the first time. I know that because I sat down with him for an hour and did an interview. Yes it was intense but I sat there for an hour and never felt the need to jump up and grab him like I did the first time. I felt the need to sit there and do my job with the idea knowing I would get my opportunity to do what I want to do with him."
Cormier is never going to be a fan of Jones or the way he carries himself outside the Octagon, but he's also smart enough to know that he's about to face arguably the best fighter to step inside the UFC Octagon.
For all the fanfare that Ronda Rousey and Conor McGregor received over the last year, the real pound-for-pound best is, was and has been Jon Jones for the past five years. He's 22-1 as a professional fighter with his only loss coming by disqualification after he briefly morphed into Jason Voorhees and started hacking away at Matt Hamill like he was a horror movie victim while failing to realize he was using illegal elbows at the time.
Jones did have one close fight against Alexander Gustafsson in 2013 -- a bout he openly admits not training for -- and outside of that, he's been virtually untouchable in his combat career.
For all the gaudy statistics and records that Jones either holds or stands close to breaking, Cormier knows he's still human. Jones isn't omnipotent and he can still make mistakes.
Take for instance Jones' last fight against Ovince Saint Preux -- a bout that was supposed to be against Cormier until he suffered an injury in training camp -- and he came out looking a little out of character for "the greatest of all time". Jones still won in a blowout, but if he was Michael Jordan, his victory over Saint Preux was akin to a 15-point, five-rebound performance.
Jones has defended that performance and explained some of the shortcomings while also learning to appreciate the technical brilliance he used to out class Saint Preux for 25 straight minutes. Cormier, on the other hand, sees Jones' last fight as the version of the person he's about to face.
Cormier can see any number of reasons why Jones is no longer the same person he was before, but he doesn't buy that it was just an off-night or that the former champion was sitting out for 15 months after having his title stripped following a hit-and-run accident that could have landed him in prison.
"The guy that fought April 23 -- that's Jon Jones," Cormier explained. "He will fight like that because that is Jon Jones today. This isn't Jon Jones from 2014, 2015 or anywhere going all the way back. The game is different now with everything. With USADA, with no IVs, the game is so different, the game has changed so much in the time he was away that what we saw on April 23 is who he is.
"I truly believe that. In his mind, he needs to come to terms with the fact that on April 23, that was not a bad performance. That's just the norm now for him."
As much as his opponent's potential decline might delight Cormier ahead of the rematch, that's not the reason why he's so confident that he's going to walk into UFC 200 with the title and walk back out as the undisputed champion who finally topped the great Jon Jones.
Since losing in early 2015, Cormier was forced to fight two of the best light heavyweights in the division back-to-back to earn the title that was strip from Jones and he was never allowed to lament and wallow in sorrow over his missed opportunity.
Instead, Cormier had to face Anthony Johnson -- the deadliest knockout striker in the division -- and Alexander Gustafsson, who did give Jones his toughest test whether he was actually training for the fight or not.
"I'm confident but not because of the way he fought. I'm confident because of the way I fought against Anthony Johnson and Alexander Gustafsson. That's why I'm confident. My confidence comes from my fights and my training. My confidence doesn't come from him looking not as good as he used to," Cormier explained. "My confidence doesn't come from him doing all this power lifting and getting slower. My confidence didn't come from all that.
"My confidence comes from knowing I do the right things in my life. I do the right things in the gym. I do the right things all together. My confidence comes from me, not from Jon Jones. I can't draw my confidence from another person. I need to do this on my own and that's why I'm so sure I'm going to have my hand raised on July 9."
As much as Cormier is brimming with confidence ahead of UFC 200, he's also filled to the brim with the dire consequences of what happens with a loss.
Rarely does any fighter get a third shot at an opponent no matter how the two previous defeats happened and even if Cormier mauls every fighter he faces over the next couple of years, it still probably won't earn him another shot at Jones.
So Cormier knows this is it. Use every sports cliche in the book and Cormier has felt it ahead of this fight.
This is the bottom of the ninth.
This is the fourth quarter in the Super Bowl and he's down by two touchdowns.
This is Game Seven of the NBA championships and he's playing on his opponent's home floor.
"There has to be a win. This is do or die for me," Cormier said. "This is the ultimate in competitiveness. This is the ultimate top dog. This is it. This is the big one. I can't go 0-2 against the man. I said to Jon I'm ready to die to beat you and he said be prepared to do that. I don't think he understood the truth in those words.
There is no coming back from this for me. This is it. All my dreams are crushed if I don't win this fight. You don't get a third chance against a guy and I'm not confident that anyone else could be Holly Holm in this division. I'm the one that has to do it. Because, no disrespect to Alexander Gustafsson or Anthony Johnson, I've fought them and neither one of those guys could beat Jon Jones. I'm the only one that could do it. This is life or death for me. -- Daniel Cormier
Maybe that sounds like undue pressure to put on himself ahead of a fight, but Cormier has been in these situations before and came out on the wrong end. Remember those 2008 Olympic games? Cormier never got another chance to win gold for his country.
Remember those matches with Cael Sanderson? Cormier never got a chance to avenge those defeats and win an NCAA title.
And now as he prepares to fight Jones for a second time, Cormier knows he can't lose and expect to ever get another opportunity at redemption.
"This is life or death for me in the sport. Because if I can't be the champion, I'm not going to do it," Cormier said. "I'm not a guy that fights just for the hell of it. I want to be the best. So if I was to lose Jones again and not get another title shot, I don't even have the opportunity to be the best. Yeah this is everything. This fight will define my legacy in the sport. I could go on and win four more fights and lose this one and end my career 22-2 and have two losses to Jon Jones and that would haunt me. This is everything.
"This is life and death for me."