CUP: Where Have The Southern Drivers Gone?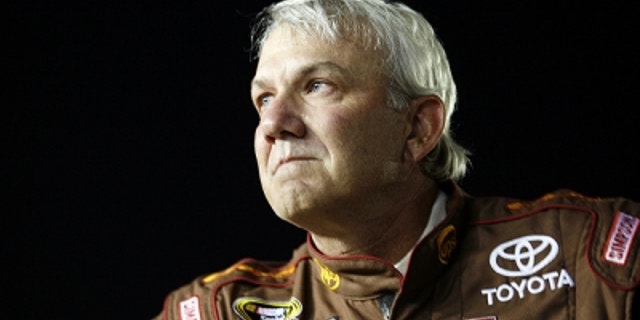 NEWYou can now listen to Fox News articles!
Article by Holly Cain, FoxSports.com
It wasn't so long ago that the Mason-Dixon Line was considered NASCAR's northern border and racer wannabes from the West dared not stray east of the Mississippi River.
With the exception of New York's Bill Rexford (1950) and Michigan's Benny Parsons (1973) every champion in the first 35 years of NASCAR's existence came from a traditional Southern state – the Carolinas, Alabama, Virginia.
So who would have guessed that since 1992, the state of Wisconsin would produce as many NASCAR championship drivers (two) as North Carolina?
There hasn't been a NASCAR Sprint Cup Series champion from the traditional South since 1999, when Hickory, NC's Dale Jarrett hoisted the big trophy.
Californians Jimmie Johnson (thanks to a five-year title run) and Jeff Gordon (one) have accounted for half of the last 12 championships. Hoosier Tony Stewart owns three. Texan Bobby Labonte (in 2000) and Las Vegas native Kurt Busch (2004) took the trophies back West as well.
So why has there been such a seismic geographical shift in the make-up of NASCAR's marquee series?
Thanks to unprecedented levels of national television exposure for young up-and-coming drivers, and what's becoming an extensive track record of success from drivers such as Gordon, Johnson, Stewart and Busch in the premier ranks, NASCAR has never looked back. The expansion has brought the sport new fans, a broader appeal and helped it claim a role as a truly national sport.
"Something I've always said is there are a lot more good race car drivers than there are good race cars,'' said Californian Kevin Harvick, a two-time Nationwide Series champ, with five top-five season finishes in the Sprint Cup Series championship.
"When people started looking outside the South, they realized that that was a small area to bring (all) those drivers up. If you look at the rest of the country, they're outnumbered.
"As the popularity of the sport grew and more people got more involved, the awareness spread throughout the whole country. There were just so many more choices. I was kinda in the middle of that. ... As we went through time, it was like a mission for everybody to look outside the box of the South to go find somebody.''
Last year, two of the top-10 drivers in the championship were from NASCAR's traditional Southern states (North Carolina's Dale Earnhardt Jr. and Virginia's Denny Hamlin). In 2009 and 2010, only one Southern state was represented among the top-10 drivers.
Since the Chase for the Sprint Cup format debuted in 2004, a mere 17.5 percent of the top-10 drivers have hailed from the South.
Twenty years ago, it was 70 percent.
Geoffrey Bodine, of Chemung, NY, remembers feeling like an outsider even as he was having success early in his NASCAR career in the 1980s.
"Yankee Go home," the homemade signs said at every stop.
"Even when I started driving for Junior Johnson, a hero, a legend, a guy who ran moonshine, the whole bit,'' Bodine recalled. "I thought it doesn't get more Southern than Junior Johnson, so I thought that was going to be the end of the booing at my driver introductions and the, 'Yankee Go Home' signs.
"I remember leaving a race at North Wilkesboro (N.C.), Junior's home track, and there were fans waiting and waiting, hours after the race. They stopped our car on the way out and I thought for sure, they were going to congratulate me. Instead as we drove up they started yelling, 'Yankee go home.'"
Just look at driver's hometown listings to see how far the sport has changed in recent years, Bodine says.
"I feel like I helped open the doors for anyone to get in the sport and make it - from Juan (Pablo) Montoya to the Busch brothers," Bodine said. "And I'm not hearing, 'Yankee, go home' anymore. I've been pleasantly surprised. People are making noise and most of it is cheers.''
The success of those hailing from outside the region isn't as much a reflection on drivers from the South, but a testament to the opportunities afforded those that aren't.
"The whole thing is 'right place at right time,'" said 2005 Sprint Cup championship runner-up Greg Biffle, of Vancouver, Wa., who considers his lucky break being noticed by Benny Parsons in the Winter Heat Series televised on ESPN in the mid-1990s..
"It's so different now to get into this sport. Before guys raced in the Truck series and Nationwide Series, and now guys go from late models to the Nationwide Series for not even a full year and get a Cup deal. That used to be unheard of for that to happen.''
Indiana native Ryan Newman agrees with the theory and has certainly benefitted from the open mindset adopted by NASCAR team owners in the last decade.
Like others, he recognizes the benefit of NASCAR expanding beyond its traditional, regional roots. Sponsors, fans and drivers themselves have gained from the national exposure this merits. It just turns out that with that change, the tradition of Southern champions has lost its hold on the sport.
"I think there for a while, the Northerners were so busy doing their own thing and didn't think they had a shot (in NASCAR) until guys like Ken Schrader started working their way in,'' said Newman. "You had guys that were race cars drivers like A.J. Foyt that were just race car drivers. Now drivers have come from other types of racing, USAC or World of Outlaws.
"When the cream rises to the top in other sports, sometimes that cream will transfer.''