CUP: Tuesday NASCAR Notebook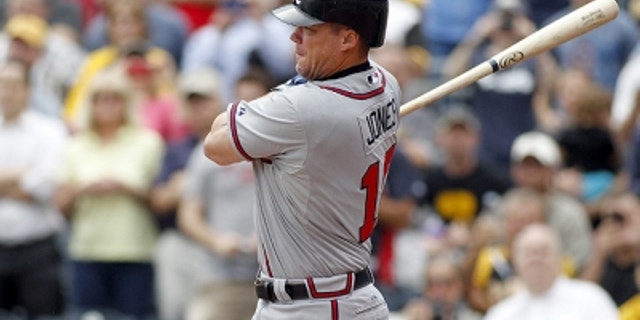 ARE YOU READY FOR SOME BASEBALL? – Chipper Jones, for many years a baseball hero one state over, is scheduled to be the grand marshal for Sunday's Aaron's 499 Sprint Cup race at Talladega Superspeedway.
Jones, who retired from the Atlanta Braves last season after a stellar 19-year career, will give the start engines command for the race.
"I have been a huge NASCAR fan my entire life," said Jones, who grew up in Pierson, FL, just minutes away from Daytona International Speedway. "I have met many people within the world of NASCAR, as well as many dedicated, true fans of the sport. I know there are a lot of those fans who love Talladega."
Jones has the most career RBIs for a third baseman and stands third in career RBIs for a switch hitter. He is expected to be a first-ballot Hall of Fame selection.
TALLADEGA TOUGH – How hard is it to win at Talladega Superspeedway?
Jeff Burton is a good guy to ask. He has raced in 38 Sprint Cup events at the track and has never visited victory lane.
Matt Kenseth ran 25 races at Talladega before finally breaking through last fall. That's the longest non-winning stretch of any of the 16 active Cup winners at the track.
The unpredictable nature of the Talladega draft and the fact that most races at the track have The Big One – a crash that takes out more than a few cars – take some of the control from individual drivers' hands.
INDY TESTING – Six NASCAR drivers are running test laps for Goodyear today at Indianapolis Motor Speedway.
On the Goodyear test roster are Brad Keselowski, Kurt Busch, Mark Martin, Trevor Bayne, Tony Stewart and Jeff Gordon.
The Brickyard 400 July 28 will be the first race for the Gen-6 car at Indianapolis.
SIGN HERE, PLEASE – Sprint Cup drivers Clint Bowyer, Kurt Busch, David Ragan and Dave Blaney are scheduled to sign autographs as part of the Darlington Raceway event weekend.
The autograph session will take place on Friday, May 10 from 10 to 10:45 a.m. (ET) in the Sprint Unlimited Experience display behind the track's frontstretch grandstands.
A wristband will be issued for the autograph session and can be picked up at the track's Bojangles display from 9:00 to 10:00 a.m. Only 200 wristbands will be issued.
To receive a wristband, fans must present a ticket to either the Nationwide Series VFW Sport Clips Help a Hero 200 or the Bojangles' Southern 500. An infield camping admission may also be used to attend the autograph session.
Each driver will sign one item for each fan. Photographs will not be permitted because of the limited timeframe.
Mike Hembree is NASCAR Editor for SPEED.com and has been covering motorsports for 31 years. He is a six-time winner of the National Motorsports Press Association Writer of the Year Award.