CUP: Sunday Pocono Notebook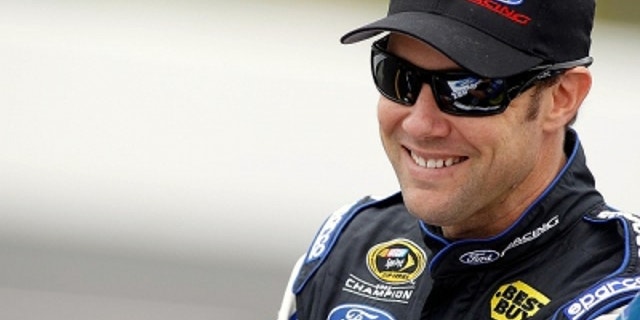 NEWYou can now listen to Fox News articles!
BIG POINTS SHUFFLE — The Pocono 400 was a mixed bag for Roush Fenway Racing, with Matt Kenseth finishing seventh to take over the NASCAR Sprint Cup points lead for the first time since winning the season-opening Daytona 500 in February. The bad news was that Kenseth is in the lead because his teammate Greg Biffle dropped a cylinder and finished 24th.
"It's probably the best we've ever performed at Pocono," said Kenseth. "That was the positive part because we went up there and led some laps under green and thought we were pretty competitive ... but I'm just kind of disappointed right now because I thought we had a shot to win under the right circumstances."
Kenseth said his No. 17 Roush Fenway Ford Fusion had a hard time getting going on late-race restarts, which definitely held him back. "That's frustrating," he said. "We'll keep working on it, but I'm happy we got a decent finish and took over the point lead."
Biffle was a little bit more philosophical about his outing.
"The points are so tight we knew that if we had an issue we were gonna drop a lot – if we got in a wreck or had an engine problem or a mechanical issue or flat tire," he said. "You're vulnerable when you're only one point or 10 points ahead, but that's racing. As long as it doesn't happen in the Chase, I'm happy."
With 14 of 26 races now complete in NASCAR's regular season, Kenseth leads Dale Earnhardt Jr. (-10), Biffle (-16), Denny Hamlin (-19) and Jimmie Johnson (-30).
Where it gets interesting is in the race for the two wild card spots in the Chase for the Sprint Cup. With Brad Keselowski moving into the top 10 in the Sprint Cup points standings, the wild cards right now are 12th-place Kyle Busch and 14th-place Ryan Newman, each of whom has one race victory. Pocono winner Joey Logano has the same number of points as Newman, but trails him on tiebreakers. Kasey Kahne, the only other driver in positions 11-20 with a race victory, is in arrears of Newman and Logano by 18 points.
EIGHT IS ENOUGH — Dale Earnhardt Jr. left Pocono Raceway with an eighth-place finish to his credit, his 11th top 10 in 14 starts this season, and at a track where he typically struggles, to boot. But the finish hardly tells the story of Earnhardt's race, as he led 36 laps and at several junctures appeared headed to his first NASCAR Sprint Cup race victory since June 2008.
Earnhardt surrendered the lead on pit road to race-winner Joey Logano and runner-up Mark Martin on Lap 123, coming out third behind the two Toyotas. Then, with 23 laps to go, the caution waved again and Earnhardt and crew chief Steve Letarte decided to pit rather than risk running out of fuel. The front-running Toyotas stayed out, Earnhardt rejoined the fray in 15th spot and was able to make up seven positions before running out of time at the end of the race.
Like several of his competitors, Earnhardt was surprised that a couple of the late-race cautions lasted as long as they did, which worked in favor of the cars that didn't pit.
"Well, we just didn't want to run out of gas," said Earnhardt. "I didn't know the caution flags were going to be so long. And they were long enough to help them guys make it on fuel. We're not taking those kinds of chances. Not just yet. ... It's frustrating and it really changed the way we had to call our race. So everybody was really set to go. The guys at the end gambled, and a few of them beat us. It's all right."
MAKING THE BEST OF IT — Brad Keselowski, who scored an electrifying victory — on a broken ankle, no less — at Pocono Raceway the last time the NASCAR Sprint Cup Series visited the 2.5-mile triangular circuit, didn't have near as much fun in Sunday's Pocono 400. Keselowski had two pit-road speed penalties, lost his brakes and at one point had smoke in the inside of his Penske Racing Dodge. Yet he soldiered on to an 18th-place finish that elevated him into the top 10 in points for the first time all season. It could have been much worse.
"My team did a great job through all the adversity today with the pit road stuff that went on with the timing lines," said Keselowski. "We got (caught) twice on that; not sure what was going on there, so we'll try and figure that out. Then we had some problems with the ignition, and we had to work on that. I don't think we got it fixed but we got it drivable. And at the very end, we lost brakes. It was just one fight after another. ... I feel really good that we'll be able to come back here and do very good."
BUSCH BREAKS AGAIN — While his Joe Gibbs Racing teammate Joey Logano was celebrating victory at Pocono Raceway, Sunday afternoon was pretty miserable for Kyle Busch. For the second consecutive race, Busch suffered an engine failure in his No. 18 Toyota, and his 30th-place finish dropped him out of the top 10 in points for the first time in a month.
And to add insult to injury, Busch's engine broke while idling around the track under caution on Lap 75.
"It just started smoking under yellow for some reason, so without going any further and hurting something underneath it, at least now we have a chance to take it apart and see what's happening piece by piece," said Busch. "It's very frustrating. These guys here at Joe Gibbs Racing and everybody on this M848ff8if9a6fb627facGGcdbcce6M's team deserves better than this. It's unfortunate that we just aren't getting the results that we need. I felt like today we qualified really well – we should have been up there. We got knocked back on the first lap in traffic and we're fighting our way back through, and then we have another engine issue."
Tom Jensen is the Editor in Chief of SPEED.com, Senior NASCAR Editor at RACER and a contributing Editor for TruckSeries.com. You can follow him online at twitter.com/tomjensen100.