CUP: Sonoma Spells Trouble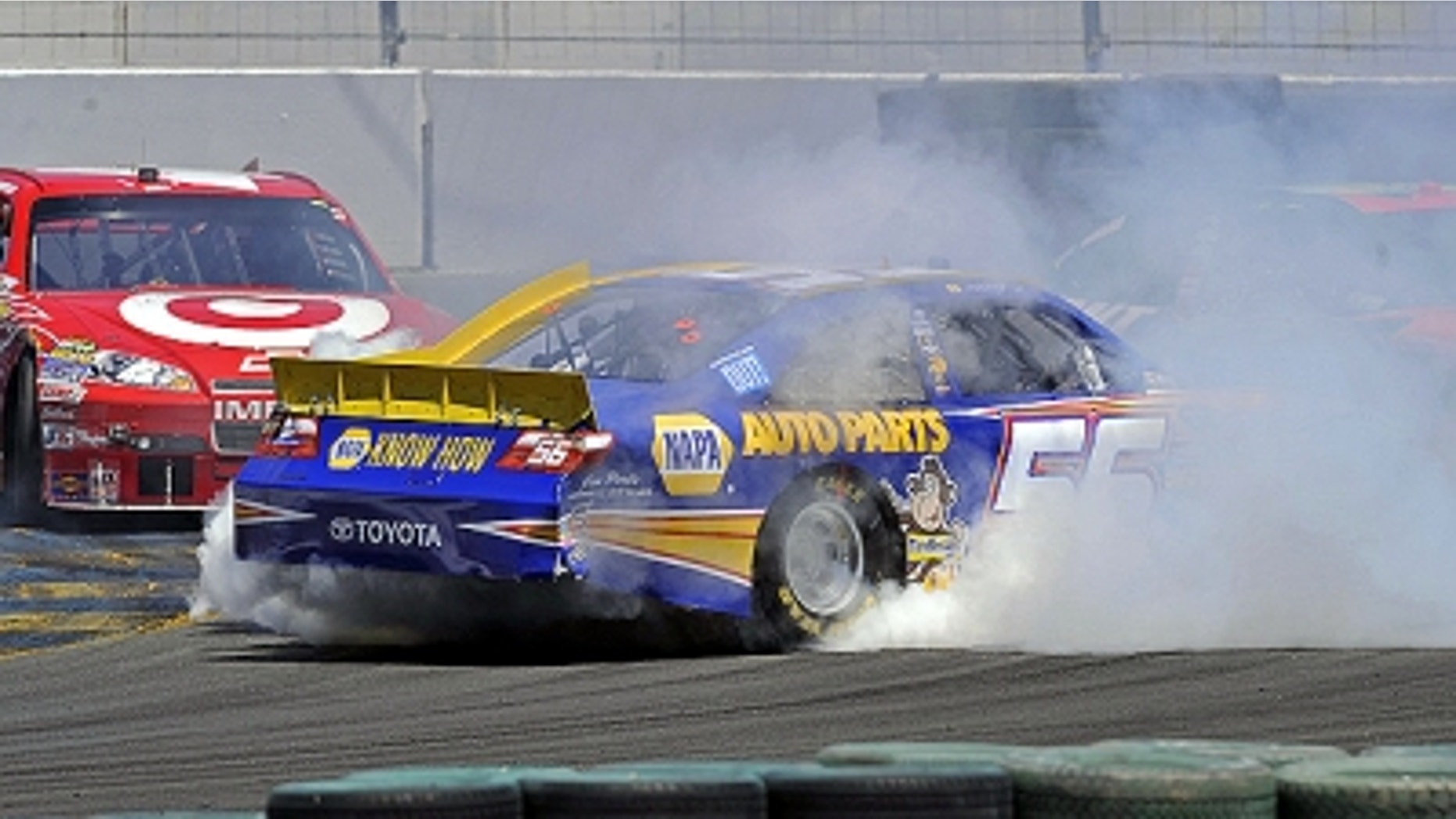 Virtually no one will be surprised if a driver – or multiple drivers – gets a bumper from behind and is spun out on the first – and especially the last – lap of Sunday's Toyota/Save Mart 350 at Sonoma.
Road-course racing is the new short-track racing, it seems.
The newest model of the Sprint Cup car has tightened competition, and double-file restarts on tracks built for single-file driving make for interesting moments.
The whole package has elevated the status of road-course racing on NASCAR tours in recent years, but it also makes the day a tougher one for drivers.
"Last year I think we saw one of the most aggressive races I have seen here," Carl Edwards said. "That could definitely be what happens again on Sunday. My plan is to be as aggressive as I can without ruining somebody's day. That is the plan."
Plans often go awry.
There is only so much room in the tight corners at Sonoma, and two cars side by side seldom fit.
"Because of our side-by-side double-file restarts, this race track tends to create a lot of drama because it is so difficult to get in the corner," Greg Biffle said. "This track certainly has room for two cars, but it builds up debris and sand and dirt and grass and rubber right outside of where the guy runs. Ultimately, it ends up being one lane wide.
"When you start side by side, it makes it really tough to get down in that first corner or up at the top of the hill. If you think about it, when you are in a traffic jam or are going along and everybody slows down to make a corner and you are row 10, you are stopped a long ways from the corner waiting for those guys to take their turn to go around the corner before you get there. The thing gets fanned out, and guys try to think that is an opportunity to make up three or four spots or rows and you end up with guys in the dirt, guys slamming into you, guys driving in where there is no room to drive into. You get fenders rubbing the tire and you have to pit and fix it.
"That is why tempers get a little bit stirred up here more than any other place because there is just not the room. There is the room, but when you come to a first-gear corner, everyone is flying down the frontstretch, then everybody has to go down to first gear and wait their turn almost."
And one thing tends to lead to another.
Race pole winner Marcos Ambrose called Sonoma "a great track to really lay down some payback. At the same time, getting out of this place unscathed is pretty hard to do. You are going to have to sort that out in the next few races, as well. It is just a tough track. It is technical, tight and quite a few cautions where we all get together on these double-file restarts. It is easy to get shuffled back and lose 10 spots. It is tough to get them back. You have to drive very aggressively to get those sports back, and contact is inevitable at this track."
Some of the contact, Jamie McMurray said, is quite unnecessary.
"Most of the wrecks that happen here just happen from people being idiots," he said. "You can't be the guy that's run 17th all day and on the last restart expect that you are going to pass six rows of cars in turn seven. That's what happens here every single year."
Denny Hamlin said wacky driving can create significant chaos at Sonoma.
"I've been here and gained 10 spots at the very end of the race because some moron plowed the field in front of me and took out six cars, and I've been in that six cars at times," he said. "That's when you're frustrated because you had a good day and minding your own business and you're part of someone else's wreck.
"I think when you're driving here, you'll see someone is going to be mad at someone else. It's always been the case here. We are oval guys, so this is not our specialty, so that's why we make so many mistakes running into one another so much. We underestimate the braking power of the cars, things like that and that's when we get into trouble."
Mike Hembree is NASCAR Editor for SPEED.com and has been covering motorsports for 30 years. He is a six-time winner of the National Motorsports Press Association Writer of the Year Award.