CUP: Penske Looking For 'Pinnacle'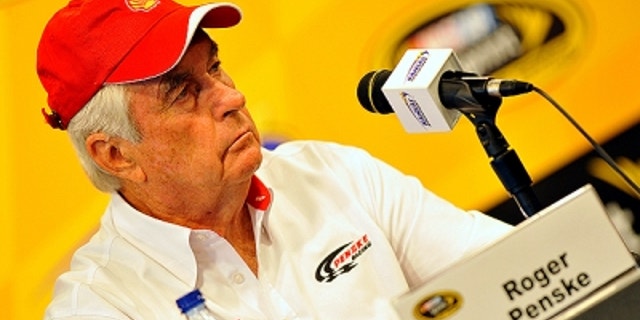 The missing piece in Roger Penske's long auto racing career is the Sprint Cup championship, and odds are he'll finally get that in Sunday's Ford EcoBoost 400 season finale at Homestead-Miami Speedway.
On Friday, Penske called the Cup title "the pinnacle of achievements that we could get in motor racing."
He's come close in several seasons and has had some of the sport's best drivers in Rusty Wallace, Bobby Allison, Ryan Newman and Kurt Busch. Now he's on the precipice of crossing the final bridge with a relative youngster, Brad Keselowski.
"To be standing at the end with the American flag in your hand when it's all over is something real special," Penske said. "But we've not achieved it."
Keselowski leads second-place Jimmie Johnson by 20 points entering Sunday's last race, so the odds ride with him and his long-time team owner.
"This guy is a race car driver," Penske said of Keselowski. "He's consistent. He cares about the sport. He cares about the fans. People in the garage come up to me and say, 'This guy's really doing a job for you.'
"He's a calculating driver. He's smart. I think his windshield is wider than most drivers'. He sees what's going on. He's a student, a great athlete, a thinking-man's driver."
Penske said Keselowski's impact on the improvement of Penske Racing and its very real shot at a first Cup championship stretches far beyond his driving ability.
"He has a list," Penske said. "What I've asked him and Paul (crew chief Paul Wolfe) to do is provide me with a list of things they feel we can make the team and car better. Brad thought we should upgrade the fitness center. We go through that list, and I sit down and check those things off. I'm looking for the list because it's made us a lot better."
Penske said Keselowski is in touch with him every day.
"He's passionate about the sport," he said. "He wants me to be involved as he has with the rest of the team. We've stepped it up. Brad has not only pushed me as an individual, but he's pushed the team."
Mike Hembree is NASCAR Editor for SPEED.com and has been covering motorsports for 30 years. He is a six-time winner of the National Motorsports Press Association Writer of the Year Award.