CUP: Overachievers Coming To The Front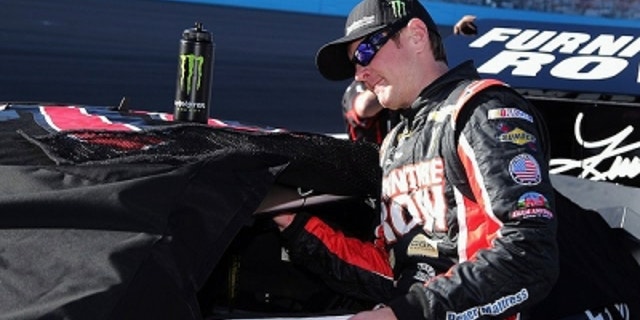 With five races in the books on the 2013 NASCAR Sprint Cup Series season, there's been enough racing to draw some early conclusions about the campaign to date.
So far, NASCAR has visited a restrictor-plate track and courses of 0.533, 1, 1.5 and 2 miles in length. Anybody who's having a good season so far has earned it and not just had a fluke single good finish.
Here are some of the early-season overachievers so far in 2013:
1. KURT BUSCH — With consecutive top-five finishes at Bristol Motor Speedway and Auto Club Speedway, the 2004 Sprint Cup champ has jumped from 29th to 13th in points in just two weeks. More than that, he's shown that the small, single-car Furniture Row Racing team can compete with the big boys. Particularly impressive is that Busch is outrunning the Richard Childress Racing cars, the team that Furniture Row has a technical alliance with.
2. DALE EARNHARDT JR. — Now in his sixth year with Hendrick Motorsports, you'd expect Earnhardt would be good. And this year he leads the points, having finished seventh or better in every race, including runner-up finishes in the Daytona 500 and at Auto Club Speedway. All of which has the millions of Junior Nation fans wondering if this is finally the season when Earnhardt earns his first championship. It's still very early but the first races certainly have been encouraging.
3. CARL EDWARDS — After a nightmare 2012 season, Edwards is finally back. He won at Phoenix and finished solidly in the top five at Las Vegas Motor Speedway and Auto Club. Forget about Bristol, where Edwards was sick as a dog — the rest of the season he's been rock solid. You can see that Edwards has his swagger back and he likely will be a force to be reckoned with all this season. A top racer on a top team.
4. BRAD KESELOWSKI — Like his old boss Earnhardt Jr., the expectations are high for Keselowski all the time. After all, he is the defending series champion. That said, Penske Racing did switch manufacturers in the off-season and like everyone else, had to convert to the new Generation-6 cars. Even with those challenges, Keselowski opened the year with four consecutive finishes of fourth or better, a truly impressive opening salvo.
5. PAUL MENARD — Raise your hand if you thought Menard would have more points than RCR teammates Kevin Harvick and Jeff Burton at this point in the season. Yep, not many hands in the air. Yet on the basis of three consecutive top-10 finishes, Menard is eighth in points, while Harvick is 15th and Burton 24th. If he keeps running like this, Menard could be headed for his best points finish and maybe a spot in the Chase for the Sprint Cup.
Tom Jensen is the Editor in Chief of SPEED.com, Senior NASCAR Editor at RACER and a contributing Editor for TruckSeries.com. You can follow him online at twitter.com/tomjensen100.