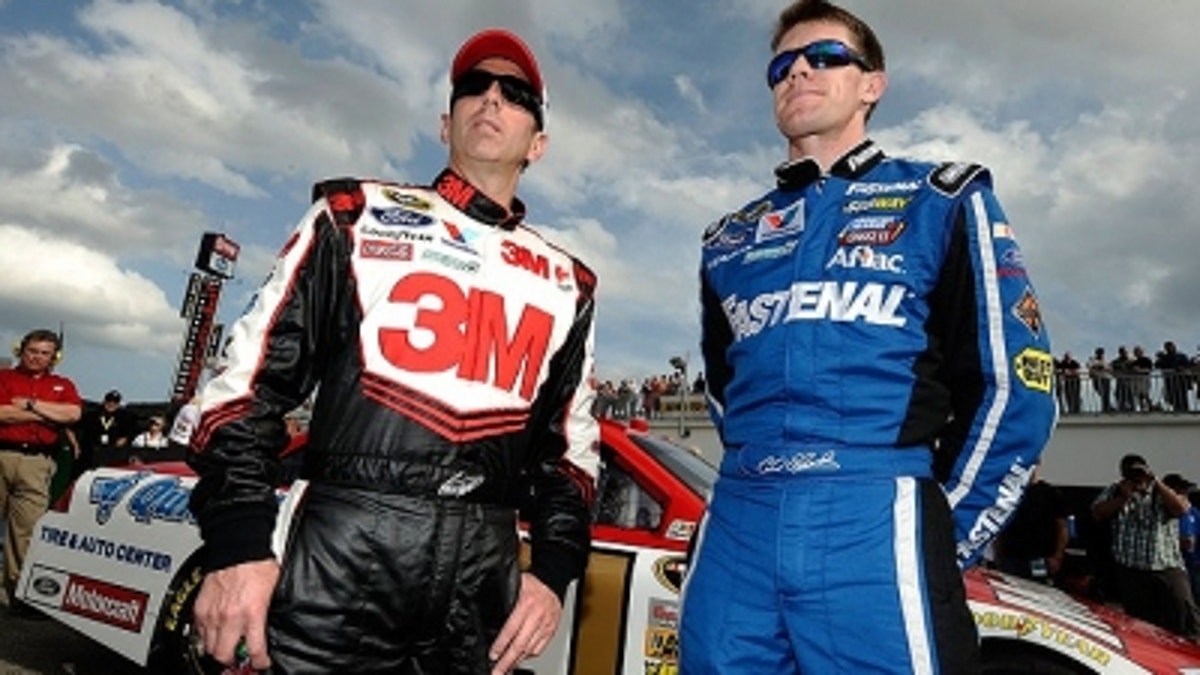 How much help is a teammate who's locked into the Chase for the Sprint Cup willing to give a teammate who's struggling to make it?
Would a driver be asked to give up a victory to help a teammate make the Chase, and, if asked, would he do so?
Three major Cup teams — Roush Fenway Racing, Hendrick Motorsports and Joe Gibbs Racing — have drivers either locked in or all but certain to make Chase. Each also has one or more drivers on the Chase bubble who might need help from a teammate to clinch a berth in NASCAR's 10-race playoff.
Roush Fenway's Carl Edwards, who lost last year's championship to Tony Stewart on a tiebreaker, is 12th in the Cup standings this season but winless through 24 races. A victory Sunday at Atlanta or Sept. 8 at Richmond likely would propel Edwards into the Chase.
"You're always thinking a little bit about what you can do to help a teammate, possibly, especially when it comes down to two races like this," said Greg Biffle, Edwards' teammate and the current Cup points leader. "Will one point or two points make a difference? In Carl's situation, not really. A win is the only thing that's going to make a difference. Would I give up the win to get Carl into the Chase? It would have to come down to circumstances.
"I would say it's unlikely. That's a very hard call, because I take those three points (bonus points for a win) into the Chase. If I give the win to Carl, Carl makes the Chase, and I lose the championship by two or one or three — that's a hard call. And really, if you think about it, our sponsor, and the guys that work on this car, and the crew chief, and our owner, Jack (Roush), wants us to do the best we can and expects us to do the best we can and succeed…
"That's what everybody expects. If Carl is on the inside of me, and we're racing hard for the position, am I going to give him maybe a little bit more room or something? That could be maybe a more likely scenario than just saying, 'Oh, go ahead. He's 10 car-lengths back, it's the white flag, and I'm going to give him the win.' "
Among the Hendrick Motorsports drivers, Jimmie Johnson and Dale Earnhardt Jr. already have earned Chase positions. With two wins, Kasey Kahne holds the first of two provisional wild-card spots.
Four-time champion Jeff Gordon, on the other hand, is in danger of missing the Chase for only the second time since NASCAR's playoff format debuted in 2004. Gordon is 14th in the standings, 16 points behind 13th-place Kyle Busch, who currently occupies the second provisional wild-card position.
Gordon and Busch have one victory each this season, and a win for either driver in the next two races likely would mean a Chase spot. Should neither Gordon nor Busch get to Victory Lane, Gordon could overtake Busch by scoring 17 more points than the Gibbs driver over the next two races — provided none of the other one-victory wild-card hopefuls (Ryan Newman, Marcos Ambrose or Joey Logano) gets a win.
If Gordon needs a handful of points, can he count on his teammates to give up a position to help him — short of sacrificing the chance to win a race?
It's a complex problem, and it involves striking a balance between organizational and individual goals. Team owner Rick Hendrick's stated desire at the start of the season was to put all four of his cars in the Chase. But at what price, given that the integrity of competition also is involved if one driver allows a teammate to win?
In Kahne's case, the first priority is securing a Chase spot for his No. 5 Chevrolet team. Beyond that, the object is to keep the non-Hendrick drivers out of Victory Lane by running up front.
"I think, basically as a team, we try to take up as many of the spots up front as possible, and if we can do that, we're getting more points than the other guys," Kahne told the NASCAR Wire Service after Nationwide qualifying on Saturday. "I don't think there's a lot of things you could do, or would really want to do, but we'll definitely all work hard to run as close to the front as possible. That gets us all points."
How about giving up a position to get Gordon an extra point, if he needed it?
"I'm racing to get in myself," Kahne said. "Jimmie and Dale are locked in, so I don't know what they would do or how they would think about that, but I could miss it just as easily as Jeff can at this point."
Denny Hamlin, a virtual lock for the Chase with three wins, says there's not much he could do to help Busch, his teammate, qualify for the Chase. Sacrificing a victory is out of the question.
"There's nothing we can do for him, really," Hamlin told the NASCAR Wire Service. "What happens when it comes down to Richmond — I know we're both good at Richmond — say I'm 1, he's 2, and he needs it. There's no way I can justify to my guys and my team that we're going to give up three points in the Chase to get a teammate in.
"I think all that comes into play, and really there's just nothing you can do. We're teammates within the shop. The crew chiefs are teammates and all that, but when you get out there and try to race, you're just doing all you can, and there's not much you can do other than don't try to screw up your teammates. Don't race him hard or put him in a bad spot on restarts — that's about all you can do."
Biffle also hopes that no organization will resort to questionable tactics to gain a Chase spot for one of its drivers.
"We don't like to see that," Biffle said. "We expect people to race heads-up and not to bring out a caution or spin out to bring a caution out when somebody's leading and somebody just pitted and trap 'em a lap down.
"You don't want to be the guy doing that, and you don't want to be labeled as that team or that company. At least I don't. I'm not going to put myself in that spot."