CUP: NASCAR To Announce Hall of Fame Nominees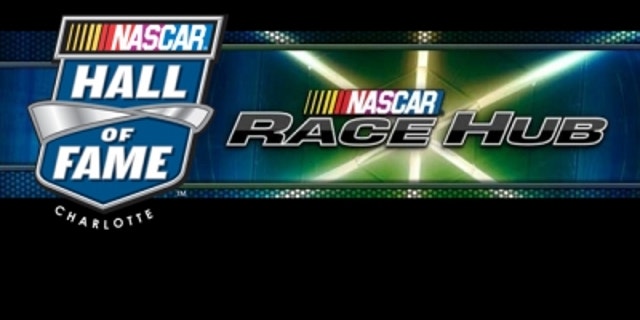 NASCAR will unveil the 25 nominees for the 2013 NASCAR Hall of Fame class on Wednesday, April 11 at 6 p.m. ET/3 p.m. PT during SPEED's hour-long NASCAR Race Hub show. SPEED.com will have full details after the show.
From the 25 nominees, five members will be chosen for induction into the NASCAR Hall of Fame next January.
The current members of the NASCAR Hall of Fame:
CLASS OF 2012:
RICHIE EVANS — Driver The recognized "king" of Modified racing, Evans captured nine NASCAR Modified titles in a 13-year span, including eight in a row from 1978-85. In the first year of the current NASCAR Whelen Modified Tour format in 1985, Evans won 12 races, including a sweep of all four events at Thompson, Conn. Evans ranked No. 1 in the 2003 voting of the "NASCAR All-Time Modified Top 10 Drivers," and he was named one of NASCAR's "50 Greatest Drivers" in 1998.
GLEN WOOD — Driver Best known for his collaboration with brothers Leonard and Delano in Wood Brothers Racing. The Stuart, Va.-based team, which dates to 1950 and remains active, has amassed 98 victories in 1,367 races. The team's all-time roster of drivers is a virtual who's who of NASCAR and includes David Pearson, Curtis Turner, Marvin Panch, Dan Gurney, Tiny Lund, Parnelli Jones, Junior Johnson, Cale Yarborough, Fred Lorenzen and Bill Elliott.
CALE YARBOROUGH — Driver Three consecutive NASCAR premier series championships from 1976-78 winning 28 races – nine in 1976, nine in '77 and 10 in '78. His final championship points margin in those three years was never fewer than 195 points and was as much as 474 in 1978. Yarborough totaled 83 victories in his 31-year career, ranks tied for fifth all-time. His 69 poles rank fourth all-time. And he won the Daytona 500 four times (1968, '77, '83-84), a mark that ranks second only to Richard Petty's seven.
DALE INMAN — Crew Chief Behind every legendary driver, there is usually a legendary wrenchman. Inman, Petty's crew chief at Petty Enterprises for nearly three decades, set records for most wins (193) and championships (eight - 1964, 1967, 1971, 1972, 1974, 1975, and 1979 and 1984) by a crew chief. In 1967, Inman and Petty won a NASCAR-record 27 races – 10 of them consecutively. Inman helped unveil the first artifact at the NASCAR Hall of Fame – the Plymouth Belvedere that Petty drove to 27 wins in 1967.
DARRELL WALTRIP — Driver A three-time NASCAR premier series champion (1981-82, '85). Tied for third all-time in series victories with 84. His 59 poles rank fifth all-time in NASCAR Sprint Cup history. He competed from 1972-2000, another highlight being his 1989 Daytona 500 victory in a Rick Hendrick-owned Chevrolet. He currently is a commentator on FOX's NASCAR broadcasts. He was named one of NASCAR's 50 Greatest Drivers in 1998.
CLASS OF 2011:
BOBBY ALLISON — Driver Allison, winner of the 1983 NASCAR premier series championship, ended his career with 84 victories, tied for third on the all-time list. In 1972, he won 10 races, had 12 second-place finishes and was the NASCAR premier series runner-up (to Richard Petty). Allison captured the NASCAR Modified Special Division championship in 1962 and '63 and then went on to win the Modified Division the following two years. In 1998, Allison was named one of NASCAR's "50 Greatest Drivers."
NED JARRETT — Driver Jarrett was a two-time NASCAR champion (1961 and 1965) and two-time Sportsman Division champion (1957 and '58). Through his career he totaled 50 premier series wins, tied for 11th all-time. In 1998 he was named one of NASCAR's "50 Greatest Drivers." After retiring in 1966, Jarrett helped grow the sport through his second career as a broadcaster.
BUD MOORE — Driver A decorated World War II infantryman, Bud Moore became a successful NASCAR Sprint Cup owner almost immediately upon fielding a team in 1961. Moore won back-to-back championships in 1962-63 with Joe Weatherly. Earlier, in 1957, Moore – who referred to himself as "a country mechanic" – was crew chief for champion Buck Baker.
DAVID PEARSON — Driver Pearson is a three-time NASCAR champion whose career total of 105 victories is second on the all-time list. Pearson won his titles in 1966, '68 and '69. He also won the sport's biggest event, the Daytona 500 in 1976. In 1998 he was named one of NASCAR's "50 Greatest Drivers."
LEE PETTY — Driver Petty became the sports first three-time series champion after winning titles in 1954, '58 and '59. He was also the winner of the first Daytona 500 in 1959. His 54 career victories stands ninth on the all-time list and he never finished lower than fourth in points from 1949-1959. In 1998, he was named one of NASCAR's "50 Greatest Drivers." Petty is the founder of Petty Enterprises and as an owner had more than 2,000 starts and 268 wins.
CLASS OF 2010:
DALE EARNHARDT — Driver Earnhardt co-holds the record for most NASCAR Sprint Cup Series championships (seven) with Richard Petty. In only his second full season, 1980, Earnhardt nabbed his first championship. He won consecutive titles on three separate occasions (1986-87, '90-91 and '93-94). Earnhardt's 76 victories rank seventh all-time.
BILL FRANCE JR. — NASCAR President, Chairman and CEO France became NASCAR's president in January 1972, replacing his father and becoming only the second president of the world's largest auto racing sanctioning body. His emergence coincided with the sport's emergence, and its eventual ascent to become America's No. 1 form of motorsports and the nation's second-most popular sport overall.
BILL FRANCE SR. — NASCAR Founder Called "Big Bill," only partly because of his 6-foot-5 stature, France spearheaded NASCAR from its beginning and directed it to its present status as the world's largest stock-car racing organization. In 1936, he helped lay out the first beach/road course in Daytona Beach; in the first race on the course he finished fifth. Starting in 1938, he helped promote races on the sands of Daytona Beach. In 1947, France became the driving force behind the establishment of the National Association for Stock Car Auto Racing.
JUNIOR JOHNSON — Driver Johnson won the second annual Daytona 500 in 1960 and in the process, became credited with the discovery of "drafting" on the massive superspeedways. He won 50 races in the NASCAR Sprint Cup Series then surprised many people by retiring from driving to become an owner. As an owner, Johnson never missed a beat; through the years, his drivers won 132 races. There also were six series championships produced with Cale Yarborough (1976-78) and Darrell Waltrip (1981-82, '85).
RICHARD PETTY — Driver Known as "the King", Richard Petty's NASCAR Sprint Cup Series records are staggering: Most wins (200), most poles (123), tied for most championships (seven), most wins in a season (27), most Daytona 500 wins (seven), most consecutive wins (10) and most starts (1,185).
Tom Jensen is the Editor in Chief of SPEED.com, Senior NASCAR Editor at RACER and a contributing Editor for TruckSeries.com. You can follow him online at twitter.com/tomjensen100.