CUP: MWR Winning And Grinning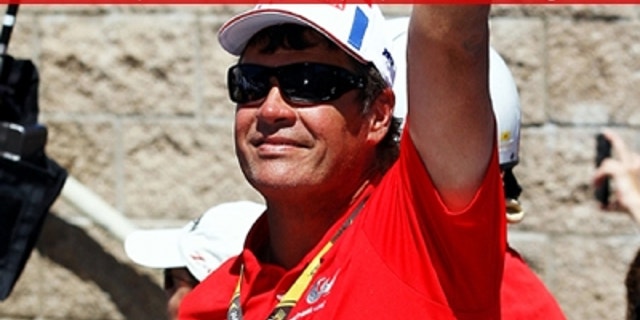 Don't look now, but Michael Waltrip Racing has more drivers in the top 10 in Sprint Cup points than Richard Childress Racing, Stewart-Haas Racing, Joe Gibbs Racing and Penske Racing.
And it has as many – two – as the sport's giants, Hendrick Motorsports and Roush Fenway Racing.
And, in the sport's most recent race, MWR drivers Clint Bowyer (the race winner) and Martin Truex Jr. led a total of 86 laps – 76 percent of the race. Bowyer won the Toyota/Save Mart 350 at Sonoma, and Brian Vickers, driving part-time this season for MWR, finished fourth.
MWR suddenly is a Big Dog in Sprint Cup. Bowyer is seventh in points, and Truex is ninth. The team's third car, driven primarily by Mark Martin, is 12th in owner points.
The showings are substantial for Waltrip, who limped into Cup team ownership with Toyota's arrival in 2007 and had what would generously be described as an exceptionally marginal debut.
Finances became an issue, and only the arrival of investor and new co-owner Rob Kauffman kept the team afloat. Now, with additional support from Toyota Racing Development, better engines and a boost from part-time driver Martin, MWR seems to be on its way.
"We are just really thankful for Toyota," Waltrip said. "They are the reason why I had a chance to have a team. We got out of the gates … in a shaky fashion at best, and they hung with us, and we have pushed together as close as we can with Toyota and also working close with Joe Gibbs Racing.
"And so we have a very, very positive atmosphere and a good working relationship with all of our partners, so thanks to those guys for that. Thanks to Clint for the risk, taking the leap of faith and glad he's able to be here today."
Waltrip said TRD official Andy Graves, a veteran of NASCAR garages and pit roads, deserves a lot of credit for MWR's revival.
"I give Andy Graves a lot of credit any time I'm asked about where we are today," Waltrip said. "The reason for that is simple. I went to him in January of 2011, and I said, 'Are our cars as good as Joe Gibbs' (the major Toyota team) cars?'
"And he said, 'No, they are not, because you don't trust our process. Your people don't believe in – your direction is not to follow us.'
"I said, 'Well, we are changing directions, buddy, and we are going to start following you.'
"It didn't happen overnight. It took from early 2011 all the way until November of 2011 to get those cars on the road, and Truex drove in Miami and qualified second and finished third, and Clint has driven them all year long. We have a great partner in Toyota Racing Development, and we didn't exploit them as much as we should have up until the 2011 season, late in 2011."
Bowyer, fresh off the victory, said he plans to return to the Chase this year.
"I missed it last year, and it sucked to sit at home and watch," he said. "I did get to deer-hunt a little bit, but I would much rather be partying. Vegas is pretty fun. That's a pretty good week that you miss when you don't make the Chase."
Mike Hembree is NASCAR Editor for SPEED.com and has been covering motorsports for 30 years. He is a six-time winner of the National Motorsports Press Association Writer of the Year Award.