CUP: Kurt Busch Offers Glimpse Of True Self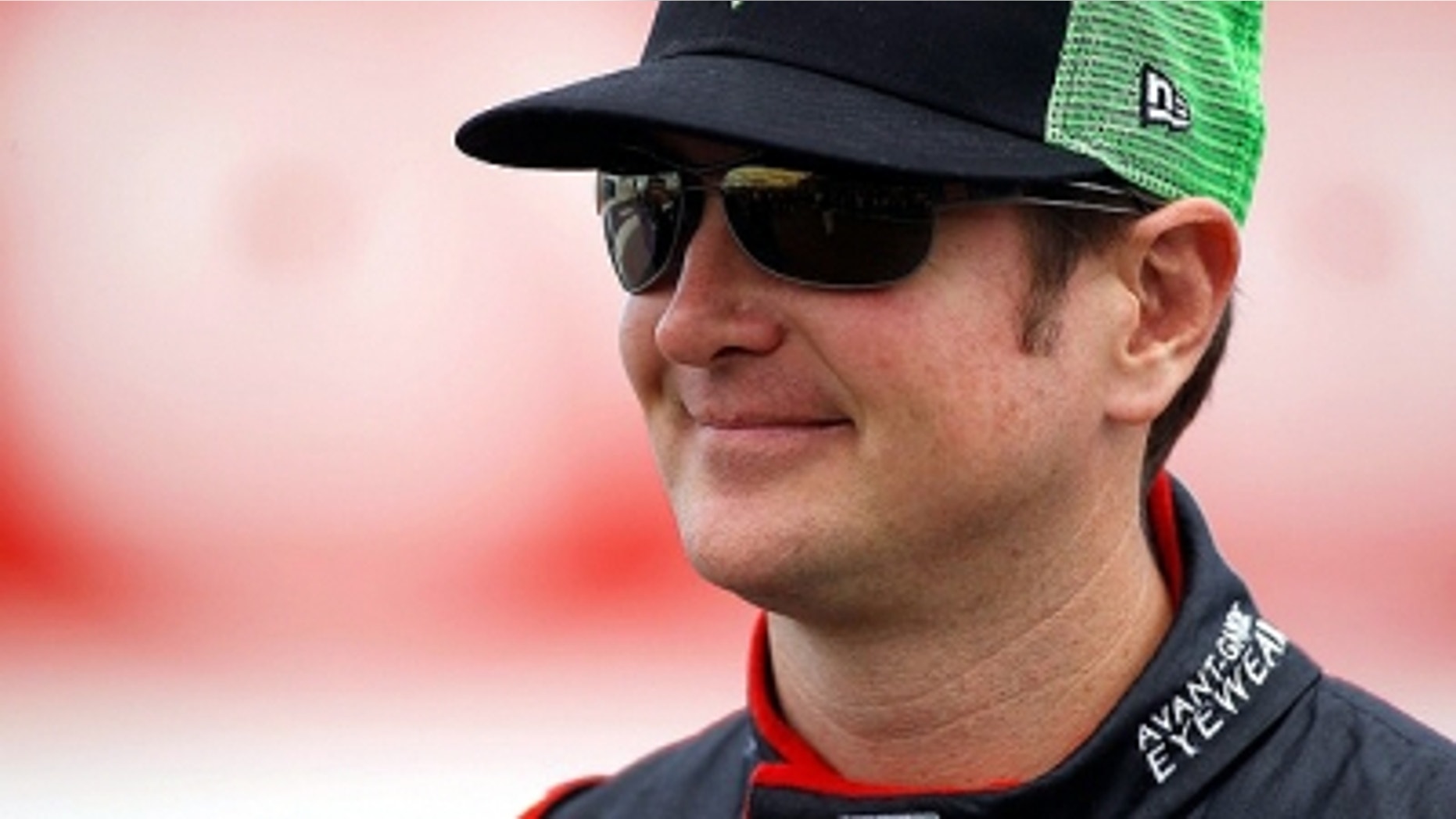 It's date night for Kurt Busch.
For the former NASCAR champion and avid sports fan, the day's adventure with girlfriend Patricia Driscoll starts in Daytona at 6 a.m. and ends well past midnight in the shadows of Fenway Park — one of his absolute favorite places on Earth.
Busch completed his baseball bucket list last year — visiting every major league ballpark — until the landscape changed and new stadiums began popping up in New York, Minnesota and Miami.
"I missed the old Tigers Stadium by one year," Busch said. "Comerica kind of kicked off my tour."
He crossed the Mets' Citi Field off the list Sunday, when Busch's beloved Chicago Cubs were in town for the final match of a three-game set.
Busch pours over newspapers on the flight to New York. Despite his first victory with Phoenix Racing on Friday night, he's still preoccupied with the wording of an article pertaining to his job prospects for next year. Driscoll attempts to defuse the mood, but Busch can't seem to let it go.
He currently is committed to running for team owner James Finch, but as the top free agent in NASCAR, Busch's options are open for 2013.
For Busch, it's not about the money. Over the past 12 seasons in NASCAR's top division, the 2004 champion has amassed 24 victories and more than $70 million in earnings. He just wants to win — and he has.
But Busch has never won over the media. And with his career at a crossroads, it's the one piece of his game that's missing.
At a pregame brunch, Busch turns the tables: "Let me ask you a question, 'What's this mean?' " He stands, takes his hand and, with a wide-sweeping motion, slaps his butt in an animated fashion — then points off into the distance.
OK, I'll play. "Kiss my ass?"
"That's what everyone thought," Busch replied.
Clearly, the incident still eats at the driver, who relives the experience several times over the next 36 hours. Thanks to the Internet, the Worst of Kurt Busch can be found on continual loop on YouTube — including the motion directed at Jimmy Spencer that came during the height of their feud. If Busch could hit DELETE, he would.
Busch battled from 38th to 17th at the 2002 Brickyard 400 before Spencer punted Busch's car into the wall, fulfilling an earlier promise to wreck the kid when he got the chance.
Busch climbed from the car, tapped his seat twice and pointed.
"That means to the rear of the field at every Saturday night short track in the country," Busch said. "I was a just a year removed from short-track racing."
That's not how fans and reporters interpreted the gesture. They went for option No. 1.
Not surprisingly, when a reality show was recently pitched to the driver, Driscoll suggested the working title should be "Kurt Busch: Misunderstood."
From that day at Indianapolis Motor Speedway — on his 24th birthday — until now, Busch has endured trust issues with the media. It's the one part of the job he simply despises.
"I love to compete," Busch said. "I took up skeet shooting. I really grew to like it. I practiced, got better. Something I struggle with is golf. . . . If I'm not good at something, I'm not going to waste my time with it — like working with the media. I wasn't good at it, so I gave up on it.
"I like to compete, and I like to win."
Driving through deserted Manhattan on a quiet Sunday, by Big Apple standards, Busch recalls the celebration surrounding his 2004 Cup championship.
"We stole it," Busch said. "We saved all our tests for the Chase. You don't have to be the best in the regular season. You just have to be good when it counts. That's the game that (five-time champion) Jimmie Johnson and (crew chief) Chad Knaus played so well. You don't have to be the best for 26 races, but you have to get a ticket for the Chase."
Proudly wearing his favorite team's gray road jersey, Busch high-fives fellow Cubs fans as he enters the grounds at Citi Field. He takes a lap around the modern stadium, admiring the architecture.
At the suggestion of Shake Shack, Busch picks up his step. He delights at the Shack-cago Dog on the menu. While snaking through the line, Busch strikes up a conversation with a couple — one wearing a Cubs shirt, the other supporting the Mets.
Busch settles into his seats 10 rows behind the dugout. He remarks loud enough for the Mets fans behind him to hear that the last time he came to New York to see Chicago play the Mets, the Cubs won and they'll be victorious again. Friendly fan razzing ensues. But Busch's premonition plays out. After the first inning, the Cubs lead 4-0.
Baseball dominates the conversation. Busch's love of the Cubs stems from his parents hailing from the Windy City. From his Little League days, to watching minor league ball with his uncle in his hometown of Las Vegas to double-dating with Cincinnati Reds outfielder Ryan Ludwick at his high school prom (their friendship continues to this day), Busch has enjoyed America's pastime.
Fortunately, Driscoll shares Busch's love of sports. But after seven innings and temperatures climbing into the 90s, it's time to escape the sun. The Mets fans with whom Busch has built a rapport return refreshed from the Sky 360 Club and recommend the air-conditioned spot.
Busch didn't come to the ballpark to watch the game on TV. After a few minutes, he finds a room inside the club with an outdoor view. But when shortstop Starlin Castro belts a three-run homer, Busch's cheers draw attention and the party crashers are asked politely to leave.
Busch isn't recognized until he's back in the lounge. But hanging out in a bar isn't really his thing right now. With the way his season has gone, and with 34 soon approaching, Busch needs every competitive advantage possible. He can't even be considered a social drinker at this point, an irony for a driver who enjoyed representing Crown Royal and Miller Lite. Since the Sunday he served his suspension at Pocono Raceway — the NASCAR-imposed timeout a result of a verbal confrontation with a reporter on June 2 — Busch has chosen not to drink. He's changed his diet and stepped up exercising, even though, at 150 pounds, weight has never been an issue.
Busch returns to the seats to cheer his winning team — a highlight considering Chicago currently is in the cellar. A youngster holds up a traditional Cubs "W" banner as Busch and Driscoll pose for a picture.
Later, on a flight from LaGuardia to Boston, a heated contest of Trivial Pursuit breaks out. His fingers move furiously on the mobile device, trying to beat the time limit. Busch can't help but gig Driscoll a little as he breaks his own record. He beams.
Early in his career, Busch was told that winning would cure everything. If he could perform on the track, his image would take care of itself. His teammates rallied around him. The testimonials from former crewmen on Busch's performance and compassion speak volumes.
The good runs on the track, however, resulted in media duties. Once the cameras came on, performance anxiety set in.
At 33, Busch is too old to be considered brash.
"I outgrew brash," Busch said. "Everybody traded cocky for confident, too. Finally."
But the confidence off the track took a while. In an attempt to shore up his image, Busch left Roush Fenway Racing in 2005 for Penske Racing. He believed the uniform of crisp white shirts and black dress pants would make a difference. So would marrying Eva Bryan, to whom he had proposed a year earlier in Prague.
Busch was almost prophetic when he described Bryan to NASCAR.com during his championship banquet in 2004: "She shops well, is good with the credit card and looks good sitting on the pit box."
Needless to say, she wasn't the trophy wife he had hoped for.
"I'm so excited to see the Yankees lose tonight," Busch says as the plane lands at Boston's Logan Airport. He became a fan of the Red Sox when he befriended John Henry, the team's owner.
Busch checks into his hotel and freshens up before a quick bite in the lobby oyster bar. He acquired a love of oysters while traveling on the West Coast between Late Model shows.
Busch has promised Driscoll she will love her view at Fenway, and his excitement mounts on the walk to the park. Tickets in hand, Busch passes through the turnstile and leads the way down the stairs to the second row of seats next to the dugout.
"What's cooler than this? Nothing," Busch said. "I love these seats. I feel like I'm playing Little League again."
Busch is eye level with the players on the field. Driscoll can ascertain the ink on David Ortiz's neck as he sits on the bench, 3 feet away. They comment on Big Papi's weight loss.
Busch has sat closer, in the front row, as Henry's guest.
"I can't tell you who played when I sat next to John Henry," Busch said. "We just talked and he talked to me the way a father would talk to a son."
It was clear Henry made an impression. But during Busch's Roush years, the media training was nonexistent and his public-relations representation was not much older than himself. Busch, who enjoys comical impressions, parodies himself.
"No comment," Busch snaps. "I don't have an answer for that. That's a really good question. (He smiles, then changes tone sharply.) Next question."
Busch could have just as easily been imitating Tony Stewart — NASCAR's current champion whose disdain for the media is tempered only by his role as an owner and his need to keep sponsors happy. He's seen the drain it takes on his younger brother after he expanded Kyle Busch Motorsports this season to include a Nationwide Series, as well. Busch, who also drives for KBM, is the only driver to win for two different owners in NNS this year. But ownership, well, that would cut into the free time he treasures.
When he's not driving a Nationwide car, Busch will sit on KBM's pit box and listen to Kyle.
"It's relaxing listening in," Busch said. "It's zen. Like you're in a spa with cars going around every 30 seconds until Kyle comes on the radio complaining about not having enough grip and like holy (crap). Do I sound like that? And I have to laugh. I think about that when I lose it the following week."
Daytona was a good week. Google "Kurt Busch" now, and news of his Nationwide win lines up below. Despite a wreck in the Sprint Cup race that forced the car to the garage for repairs, Busch battled back to 35th, 28 laps off the pace. But he refused to quit.
After Ortiz strikes out and takes out his frustration on the water cooler, Busch remarks, "That's the passion I'm looking for." But Busch's admiration piques after Cody Ross storms back from a disappointing plate appearance and takes his frustrations out of the wall. And Busch has a ringside seat.
"That's it," Busch said. "That's my new favorite player."
With the exception of hockey, where fighting endears athletes to the audience, it's not often that fans see the meltdowns of stick-and-ball players. Most baseball players can keep their emotions in check in the 90 feet it takes to get from the plate to the dugout where TV cameras and microphones aren't waiting to capture each misstep, let alone a fan with a video camera on his cell phone to record an athlete at his lowest moment and take it viral in an instant.
NASCAR drivers have no mandatory cooling-off periods. Working with a sports psychologist, Busch has been given "tools" to choose from when a situation arises. But sometimes the options just run out.
"I don't know why," is the most candid answer Busch can offer.
But he keeps working on it. "Change doesn't happen overnight."
The Red Sox lose to the Yankees 7-3. In less than six hours, Busch will board a plane to Baltimore Washington International Airport. He has a doctor's appointment Monday morning.
Driscoll is meeting her son Houston, 7, before heading into Washington for her work as president and executive board member of the Armed Forces Foundation, which assimilates troops that return from combat. Driscoll is also CEO of Frontline Defense Systems.
It's raining when the couple reach Driscoll's home in the DC suburbs in Maryland. Houston is thrilled to see Busch when he arrives at the house. The two retire to the library, where Legos await on a table, while Driscoll changes clothes.
After stopping for coffee, Busch leaves for his dermatologist appointment and Driscoll heads for Walter Reed National Military Medical Center in Bethesda, Md.
Busch later joins Driscoll at Walter Reed, where they have lunch with Congressman Tim Murphy. The topics include an upcoming fund-raiser at which Busch will throw out the first pitch for a Pirates game — he has thrown the first pitch a half-dozen times, but the experience never gets old — and the condition of a 24-year-old soldier the couple will visit next. The soldier, Joe, is recovering after losing the lower half of his body in Afghanistan on May 29.
After donning disposable surgical gowns and gloves before entering the room because the soldier is highly susceptible to infection, Driscoll and Busch visit the father, for whom Driscoll is advocating because he has used all his vacation time. Busch introduces himself and thanks the soldier for his service.
Busch attempts to engage the soldier through racing, then switches to football after discovering that's more to Joe's liking. They talk favorite teams and players, foods and siblings as a sports show hums on the TV above and machines labor around the bed. Driscoll asks if there's anything else they need as Busch signs autograph cards to leave for Joe and his siblings.
"Crystal Light in all flavors," is Joe's only request. It seems insignificant given the circumstance.
Watching the results of Driscoll's effort has made an impression on Busch.
"I used to think of appearances as obligations," Busch said. "But after seeing the sacrifice the troops make, it puts life into perspective. "
From Bethesda, it's a short trip to Driscoll's office on Capitol Hill. The couple lounge on couches upstairs for a few minutes before staffers drop in to bring Driscoll up to speed. The conversation turns to Busch — and, at times, it must seem like an interrogation:
"What are your plans?"
"What do you want to with the rest of your career?"
"Do you think you're making progress?"
"Why do you want to keep racing?"
As comfortable as Busch has been over the past 34 hours, the color slowly drains from his face. Busch does his best to hide the agitation, but suddenly his lifelong passion of racing has simply become a job again. He takes a moment to think about the question.
"I just love competition," Busch says while slowing his delivery. "When I'm in the car, that's when I'm the most comfortable. I know exactly what I need to do. I know how to work on it. I know how it's handling. I love the smell. It's natural to me.
"The funnest part of the week is that first lap of practice on Friday. It's like a sunrise. It's a brand-new opportunity to try to win. Every week is brand new. You eat, sleep and drink it. My dad put a piece of sandpaper in my hand at 2 to help him with his race car in the garage and I've been working on cars ever since. I'm just a car guy."
Driscoll senses Busch is emotionally spent and suggests dinner around the corner at the Capitol Hill Club. She selects a table, orders food and discusses the seating in the room. Busch compares it to the seating at drivers' meetings or how the motorcoaches are arranged in the driver/owner lots. He then asks about seat selection in the media center and comes to the realization that politics are unavoidable, whether in Washington or the racetrack.
The couple mingles with friends and say their goodbyes. Houston might be more disappointed to see Busch leave than Driscoll is, though that's debatable. Busch heads for BWI for his flight back to North Carolina. He has meetings and interviews before the family's vacation after this weekend's race at New Hampshire.
Busch refuses to sleep on the 55-minute trip. To gather loose ends, my digital recorder comes out for the first time since leaving Daytona. As the light comes on, Busch's demeanor shifts.
"Is there anywhere you're more comfortable than a race car?"
Busch doesn't think twice.
"No," he says. "No. It's funny. A lot of drivers you'll see dozing off during a practice session or if it's a rain delay. It's the most comfortable seat in the world. It touches you in every area of your body because it's conformed. It's foam that surrounds you. You have to be comfortable in that seat for 500 miles. That's my office. And it's the most comfortable place to me. Usually it's 120 degrees and it will put you to sleep — during a red flag."
"What's your three-year plan?"
"Race hard," Busch said. "Win races. Make the Chase three out of three years and have shots at winning the championship. Staying out of trouble will help."
"Is that possible?"
"Maybe, yeah," Busch said. "I'm just a racer."